By Elizabeth Kaiser
Genevieve Ficker, of Hastings, MN, passed away peacefully on October 30 at the age of 90. She was born February 22, 1919, in Nicollet, MN. She and Albert Ficker (who died in 1974) were married in 1945 in Hampton, MN, where Gen started her 40-year career as a beautician. After they moved to Hastings, she owned and operated Gen's Beauty Shop on Fifth Street.
I met Gen 20 years ago and immediately enjoyed her company and her stories, and singing the songs we both knew. She was a frequent guest at our home for meals and celebrations, and we joined with Gen's family to celebrate her birthdays as she neared 90.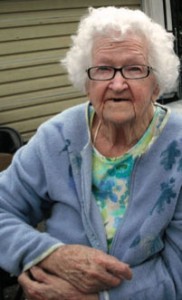 When our sons were little, Gen would entertain them while I prepared lunch after a morning's outing of garage sales. She shared gardening ideas and taught me how to prepare applesauce her way, which we like much better than the store-bought kind. She was patient and didn't scold when the boys wielded their knives, Rambo-style, chopping the apples that we cooked and canned. I have thanked the Lord many times for sending Grandma Gen to us, because Ed and I both have families who live out of state. Gen's faith continues to inspire me.
One of Gen's six children, Pat, along with his wife Patricia and four of Gen's grandchildren, Laura, Dan, Lisa and Catherine, are members of the People of Praise. Gen came underway October 23, 1983, in Servant Branch, after she retired. She was an avid card player, cook, gardener and seamstress, and she loved to crochet. One day Gen was talking to a social worker at Regina Assisted Living, where she spent her last few years. She told stories about the many 12-hour days she had worked in the beauty shop and how much she enjoyed those years. The social worker listened to Gen for over an hour. Gen had so many great stories--stories that brought us to laughter and sometimes to the point of tears.
She had a wonderful sense of humor. Her response to Bernadette Fossen's greeting, "Hi, Gen! How are you?" was, "I'm still alive, but I can't run as fast." When Gen visited the Fossens she didn't arrive empty-handed. She'd say, "Hey! I just picked some raspberries from a friend's place. Here you go." Gen then sat on a chair in the kitchen and Bernadette would hand her a baby to hold while they talked or while Grandma Gen shared her recipes . . . homemade pie crust or rhubarb sauce. They laughed over Gen's stories. Bernadette remembers one of the scariest: Gen was driving a streetcar in St. Paul while studying to become a beautician. "One evening, very late, a man boarded the streetcar and said, 'It's a good night for a murder.' Gen put on a brave front and yelled at him to get to the back . . . but in reality she was scared stiff!"
John Fasbender attended grade school with Pat, and admits to being a frequent visitor at the Ficker home. John and Pat were Minnesota Twins fans from a young age, and Gen would graciously drive them and their friends to ballgames in her convertible. He remembers that Gen was able to corral their exuberance and excitement and patiently not lose her cool. John credits her prayers for their eventual coming to Christ years later. Gen's patience and faith had its impact on them and on others.
Gen persevered in faith as she faced the physical limitations of old age, such as decline in vision, lack of mobility and arthritis. She told Pat, "Jesus will lead me home; you can count on that, Pat."
Just a week before she died, when a nurse asked if she wanted to see the doctor about a wound on her leg that wouldn't heal, Gen replied, "No, it is time to see Jesus."