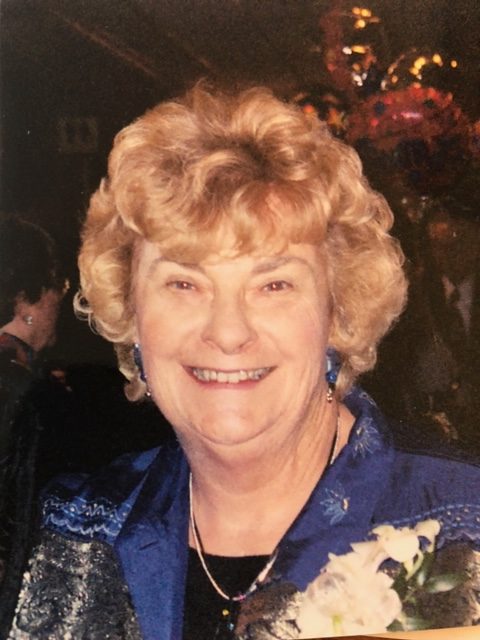 by Diane Ridenour
Georgine was proud of her New York roots—often evident in her sense of humor. After graduation she worked as a nurse and later taught at American University and George Mason University. After Bob died in 2004, just three months after Georgine had retired as assistant dean of nursing at George Mason, she became a nurse for her parish, assisting the poor and shut-ins. She also initiated and hosted a monthly luncheon for caregivers.
She was the parish nurse for several years till her own health began to decline, but even then Georgine sought ways to serve those in need. She initiated our branch's outreach with the Lamb Center—a ministry to the homeless in our area.
Pat Pawlosky remarked on how important it was to Georgine that the guests receive a nice hot breakfast, which many times she prepared herself. More importantly, she encouraged volunteers to interact with the guests while they ate. Pat said Georgine set a wonderful example, mingling and listening to people's stories. Eventually, Georgine's failing health forced her to step down as the outreach leader, but the ministry continues to this day.
Shortly before her death, a number of sisters presented her with a special quilt with reflections and Scripture quotes for her. Due to so much love and generosity from her People of Praise family, Georgine was able to receive that same love and the legendary generosity that she had so often given to others. A very special and dear sister, she died on Mother's Day.
FACTS

● Georgine Richardson was born in New York City May 1, 1937, and raised on Long Island. She died May 10, 2020, in her home in Fairfax, Virginia.
● She and Bob were married in May, 1966. They adopted three children, and their family now includes six grandchildren.
● Georgine earned her bachelor's degree in nursing at Mount Saint Vincent, her M.A. at New York University and her teaching degree at Virginia Tech.
● Bob and Georgine joined the People of Praise in March, 1999, and made the covenant October 13, 2002, in the northern Virginia branch.