By Bill Crimmins
Editor's note: Dave Temeles, father, grandfather and beloved husband, brother and friend, was a founding member of the northern Virginia Branch of the People of Praise, where he served for many years as a coordinator, teacher and head. Dave was born September 5, 1938, and died July 21, 2009.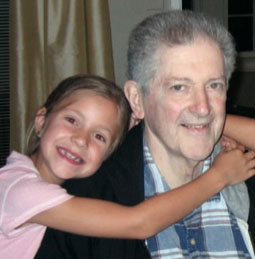 "For a long time my dad was searching for the truth, reaching out to God, but confused," says David Temeles, Jr. He is speaking at the wake service for his father, David Abram Temeles. "Born to a Jewish father and a Christian mother in the late '30s, my Dad was raised in a secular household. As an adult, he was reluctant to choose a faith, not wanting to insult the heritage of either parent, but one Sunday he could no longer put off a choice. He was faced with the recalcitrance of an uppity six-year-old who refused to go into the church, objecting, 'Why should I have to be a Catholic, if you're not?' Dad realized that indecision was no longer acceptable. Turning to the Lord for an answer, he had a vision-- the faces of countless holocaust victims, who seemed to be saying, 'How can you reconcile our suffering with faith in God? How is it possible? Where was he then?' And then the Lord's face was among them, asking my father, 'Will you trust me?' My father decided then and there that he would trust the Lord, and the rest of his life was witness to that trust."
David Jr. wraps up his sharing and there are many others waiting to take their turn. Charlie Fraga, a friend and brother who has flown in from Portland, wades through the crowd and steps to the microphone.
It is a typical sultry mid-Atlantic summer evening. The hall at Murphy's Funeral Home is crowded, the air-conditioner's capacity to cool the air has been overwhelmed and warm, moist air blows around the room. There are not enough places to sit. Adults stand and watch, listening, shifting their weight from foot to foot. Even the kids, who would normally be running up and down in the hallway outside, are still, subdued by the temperature and the closeness of the air. People are tired. But in spite of their discomfort they stay because they have come to see and hear and to remind themselves. They stand, and perspire, fanning themselves. They listen and watch. They are children, friends, children of friends, former household members, brothers and sisters who lived life in common with Dave in the northern Virginia branch of the People of Praise, indeed, who would not have had a People of Praise branch to share life in, had it not been for Dave's efforts in the late '70s and early '80s to find Christian community.
Charlie says, "Without Dave, the People of Praise would not be what it is today in the D.C. area. I will go even further: There would not be the People of Praise here today were it not for Dave Temeles. Dave (with his wife, Kathy, of course) had an absolute passion for Christian community. A loose network of Christian relationships was not enough, a prayer group was not enough, a strong evangelistic outreach was not enough. He wanted full-blown Christian community life and he would not settle for anything short of that. . . . "
Charlie rejoins the crowd and our minds wander a bit in the blur of heat, but the next sharing is another fond memory which reels the attention back. Jenny Nolan recalls the hospitality that was one of the defining characteristics of the Temeles home as she recounts what it was that drew her to live in household for three years with Dave, Kathy, and their daughter Jessica:
"In those days their house was swirling with young adults and their dinner table was the place to be. The food was great, and the conversation ran deep, and it was often very lively. I don't remember that Dave spoke all that much, but when he did everyone wanted to hear what he was saying. . . . He was a good man, but hard to describe because he didn't take up a lot of space. He didn't fill up the room with his presence. Instead he had this very, very deep reserve of calm. It was incredibly attractive. If you were in his corner of the room you wanted to hang on his every word. Oh, he was warm, and he was funny, and he was not the slightest bit opposed to teasing me or anybody else. . . ."
Jenny is right. Dave was a gentle, humble man. I know this well because, just as he was for many other brothers in the branch over the years, Dave was my patient, concerned, sympathetic, wise and attentive, loving and nonjudgmental head for several years.
It is my turn at the microphone and I tell the crowd, "Dave had a way about him, a gift. I would always come away from a talk with Dave a little less frazzled, a little more intact, a little more hopeful, a bit of my life's tension defused. Coming out the front door of his home and walking across Jackson Street, my step would be a little lighter. Sitting down into the driver's seat of my car and heading home, I'd be a little more confident about facing the challenges of a life filled at times to overflowing. Idling, and waiting for the light at Marshall and Lee Highway, I'd laugh again, thinking about the laughter that had punctuated our conversation, and feel more confidence about the curious challenges of riding herd over the complex relationships of a full and busy household. . . ."
Back in the crowd, I take off my jacket, roll up my sleeves, and loosen my tie as Therese McNichol shares about Dave's faith and praying with her friend for healing.
"During the time he battled cancer, Dave experienced many healings that many of you probably never heard about. On at least three occasions that I can remember, he came very close to going on dialysis, but after we all prayed, his lab results would come back normal and it wasn't necessary. He was also healed of tumors and pain, and his blood sugars came under control. Recently Tom and I prayed with him because he was having a lot of pain in his back, and the pain never returned. And there were many other healings that he experienced over time. I used to suggest to him that he write them all down so others could be encouraged by the power of God. It was because of our prayers, all of us here, that Dave experienced so many healings. Ongoing prayers for healing do make a difference and should be a regular part of our lives. And I think that's what our Father wanted us to know. . . ."
Much more than this is said, and it is all good. The evening is winding down as Quentin Horneman steps to the front of the room and begins to talk of Dave's long-suffering nature and his friendship. Dave died of complications from renal cancer and was increasingly homebound the last years of his life, so ". . . he really enjoyed it when people stopped to visit. I loved to go by and visit with my bighearted friend. He always acted like he was happy to see me, he let me tussle his hair, tell him I loved him and then he would tease with me in his good-natured way. He was never negative or grumpy. He didn't complain. He lived to enjoy his people, and I am so glad I was one of the people he knew and loved. I will miss my friend. . . ."
The microphone is quiet. People begin to file out. They say their good-nights to Kathy, and Jessica, Melissa and David Jr., to Maggie and Michael, and the grandkids.
Yes, we will all miss him, Quentin. We will all miss him.
Until we can be with him again.