By Jerry Wind
Servant Branch gathered October 19, 2009, with the Korkowski and Seeger families to honor the memory of a beloved brother, nephew and friend, Paul Korkowski, who died tragically in a car accident on October 14. Paul was a faith-filled, generous and intelligent brother in the Lord. We miss him and will remember him for his deep love of family and his dedication to life in the People of Praise.
Often Paul had a twinkle in his eye. Usually rather quiet in a group, he still gave you the impression that he had a better grasp of what was happening than he let on. His gentle smile indicated that he'd definitely have something to say if prodded, and you would learn a lot if you listened to what it was.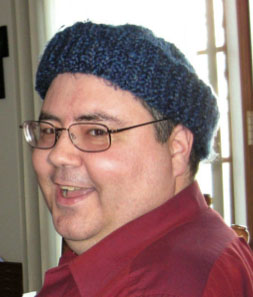 The shock of his sudden death was tempered by our celebration of his heroic and loving life.
Paul was born August 23, 1962, the fifth of five children, and his father died when Paul was just two weeks old. His mother eventually moved the family from St. Paul to the home of her brother and sister-in-law, the Seegers, on a farm near Hastings, Minnesota. The Korkowskis and Seegers became a blended family of 12 children, including his seven Seeger cousins. Paul was in the fifth grade then, and still the youngest. He loved soccer and adventurous walks down to the Mississippi River. There, the kids swung on vines across the gullies and uncovered fossils in the dirt. The family grew their own sweet corn each summer and sold it at a vegetable stand, with Paul usually filling the role of banker. Through the hard work and the horseplay of a joy-filled farm life, Paul came to cherish his four siblings and all his cousins. They were one big family. This love and acceptance that he received and gave came to define Paul.
Paul attended Hastings High School, and Tom Caneff clearly remembers inviting him to the Life in the Spirit Seminars and praying over him to be baptized in the Holy Spirit. It was a memorable event for Tom; he was struck by young Paul's sincerity and purity of heart.
Paul attended the College of St. Thomas and then graduated from the University of Minnesota with a Ph.D. in organic chemistry. When talking chemistry, this quiet, reserved man could easily and comfortably speak to a group of 100 people. John Zimmel, a friend of Paul's and a member of his men's group who was also a chemist, recalls how he and Paul would sit at a Bruegger's bagel shop discussing things like urethane catalysts and drawing chemical structures on napkins. Paul had a good memory and a sharp mind. He worked at 3M for 13 years, and more recently at a veterinary pharmacy in St. Peter, Minnesota, where his nickname was "Doc."
Despite working about 70 miles from the Twin Cities in recent years, Paul kept his condo in St. Paul so he could attend Servant Branch meetings and activities. He would also see family and friends and connect with his men's group on the weekends. The effort he made to stay connected exemplified Paul's committed life. His sister Kathy Korkowski (Servant Branch) says she will miss him coming to her house for weekend dinners. Also, she and Paul often drove together to visit the Korkowski relatives, whom they hadn't seen very often while growing up, which helped them all to became closer as adults.
Phil Korkowski (Servant Branch), Paul's only brother, recalls fishing, canoeing and camping together. One time, camping at Leech Lake, they were trying to sleep in their tent and thought they heard a lawnmower outside. No, it was the sound of the "Minnesota state bird," mosquitoes. Phil fondly recalls their mutual amazement with a good laugh. Paul loved portaging through the Boundary Waters in northern Minnesota and also regularly went to rented lake cabins for long weekends and family vacations. This past June found him halibut fishing in Alaska with a high-school friend.
Paul played an important role in the lives of many different people. At one point he owned a large house, so he provided a gathering place for the Seeger and Korkowski clans. He never missed a family function. His niece Emily remembers Paul's kindnesses to her: "When my parents couldn't, he helped pay for my braces and orthodontic work. One Christmas he gave me an old car, and on my first wedding anniversary he gave me a card that said, 'Hey, Emily, do you know the difference between a light bulb and a niece? A light bulb can be replaced.'"
No one can replace Paul for his family or his brothers and sisters in the People of Praise. His sister Rose stated that Paul had a heart of gold and lived his life following in the footsteps of Jesus. We commend our brother Paul, this generous, intelligent, thoughtful, faithful man, to the Lord who always loved him.