By Mary Lee
Snow covered the quiet cemetery as Gail Lee's family gathered on December 30, 2009, to pray and celebrate her life on what would have been her 64th birthday. The snow reminded us of her youthfulness. If she had still been with us, she would have been frolicking in the snow with her grandchildren, making snow angels and snowmen.
When I became engaged to Gail's son John, a dear friend of mine who had known John's parents for years told me, "Mary, Carmen and Gail are just the salt of the earth." It didn't take me long to learn what that meant. They knew how to live in a way that made life just taste better to everyone around them.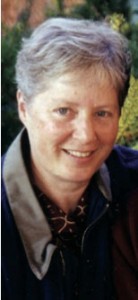 Gail met the boy who was to become the love of her life when she was five years old. (Carmen was four at the time.) The relationship got off to a somewhat rocky start when Carmen signed Gail's grade-school autograph book with a boyish taunt. Gail didn't take that too much to heart, and by the end of high school she was very much in love with him.
They were married right after Gail finished her undergraduate degree and they moved to a dormitory of the North Dakota School for the Deaf, where Carmen began as a teacher and later assumed the directorship. Soon their family began to grow, with the births of John, Travis and Aaron.
In the early 1970s, when charismatic renewal was sweeping across the Catholic Church in the U.S., Gail was touched in a new way by this wave of the Holy Spirit. She began attending prayer meetings and asked Carmen to join her.
They soon felt the call to Christian community and moved to the Twin Cities to join Servants of the Light, a community which later became the Servant Branch of the People of Praise. This was a sacrifice for both (it was a downward career move for him, and Gail had to leave behind her enormous, abundant garden), but they both knew it was what God wanted.
They plunged into life in community. Gail once shared with me that community life had greatly improved their marriage, and their relationship as a couple bore much fruit for the community. They made the covenant of the People of Praise on January 27, 1985.
Gail sometimes came across as a quiet woman, but the women in her area and women's group knew her strength. During the years that Carmen served as a coordinator, she freed him to serve by making sure their home life was working well. She was a sister and friend to the women who lived in household with them, and she did untold hours of work every summer preparing for Servant Camp (which Carmen led): organizing fundraising events, arranging tent-mates, preparing medical forms and much more.
Even beyond her love for community, Gail was devoted to her four children. She went to many of her kids' soccer games, in both high school and college. For years, Gail trudged through the winter snow with Carmen and the boys on their morning paper route, which helped pay for sports and education fees. When their daughter Cynthia was in grade school, Gail took on work at a nearby dance studio so that Cynthia could attend lessons there, and spent hours selling Girl Scout cookies and organizing a garage sale to raise money for Cynthia's People of Praise Girl Scout troop to visit the branch in Hawaii.
Gail was willing to sacrifice so that her family and others would not have to do without. For her, people and relationships came first. Her sacrifices for others didn't end when she found out that the cancer she'd beaten several years before came back in 2009. Gail and Carmen made a firm decision not to live or act as if she had a terminal illness. They continued to live as normally as they could, spending Thursdays with their grandchildren, and watching my kids every day at our house while I taught a class at Trinity School. Gail continued making monster cookies for her grandkids, went to her oldest grandson's soccer games, and helped her daughter deliver her sixth grandchild only a month before she died. In fact, if you had called their house last summer, you might not have known that anything was different, because, as Gail always put it, they were "deep into camp," which meant they were working on Servant camp from the time they woke up pretty much till the time they went to bed.
On September 14, the day she died, Gail's breathing was very labored. As I watched her gasping for breath, I thought of Jesus, who also had poured out his life in love for us. Even her posture reminded me of Jesus on the cross. As Gail mirrored him in her life, so she mirrored him in her death.