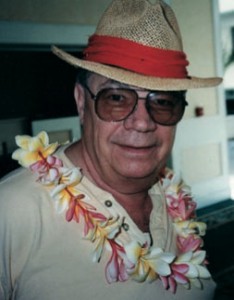 by Tom Beckley
A long-time covenanted brother in Servant Branch, Dick Berg of Edina, Minnesota, went to be with his Lord on December 9, 2009, at the age of 70. We all join in our heartfelt prayers for his wife Jackie and their family at this time of loss.
Dick was born in Sauk Center, Minnesota, on July 18, 1939, the youngest of six children. He joined the Navy soon after high school and spent 21 years traveling the globe, but never setting foot on a ship. To the great disappointment of family and friends, Dick would never discuss his activities in the Navy because of his sensitive position in protecting the citizens of the United States and the security of US forces around the world. He'd made a promise not to talk about his work, and he kept that promise. Even when the trusted members of his men's group would try to pry stories out of him, he remained faithful to his word not to divulge any secrets.
When Dick retired from the Navy he was looking for a place to live, so Jim and Evelyn Bittner, Dick's brother-in-law and sister, welcomed him into their household. Jackie Thompson, a single mother raising three children, was also sharing household life with the Bittners at the time; she and the Bittners belonged to the Servants of the Light community,which later became the Servant Branch of the People of Praise. She had been involved in prayer meetings since the early days of the charismatic renewal in the Twin Cities, but Dick was not that familiar with community life. Dick and Jackie used to go on long walks together so they could talk (there were a lot of people in the house). It was on those walks that Dick learned more about community (and about Jackie). He told her that "maybe he should look into joining community." Dick and Jackie also both prayed hard about becoming a blended family (they each had children from a previous marraige). He and Jackie were married March 7, 1980, and for the next 30 years their partnership grew and flourished. Dick made the covenant January 27, 1985. He was always faithful to his weekly men's group meetings, community and area meetings and service team projects.
Dick had a lifelong affinity for the arts. He did beautiful things with ceramics, designed gardens, and had a special love of photography. He and Jackie attended many theatrical events and classical music concerts. With his keen photographic eye, Dick volunteered a lot of time to document the various cultures on display at the Festival of Nations celebration in St. Paul. In his last years, even as Alzheimer's robbed him of the words he desired to share at his weekly men's group meeting, he could still come up with all the words to the songs and hymns we sang.
Aging with gentleness and great love, "Pop" Berg embraced and drew in both his own and Jackie's children as well as their ever-growing number of grandkids. Dick and grandson Kenny had a special connection. A few months after Dick's death, Kenny, a special needs teen, placed dandelions in Minnehaha Creek to send on their way to Pop, "because I miss him so much in my heart."
His daughter Lisa always felt embraced by his love. "Dad looked at life with a different eye than most of us. He showed me that life was a gift and there was always something great around the corner."
Dick and Jackie loved to travel, and they often included other family members on their journeys. Hawaii was Dick's favorite place to visit. Son-in-law Dale recounts how, on a trip he took to Hawaii with Dick and Jackie, not a single day passed without Dick contentedly sharing his favorite phrase, "just another day in paradise."
His second career, after the Navy, was in the retirement branch of the U.S. Postal Service. Dick's work involved the human resource procedures of processing the information for retirees and helping them understand and gain access to all their postal retirement benefits. At the celebration for his own retirement from the Postal Service, Dick was asked to answer a few questions about himself. One of the questions was, "If you had 30 minutes to talk with anyone in history, who would it be?"
"My father. Only this time I would listen."
Dick was also asked, "What's the best time of your life?"
He said, "Today. Right now."
We thank God for the life and love of Dick Berg, our brother in the People of Praise. He is buried at Ft. Snelling National Cemetery.