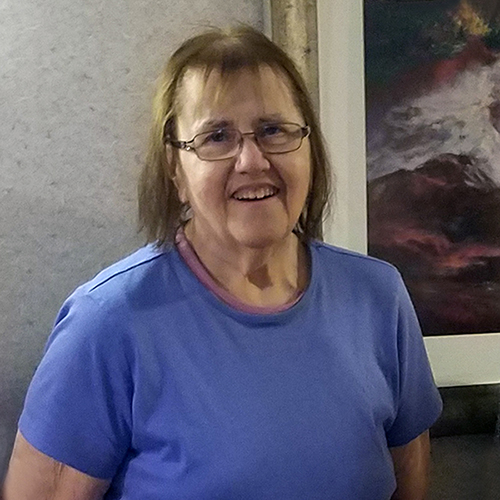 by Beth Bulger
Anastasia loved (in no particular order) a hearty laugh, being Irish, her family, telling stories, Native American customs, the history and determination of African Americans, singing, the Lord, the church, clothing and jewelry with a flair, helping people face and overcome relationship difficulties, choosing just the right memento for a specific person for a specific reason, teasing children, giving parents timely advice about child-raising, and her sisters and brothers in the People of Praise.
She was larger than life. She half-convinced my mother that she was a long-lost Russian princess (because of her first name) and made a fast friend in the process. She did convince my children that Easter was her personal day (partly because "Anastasia" means "Resurrection" in Greek).
Over the years, various infirmities kept Anastasia from participating in many events outside her home, but members of Servant Branch who got to know her found a treasure. Long after you had told her of a concern or worry, you discovered she was still praying about it. And she was quick to call to ask for prayer when her own concerns loomed. Our unity in prayer may have been what was most important to her.
A valiant single mother, Anastasia raised five children. She faced many health difficulties, yet she pressed on, loving the Lord. In our life, she had a special love and kind advice for elderly sisters who had known loss. As her death approached, no longer able to speak much, she welcomed visitors with a radiant smile.

How fitting for one whose name means "Resurrection."
FACTS
● Anastasia was born October 22, 1943, and died December 13, 2019. She made the covenant of the People of Praise in Servant Branch October 15, 2006.
● She raised five children, and her family now includes six grandchildren and three great-grandchildren (one born the same day as her funeral).
● Anastasia received her B.A. from the University of Minnesota in African American Studies and her M.A. in social work from St. Mary's University of Minnesota. She was a counselor and social worker for many years.