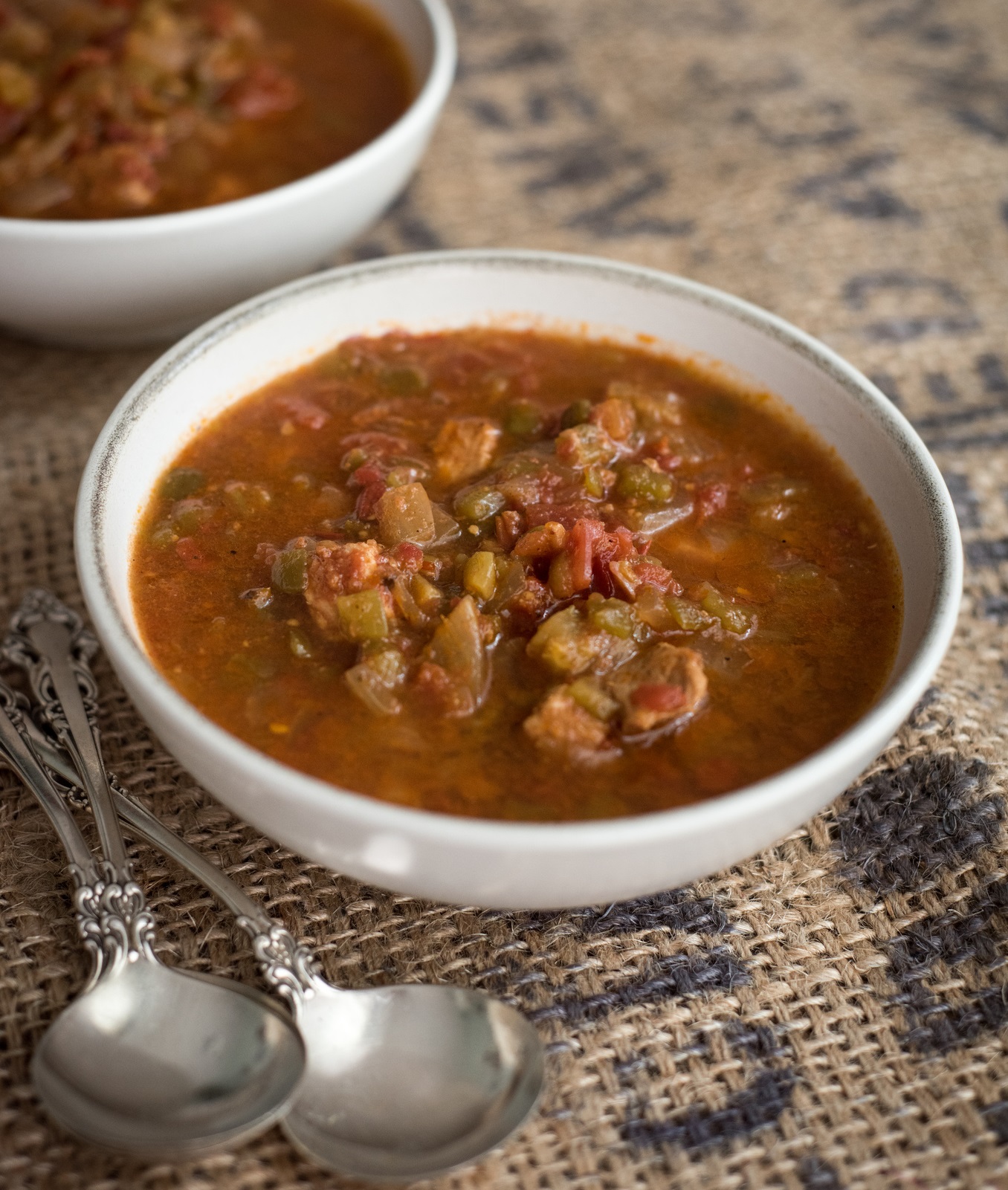 Recipe by Carol Ehemann
Photo by Jennifer Kenning
In the southwest, entire festivals are dedicated to the chile pepper and chile pepper stews. Green chile stew, or green chili, usually includes pork, tomatoes, spices and, of course, plenty of those green chiles.
A niece in Colorado Springs gave Carol her recipe when the Ehemanns moved there a dozen years ago, but Carol is constantly experimenting with ingredients and adjusting seasoning to taste. She frequently serves guests hot bowls of this popular stew in the winter months. Former household member Hannah Couch (South Bend) recalls that both Carol and her husband Phil's soups were never exactly the same from one time to the next, but they were always outstandingly good.
Carol serves the stew with tortilla chips or cornbread and freezes any extra. She typically uses mild green chiles, but for those who like more spices she sets out hot sauce or adds more spice to the stew.
GREEN CHILE STEW
Serves 12
Ingredients

1 teaspoon or more vegetable oil
3 cloves garlic
3 pounds pork tenderloin or boneless shoulder (fat removed)
4 onions
28 ounces crushed tomatoes
16-ounce can diced tomatoes with green chiles
27-ounce can green chiles, drained
3 14-ounce cans (5 ¼ cups) chicken broth or stock
1 teaspoon garlic powder
1 tablespoon chili powder
1 tablespoon ground cumin
¼ to ½ teaspoon cayenne pepper
2 teaspoons salt
½ teaspoon black pepper
3 bay leaves
1 cup salsa
½ - 1 cup good lager
Directions
1. Mince and brown garlic in vegetable oil. If cooking the stew less than the full length of time, chop and saute onions along with garlic to ensure that they will be soft.
2. Chop pork into bite-sized pieces. Chop onions and green chiles, then place with garlic and tomatoes in a large crockpot (7-quart or larger).
3. Add broth, spices, salsa and lager to crockpot. Cook on high for 3-4 hours or on low for 6-8 hours.