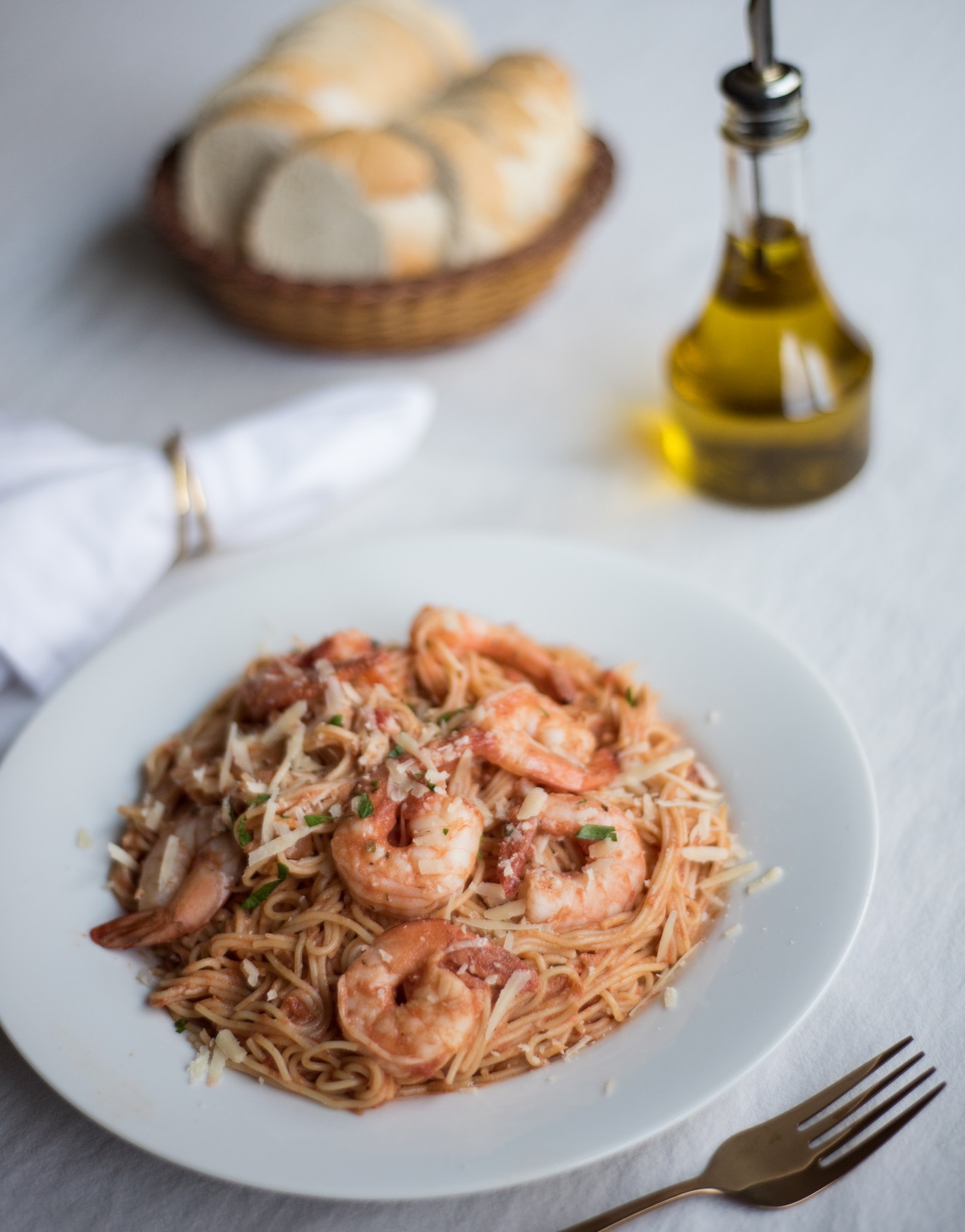 Recipe by Steve and Lydia Gaudet
Photo by Jennifer Kenning
Steve and Lydia Gaudet's (Mobile) shrimp pasta boasts some impressive credentials: "This is a recipe I take to a lot of families with new babies," Lydia says. "So far, I have a 100% recipe request rate . . . from the dads!"
The recipe is simple and adaptable. "It is easy to substitute ingredients you have on hand," Lydia says. "The sauce is quick to make, since it only takes a few minutes to cook the shrimp. I often use the bags of frozen shrimp that Wal-Mart sells—any size will do. You could substitute chicken if seafood is not your thing. My husband and I used to use powdered milk instead of cream, whatever we had on hand. We could put it together with not much money," she says, remembering the days earlier on in her and Steve's marriage when they had eight growing children to feed.
She recommends it for Lord's Day opening dinners as well: "With french bread, a bottle of wine and a salad, you've got a nice meal!"
SHRIMP SCAMPI
Serves 12
Ingredients

2 lbs. spaghetti, linguine, angel hair or other pasta
1 medium onion, finely chopped
2 cloves garlic, minced
4 tablespoons olive oil
2 tablespoons butter
2 28-oz. cans crushed tomatoes*
½ cup white wine
4 teaspoons Italian seasoning or to taste*
2 cups half and half or evaporated milk
3 lbs. shrimp, peeled and deveined
Salt and pepper to taste
1 teaspoon sugar (optional)
*Canned or jarred pasta sauce can be substituted for the tomatoes and herbs.
Directions
1. Cook pasta according to package directions. Drain and set aside.
2. Sauté onion and garlic in oil and butter until soft.
3. Add tomatoes, wine and italian seasoning. Bring to a low boil, then simmer for 15 minutes.
4. Add half and half, and bring back to just simmering. Add shrimp and stir gently until shrimp are pink, about 5 minutes. (DON'T overcook or boil the milk).
5. Season to taste, then add sugar if desired. Toss sauce and shrimp with cooked pasta to coat.