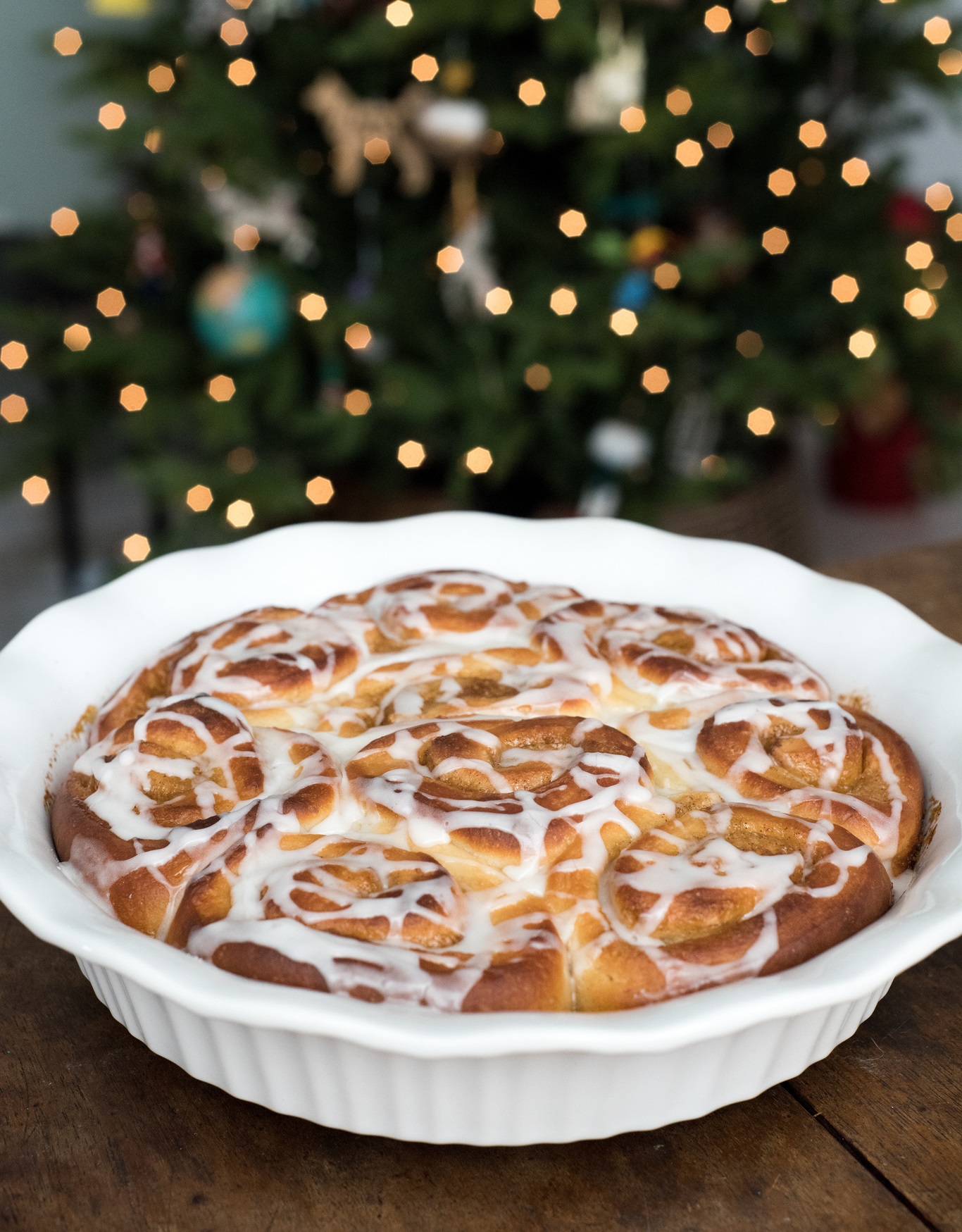 Recipe by Mary Frances Loughran
Photo by Jennifer Kenning
Every Christmas Eve in the home of Paul and Jeanne DeCelles, the kitchen counters would be covered with dozens of cinnamon rolls. Their daughter Mary Frances would help Jeanne churn out several large batches, and Paul would then take them out for delivery to friends and other families in the community.
Mary Frances took the DeCelles family tradition to Minnesota and then to northern Virginia, where a number of families now eagerly await the arrival of the Christmas sweet rolls every year. The dough recipe is adapted from an old Betty Crocker recipe. Mary Frances points out that one of the things that make the rolls most festive is the almond flavoring in the icing.
CINNAMON SWEET ROLLS
Makes 3 dozen rolls
Ingredients

½ cup warm water (not hot: 110 to 115 degrees)
2 packages active dry yeast
1 ½ cups milk
½ cup sugar
2 teaspoons salt
2 eggs
½ cup margarine or other shortening
7 to 7-½ cups flour
5 tablespoons butter, softened
¾ cup brown sugar
Cinnamon-sugar mix for sprinkling
Directions
1. In a bowl, dissolve yeast in water. Warm milk with margarine just enough to make mixing easier and add to yeast. Add sugar, salt, eggs and half of flour. Mix with spoon until smooth. Add enough remaining flour to handle easily.
2. Turn onto lightly floured board; knead until smooth, about 5 minutes. In a greased bowl, shape dough into a rounded loaf and bring greased side up. Cover with cloth. Let rise in warm place (85 degrees) until it doubles in size, about 1 ½ hours. (If kitchen is cool, place dough on a rack over a bowl of hot water, and drape completely with a damp towel.) Punch down; let rise again until almost double, about 30 minutes. Dough should be sticky, but smooth.
3. After the dough rises for a second time, divide it into two equal amounts. Roll each into a rectangle measuring 9 x 18 inches. Spread 2 to 3 tablespoons of softened or melted butter on each roll. Sprinkle each with ⅓ to ½ cup of brown sugar and top that with a light sprinkling of cinnamon-sugar mix (if making your own, blend ¼ cup sugar to 1 tablespoon cinnamon).
4. Roll up each rectangle tightly beginning with the long edge. Cut rolls into 1-inch slices and place them with the cut side up in a greased pan of any size. Placing them close to one another so that they are touching helps them rise up and out for a more dramatic presentation. Cover and let rise 30 minutes until double in bulk.
5. Bake at 375 degrees for 20 to 25 minutes, until golden brown.
Icing ingredients

2 cups confectioners' sugar
2 tablespoons butter, softened
1 teaspoon almond extract
1 tablespoon milk
Icing Directions
1. Mix the confectioners' sugar, butter and almond extract.
2. Add half the milk and stir, adding just a drop at a time more of milk until a thick glaze forms. Pour immediately over cooled sweet rolls.