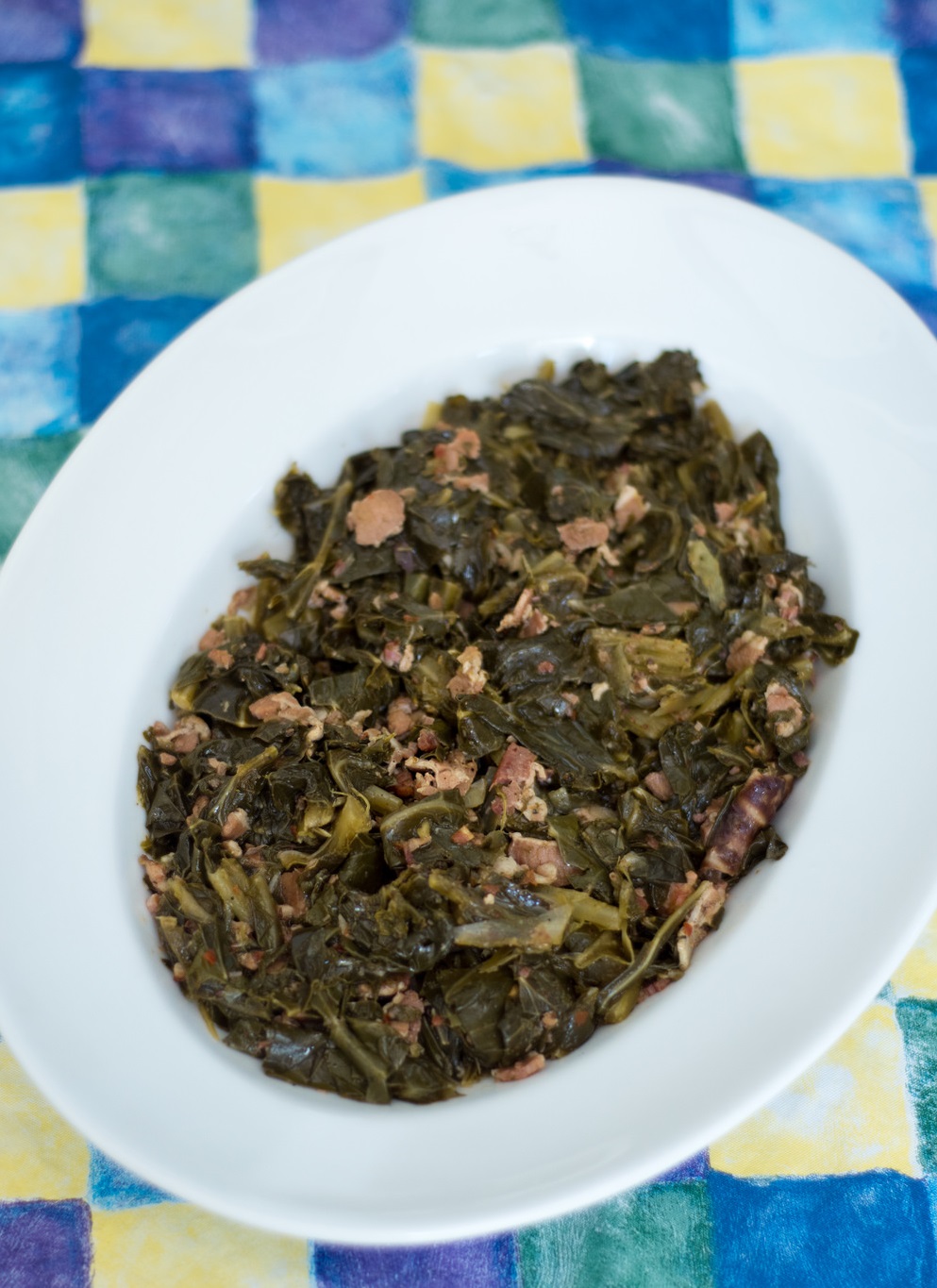 Recipe by Jermain Cartwright
Photo by Jennifer Kenning
Story by Elizabeth Grams
Hey, brother, come over here and get you some greens!" It's a hot Saturday afternoon in Evansville, and on the corner of Linwood and Monroe a cheerful man named Jermain stands under the shade of an old silver maple with a steaming pot in one hand and a phone blaring Gospel music in the other. He wipes his brow on his mitt and calls again, "We're just out here bringing people together for the kingdom."
Behind him, a canopy gives additional shade to several long, vegetable-laden tables. Farther behind the farm stand, the cultivated rows of Praise Harvest, the community's urban farm, stretch across a big open lot, where missionary sisters pick cherry tomatoes with neighborhood children. Jermain grooves to his music, his sonorous voice and the aroma of his cooked greens beckoning every vehicle and pedestrian within earshot or downwind. A steady stream of neighbors comes by the stand to peruse tomatoes, okra, cucumbers and of course, leafy greens. Many know Jermain or the missionaries already and, as they talk, Jermain tells them about the good things God is doing in the neighborhood, giving his personal testimony more than once over the course of the afternoon.
"The People of Praise and what they're doing here in Evansville is a wonderful thing," Jermain says. "I met them, and ever since I've been cooking and adding a little flavor to the bunch. I got a little twist, a little salsa, to my food."
Last summer, Jermain cooked for neighbors at several block parties the missionaries put on. "When Nick [Holovaty] called me up to come cook, it was really God telling me, 'Get on over there to do something for the kingdom.' You got the People of Praise telling you about the goodness and the grace of God, and then, I'm being used and my gift, cooking wonderful food, and I put my flavor in. And you got it going down both ways, spiritually and in your belly, you know what I'm saying? That's the best way I like it! So, it's just an all-round blessing to be a part of what Christ is doing."
The People of Praise missionaries in Evansville started Praise Harvest three years ago to build community and give neighbors easy access to affordable, healthy food. The farm produced two tons of produce in the 2017 season, much of which they sold or gave away at their weekly farm stand.
"Making greens is a big part of our neighbors' culture," says Mary Timler. "Last Mother's Day, we had harvested a bunch of greens. People pulled over to the farm stand and said, "Well, it's Mother's Day, this is right on time! I'm getting my greens!""
"Maybe half the people coming to the farm stand are getting greens," notes Peter Putzier, who is responsible for the 10,000 square feet of Praise Harvest farmland scattered throughout the block.
"It's like mama's chili: everyone has their own version of the recipe," Abby Earhart explains. "Some people really like to use jowl bacon. One of the things most recipes have in common is multiple kinds of greens. Most popular are collard greens, mustard greens and turnip greens. Some people put kale or spinach in. They're very dense, really filling. The longer you cook them, the tenderer they get. They aren't fibrous—they almost melt in your mouth."
Peter noticed at a recent mission team dinner that the greens—now not an uncommon feature on People of Praise tables in Evansville—were the first thing to disappear from plates. "I've been won over to greens," he says. "They're very savory. I think those who are adventurous and try them might like them!"
Jermain's guide to cooking greens
Actually I make some real good greens. I cook so many different ways, so I really don't have one certain way I do it.
I put all different kinds together in one pot, about four bunches. Collard greens or mustard. I like the stems because I cook 'em for like four hours. But you gotta take the ends off. You chop 'em up and break 'em up real fine . . . into pieces about the size of three fingers.
You put 'em in water and then put a stick of butter in there. You want to make the greens to come down to the water level.
Meat—we're getting to the good stuff now. You get jowl bacon or any kind that has a lot of fat, the more fat, the better. Get smoked turkey neck. Or a drumstick the size of a kneecap. And smoked.
Then you get with the seasoning. Get soul food seasoning. Or Lawry's is the closest thing. You need paprika and those crushed red pepper flakes. I taste my food until the flavor is to my desire. That's the number one rule of cooking: "To taste."
GREENS
Ingredients

Four bunches of greens, chopped and roughly destemmed
2-3 quarts water
Soul food seasoning, to taste
½ cup butter
1 pound jowl or other fatty bacon, chopped
4 necks or 1 large drumstick smoked turkey
Directions
1. Fry bacon in a large pot. Do not drain.
2. Melt butter in the same pot. Add greens and 2 quarts water and bring to boiling. After the greens have cooked down some (about 15 minutes), add turkey and seasoning.
3. Cover and simmer for four hours or to desired consistency. Check after an hour and add more water and/or seasoning as needed, keeping the greens mostly submerged. Remove bones from turkey meat and serve hot.