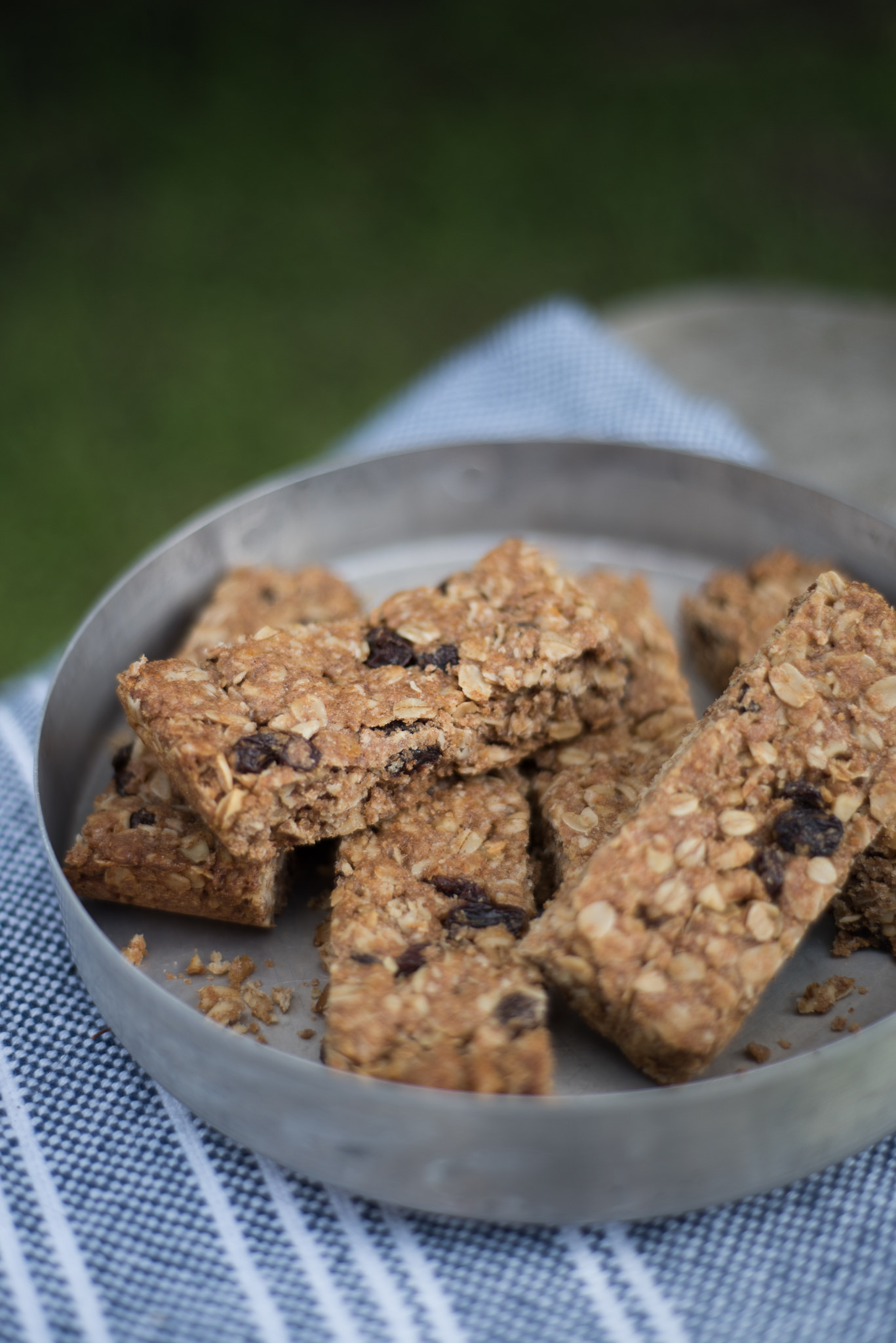 Recipe by Sheila Timler
Photo by Jennifer Kenning
Sheila Timler's (South Bend) simple recipe for granola bars is both nourishing and delicious (but not low-calorie!). "I've made these bars for a young adults' camping trip, for a welcome gift when a family moved to the branch, for a wedding-morning snack for a community couple, and as a gift for a number of moms when they had their first babies." She notes that, since they're nutrient-dense and can be eaten with one hand, they really are perfect for moms with new babies.
Sheila says that she usually sets aside the amount that her family will eat in two or three days and freezes the rest. She typically uses the smaller amount of brown sugar and the smaller amount of dried fruit, but if you prefer them sweeter you can add more.
GRANOLA BARS
Makes 48 bars
Ingredients

1 ½ C canola oil
1 ½ C honey
3 large eggs, beaten
2 tablespoons vanilla extract
6 cups old-fashioned rolled oats
3 cups whole wheat flour
1 to 1 ½ C light brown sugar
¾ C wheat germ
¾ C ground flaxseed
1 tablespoon cinnamon
1 ½ teaspoons salt
1 ½ to 3 C dried cranberries or raisins, to taste
1 ½ to 3 C walnuts or pecans, to taste, finely chopped (optional)
Directions
1. Preheat oven to 350 degrees. Grease two 9 x 13 baking pans and set aside.
2. Mix canola oil, honey, eggs and vanilla extract in a medium bowl and set aside.
3. Mix remaining ingredients in a large bowl. Make a well in the center of the mixture. Add liquid ingredients and mix thoroughly.
4. Spread mixture into baking pans. Use a rubber spatula to press down and smooth the top. Be sure that there are no thin edges, which will cook too quickly.
5. Bake for 30 minutes. Cool in pan for 5 minutes only, then slice each pan into 24 bars. Allow to cool completely in the pans.