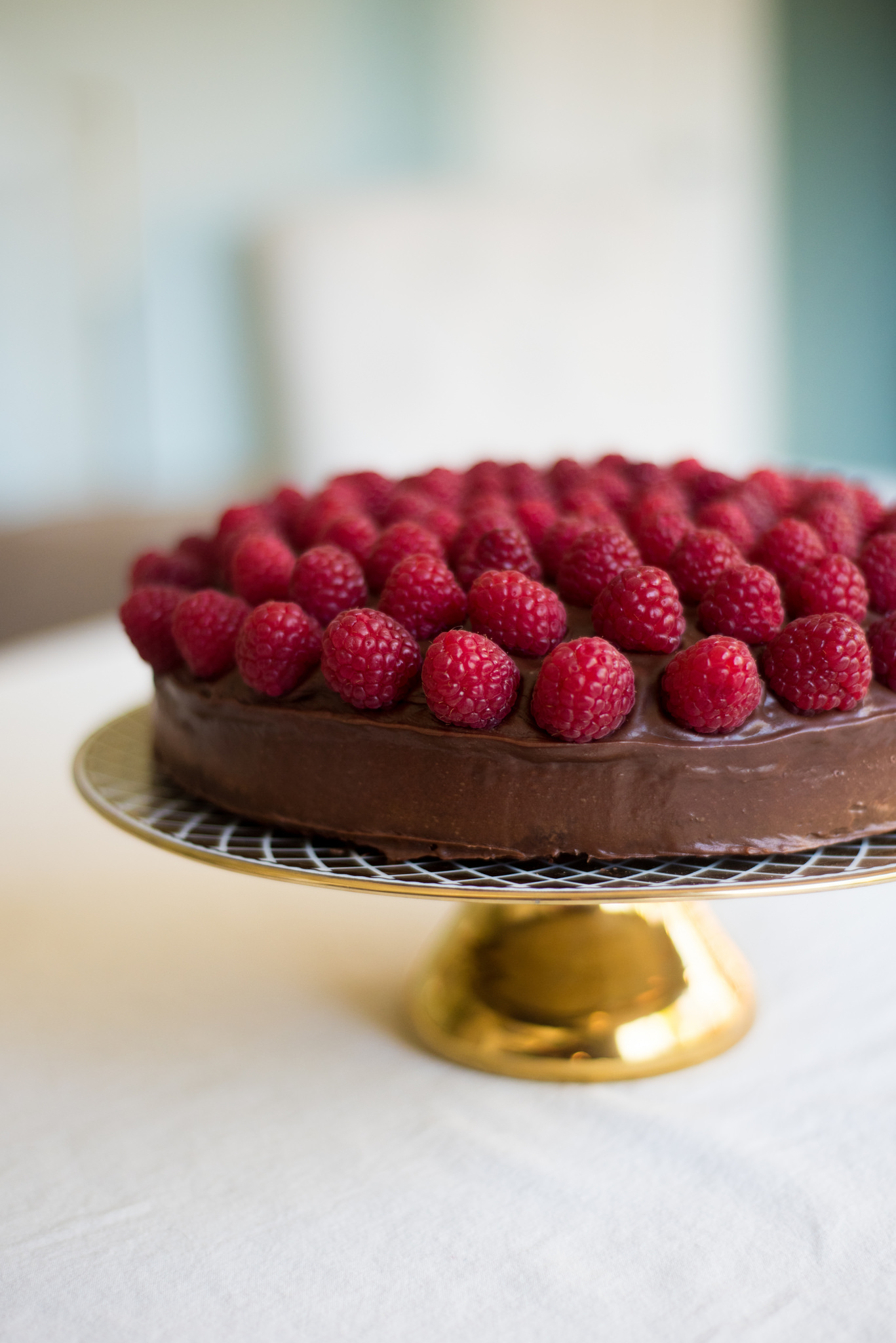 Recipe by Eileen Pizer
Photo by Jennifer Kenning
Eileen Pizer's cakes have graced many tables in the northern Virginia branch. She serves them to guests, gives them as Christmas gifts to families with small children and brings them to many branch gatherings. About 20 years ago, Eileen found a chocolate cake recipe in an old Silver Palate Cookbook and developed her own raspberry variation. The result is now a branch favorite. Her dark, dense and elegant chocolate raspberry cake is often requested for birthdays, Lord's Day openings and women's events because of its rich, fudgy flavor and its striking presentation.
CHOCOLATE RASPBERRY CAKE
Serves 12
Cake Ingredients

1 cup boiling water
3 ounces unsweetened chocolate, chopped
8 tablespoons unsalted butter, chopped
1 teaspoon vanilla
2 cups sugar
2 eggs, separated
2 tablespoons raspberry liqueur (optional), or substitute 2 teaspoons raspberry extract
1 teaspoon baking soda
½ cup sour cream
2 cups less 2 tablespoons flour
1 teaspoon baking powder
Seedless raspberry preserves or fruit spread
Directions
1. Preheat oven to 350 degrees. Grease a 10" springform pan. Pour boiling water over chocolate and butter; let stand until melted.
2. Stir in vanilla and sugar, then whisk in egg yolks, one at a time, until well blended. Mix in raspberry liqueur if desired.
3. Mix baking soda with sour cream and whisk into chocolate mixture.
4. Sift flour with baking powder and add to batter, mixing thoroughly.
5. Beat egg whites until stiff but not dry: set mixer on low to medium-low speed until the whites get foamy, then increase the speed to medium-high and continue beating until no longer foamy and the whites hold a stiff peak on the beaters. Stir a quarter of the egg whites into the batter thoroughly. Scoop the remaining egg whites on top of the batter and gently fold in.
6. Pour batter into prepared pan. Set on the middle rack of the oven and bake for 40 to 50 minutes. or until the edges have pulled away from the pan and a toothpick inserted into the center comes out clean. Cool in pan for 10 minutes; unmold and cool completely before frosting.
7. Spread a generous layer of seedless raspberry preserves over the top of the cake. If desired, first slice cake horizontally to spread an additional layer of preserves in the middle of the cake.
Frosting

2 tablespoons unsalted butter
¾ cup semisweet chocolate chips
6 tablespoons heavy cream
1 teaspoon vanilla
1 ¼ cup confectioner's sugar
2 tablespoons raspberry liqueur (optional)
fresh raspberries for garnish
Directions
Place butter and chocolate chips in a heavy saucepan and stir until chocolate is melted. Stir in cream and vanilla, then add sugar and whisk until smooth over low heat. Cool slightly; add more sugar. Spread frosting on cake while it is still slightly warm. Garnish the frosted cake with fresh raspberries.