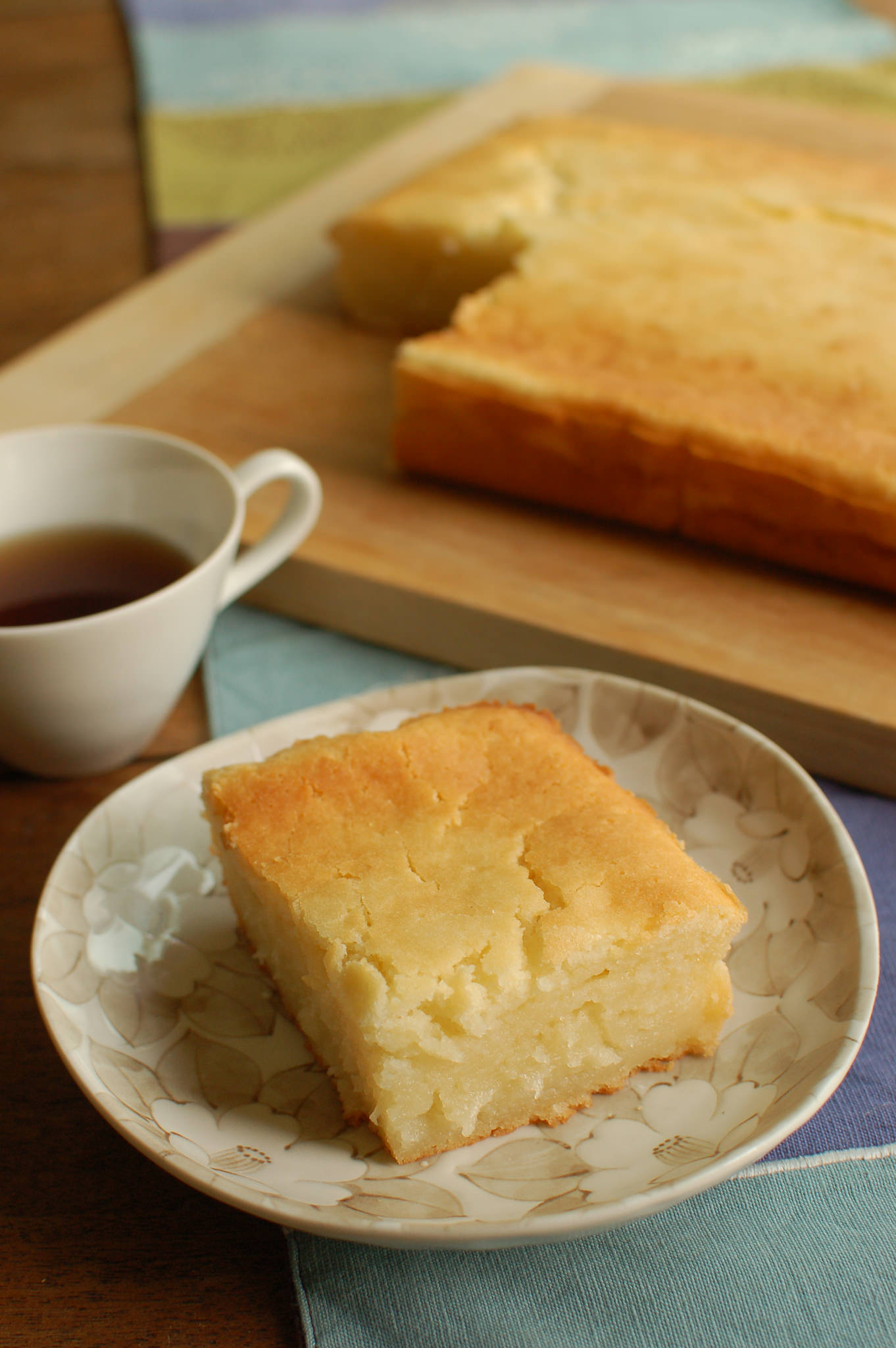 Recipe from Denise Wong (Oahu)
Photo by Jennifer Kenning
The Asian dessert known as Butter Mochi or Bibingka (bee-BING-kah) can be found everywhere in Hawaii, from the formal dining room to the 7-Eleven store on the corner. Bibingka has a sticky or springy texture that comes from sweet rice flour. This texture may surprise those who have never tasted Bibingka before, but have no fear—this dessert is simply wonderful.
This easy Bibingka recipe is known around the Oahu branch as "Denise's Bibingka." "The recipe is very forgiving, so it's hard to go wrong," says Denise. "If you bake it too long that just means it's crispier on the outside."
BIBINGKA
(Filipino for Butter Mochi)
Ingredients
5 cups sweet rice flour
2 teaspoons baking powder
2 1/2 cups sugar
3 eggs, beaten
1 stick of butter, melted
2 teaspoons vanilla
2 cups coconut milk
2 1/2 cups milk
(Optional) Grated coconut
Directions
1. Place the beaten eggs and the remaining ingredients in a large mixing bowl. Thoroughly mix the ingredients together.
2. Grease a 9 x 13 pan (or line the pan with foil), then pour the mixture into the pan.
3. If you desire, sprinkle the grated coconut on top of the mixture to add flavor and a crunchy texture.
4. Bake at 350 degrees until the edges are a deep golden brown, 50 to 60 minutes.
5. Let the desert cool, then slice it with a knife and serve.
Note: Sweet rice flour, also called "mochiko," or glutinous rice flour is available at Asian grocery stores and can sometimes be found in the Asian section at supermarkets. Do not substitute regular rice flour.