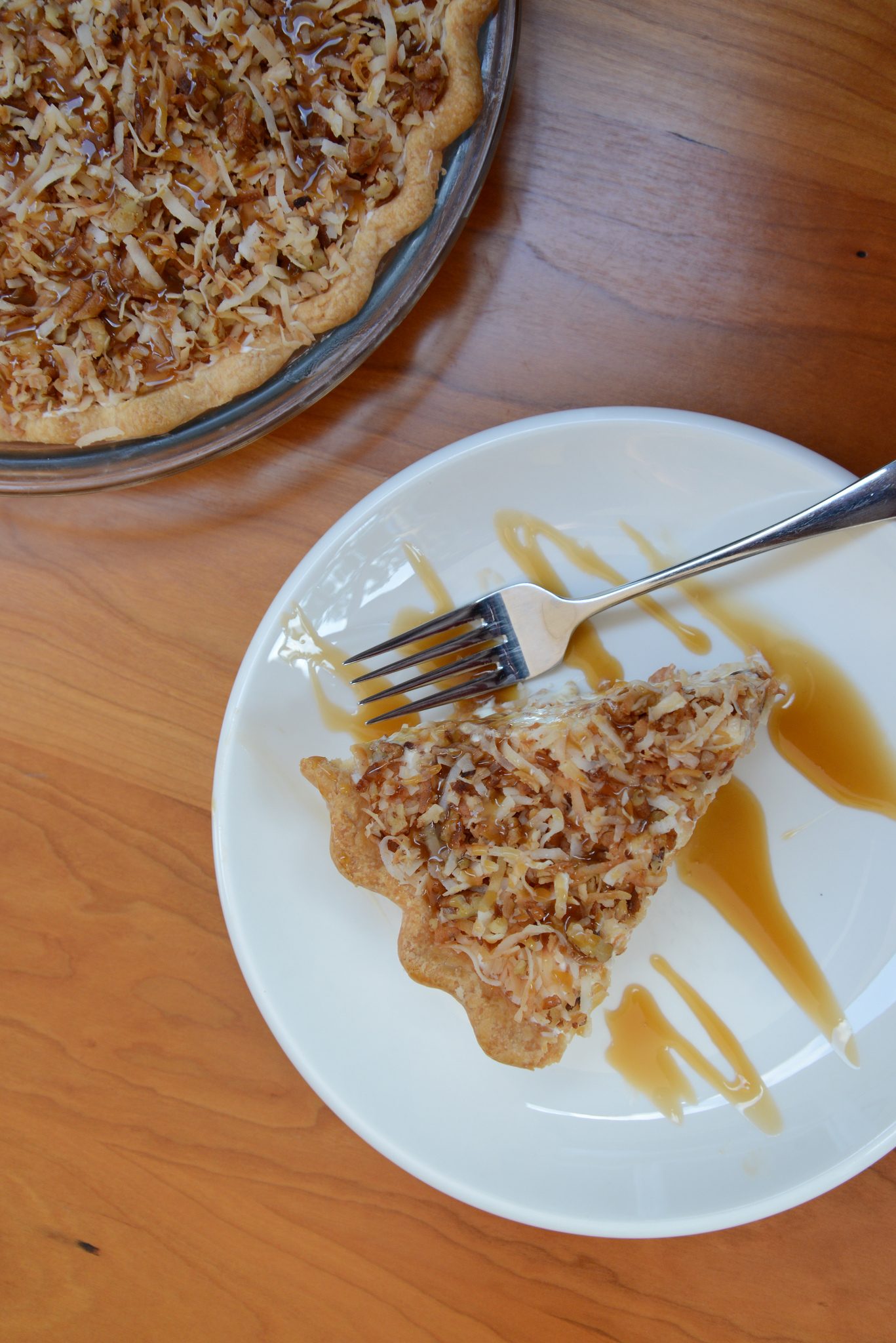 Recipe from Jen Havard
Photo by Nano Farabaugh of a pie made by Claire Mysliwiec
In 2009, the South Bend branch celebrated the community's anniversary with a baking contest. A panel of judges tested dozens of pies before branch members were let loose to feast on them. Rising above rows of pumpkin pies, fruit pies, lemon meringue pies, gluten-free pies and cream pies, Jen Havard's sweet and nutty Coconut Caramel Pecan Cream Pie stole the grand prize.
COCONUT CARAMEL PECAN CREAM PIE
(Makes Two Pies)
Ingredients

2 (9") pie shells, baked ahead of time until light brown
1 (8 oz.) package (approximately 3 cups) flaked coconut (use sweetened or unsweetened coconut as desired)
1/4 cup butter or margarine
1 cup chopped pecans
1 (8 oz.) package cream cheese, softened
1 (14 oz.) can sweetened condensed milk
1 (16 oz.) container frozen
whipped topping, thawed
6 oz. caramel ice cream topping (from jar)
Directions
1. In a medium skillet, melt butter or margarine over medium heat. Add coconut and pecans. Toss well, and sauté until coconut is lightly browned. Set aside to cool.
2. In a large mixing bowl, beat cream cheese until fluffy. Add condensed milk and mix until smooth. Fold in whipped topping.
3. Spread ¼ of cream cheese mixture into each pie shell. Sprinkle ¼ of coconut mixture over each pie.
4. Repeat with remaining cream cheese mixture, then remaining coconut mixture. Drizzle caramel sauce over the top of each pie. (Tip: warm the sauce for 15 seconds in microwave to make it easy to drizzle.) Pies should be chilled for several hours or overnight before serving.