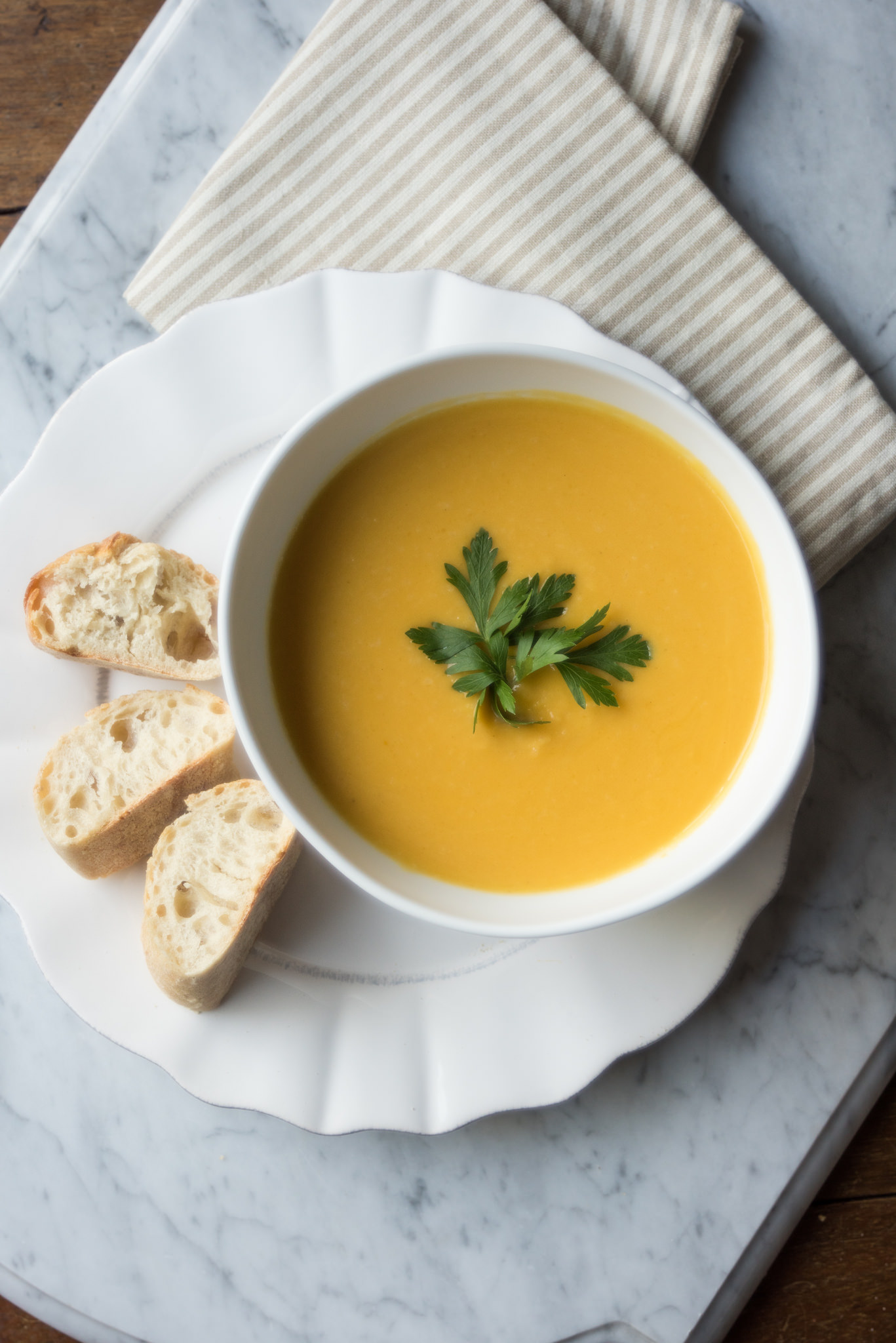 Recipe by Jim Grill
Photo by Jennifer Kenning
In Minnesota, a state known for the hot dish (which is called a casserole in many places), Jim Grill's specialties of soups and wild game are fitting fare for cold winters.
"I've always cooked," Jim says. "Part of the way my mom and dad raised us was, the boys had to learn how to cook, too. I remember always enjoying being in the kitchen. When I was in the military I got jobs in restaurants. Maybe it's the name 'Grill.'"
His butternut squash soup is a favorite of family and guests. Jim recommends a green garnish such as parsley, and adjusting the ratio of cream to broth to achieve the desired color (more cream results in a paler orange). "My favorite," says Jim, "is to brown large sea scallops in a pan and serve them over the soup!"
The soup may be refrigerated or frozen when prepared in advance and simply reheated before serving.
BUTTERNUT SQUASH SOUP
Serves 4 to 6 People
Ingredients

3 butternut squashes
1 onion, finely chopped
3 cups vegetable broth
1 ½ cups heavy whipping cream
½ cup (1 stick) butter
2 cups white wine
Salt and pepper to taste
Directions
1. Heat the wine in a medium saucepan on low until reduced to ¼ cup, approximately 50 minutes.
2. Preheat oven to 325 degrees. Cut each squash in half and scoop out the seeds. Place halves cut side down on a rimmed baking pan. Place in oven and pour ¼ inch of water into the pan surrounding the squash. Bake 30 to 40 minutes or until the squash is tender when poked with a fork. Remove from pan and set aside to cool.
3. In a large saucepan, melt butter. Add the onion and cook until translucent. Add wine reduction and squash, scooping squash out of the skins.
4. Add the vegetable broth and the heavy cream and cook over medium heat until warm. Whisk occasionally until well mixed, making sure that the squash doesn't burn.
5. Working in batches, ladle the soup into a blender to puree. Transfer pureed soup into another large saucepan over very low heat to keep warm while pureeing additional batches. Mix soup back together and season with salt and pepper to taste.