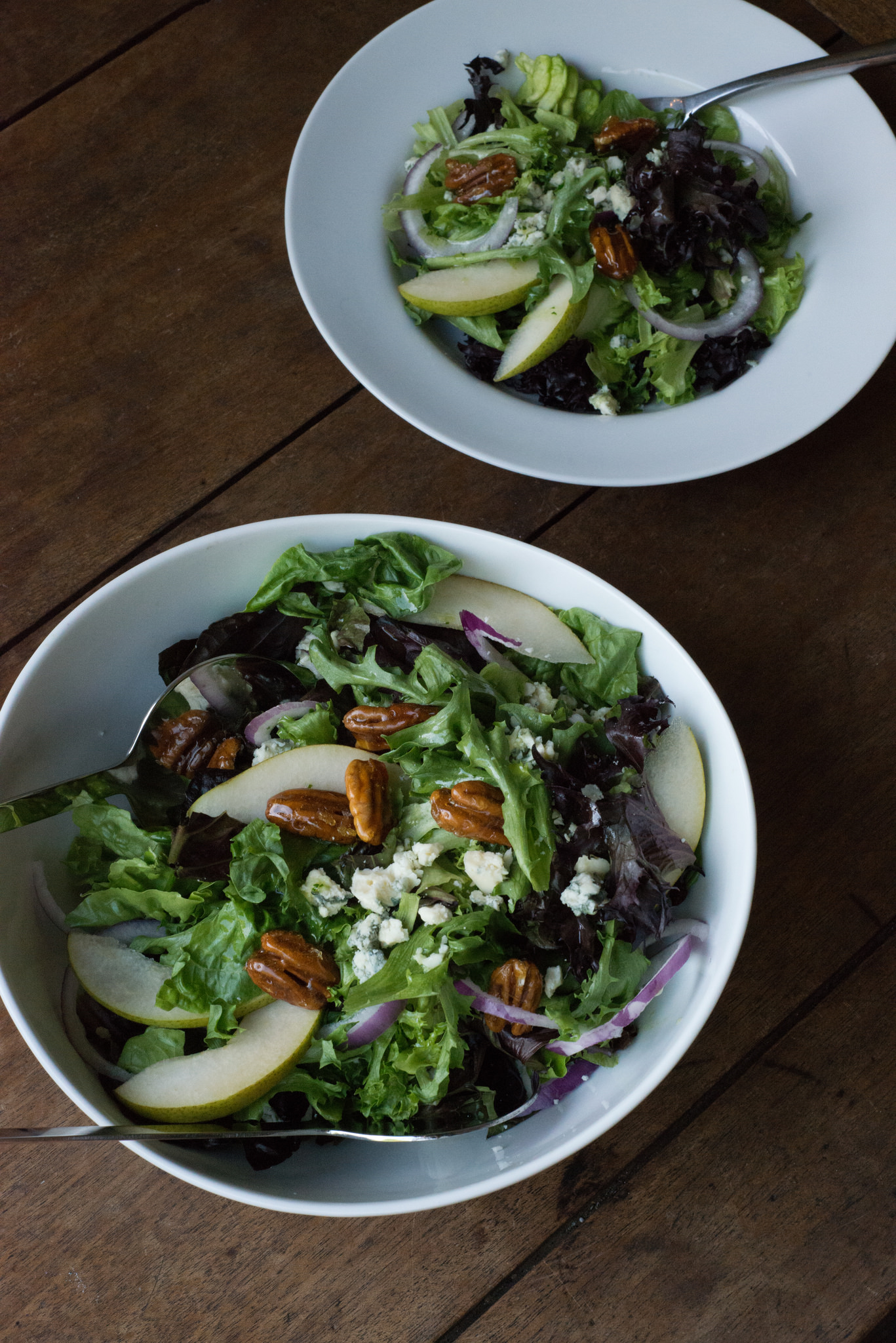 Salad Recipe by Jenny Ridenour
Photo by Jennifer Kenning
This recipe began with Jo Marie Hansen (Vancouver-Portland), who used the parsley dressing with her mandarin orange salad for years. As part of a Christmas gift one year, she shared the recipe with her women's group, which included Kathy Freeman.
Kathy prepared the same salad for a Lord's Day opening at least 15 years ago, and that was where Jenny Ridenour first had it. Jenny says, "This is the recipe that got me onto salads. I realized that salads can be done creatively and be one of the tastiest parts of a meal. Also at that dinner, Kathy explained how to make the candied nuts. I've used her method on all sorts of nuts to candy for salads."
Jenny later updated the recipe and decided to combine the parsley dressing with her pear/pecan/gorgonzola salad (below). All three women agree that the dressing is very versatile, and Jenny's alterations are only one manifestation of the creativity that Jo Marie's original recipe inspired.
PEAR, PECAN AND GORGONZOLA SALAD
Serves 8
Parsley Dressing
Ingredients

1/4 cup parsley, chopped
2 tablespoons white sugar
2 tablespoons apple cider vinegar
1 garlic clove, chopped
1/2 teaspoon salt
Fresh ground pepper, to taste
1/2 cup vegetable oil
Directions
1. Combine all ingredients except oil in a food processor and pulse several times until well mixed.
2. Add in oil a little at a time and pulse between additions. Be careful not to overmix. Add extra salt to taste.
Salad
Ingredients

Large bowl of mixed greens
1 red onion, thinly sliced
2 pears
1 cup pecan halves
1 cup white sugar
Gorgonzola or blue cheese, crumbled
Directions
1. Heat a medium nonstick pan over medium heat. Add ¼ cup sugar and spread evenly across pan. Cook until sugar is liquid, then add ¼ cup of pecans. Stir pecans until coated with sugar, then remove from pan. Immediately separate pecans using two forks and allow to cool. Repeat the process, in batches, with the remaining pecans and sugar. Once candied pecans are cool, break the single pecans into pieces. Set aside.
2. When ready to serve salad, thinly slice the pears and toss all ingredients together. Add dressing to coat, being careful not to saturate salad.