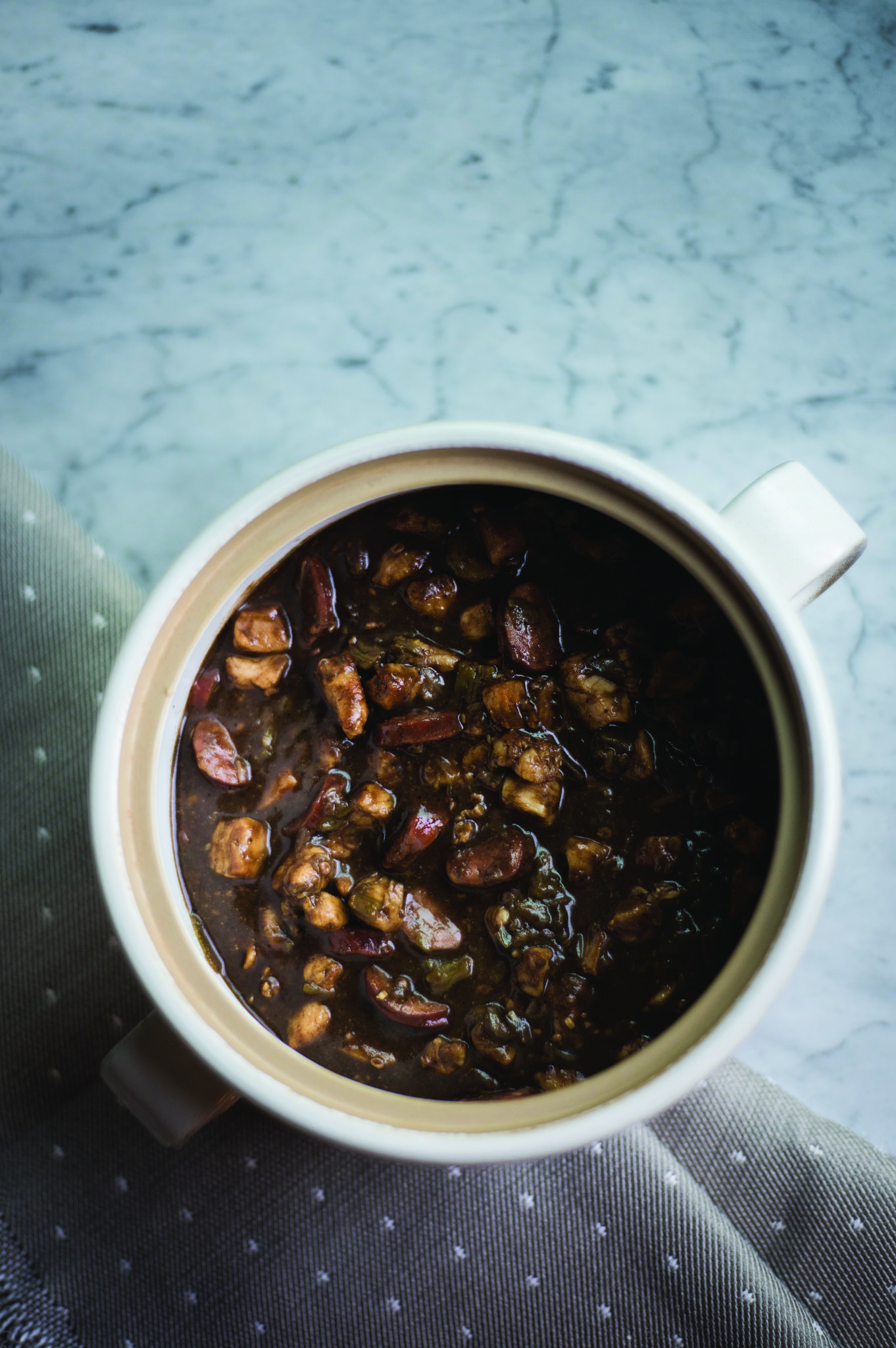 Recipe by Mary Frances Parker
Photo by Jennifer Kenning
"Jambalaya, and a crawfish pie and filé gumbo," as the Hank Williams song recounts, are staples of Louisiana home cooking. Many community members from other locations remember getting treated by their Shreveport branch hosts to a hot bowl of gumbo while on an Action trip in the Allendale neighborhood.
"It is a pretty much go-to thing for a crowd," Mary Frances Parker (Shreveport) says, "and you really can't mess it up unless you don't season it enough."
As Linda Coney (New Orleans) notes, many people in Louisiana don't use written recipes for gumbo. Mary Frances Parker's commentary is included with her own recipe here. Additional tips and alternate methods are included, and if you want more you could call up just about any member of the New Orleans or Shreveport branches!
Jackie Vaughan (Shreveport) adds, "If it's good, then be sure to tell the cook, 'Ca c'est bon!' That means it's good in Cajun French and it's quite a compliment in South Louisiana."
CHICKEN AND SMOKED SAUSAGE GUMBO
As Explained by Mary Frances Parker
Serves: 15 Hearty Appetites.
It's ALWAYS better the second night, so you want to make enough that you have leftovers.
Ingredients
All estimated. If you've got beef, turkey, gravy, throw it in!

1/2 cup baking fat (bacon grease, Crisco or vegetable oil)
1 cup flour
1 onion, diced
1 pepper, diced
1-pound bag of frozen sliced okra (or use diced celery)
1 pound andouille or other smoked sausage, precooked
4 pounds chicken breast or 1 whole chicken, cubed
Creole/Cajun spice blend like Tony Chachere's
3 quarts water (or broth or stock, without using chicken base)
1 rounded tablespoon chicken base
2-3 bay leaves
Parsley flakes, fresh or dried
1-2 tablespoons minced garlic
Directions
1. First you make a roux. Heat your baking fat on medium heat in a heavy frying pan. Add maybe a cup of flour so that the mixture becomes pasty, not loose. You have to stir the roux, turn it over until it turns a dark chocolate brown. That takes at least 20-30 minutes. Just don't answer the phone while you're making that roux, because it's going to burn.
2. As soon as the roux is a Hershey's chocolate brown, turn the burner down low and toss in what is called the "trinity" of Cajun cooking: onions, bell pepper and celery . . . but I don't use celery. I also toss in the sliced okra. The vegetables make the roux stop cooking. Saute until the onions are clear. It will be pasty, a big clump of stuff.
3. Season the cubed chicken real good with Tony's, then put it in a stockpot and brown it. Remove it and put it in a bowl. You have to cover it, because everyone who walks by is going to eat a piece.
4. Now put the roux and vegetables in the pot and add the water. Throw in a bay leaf or two, minced garlic and parsley. I also add chicken base – it makes the gumbo richer. That stuff is salty so not too much. I cook that together. Add more water or stock if it's too thick, or let it boil off if it's too watery. (Frances Gauthier adds, "You don't want it to be gravy thick, but not too soupy either.") I slice up the sausage and put that in, but don't put the chicken in yet. Bring it to a boil, then simmer maybe an hour, stirring every so often.
5. Wait to put the chicken in until 20-30 minutes before you serve it, or it can get mushy. Then taste to see if it needs any other seasoning. Now, don't taste it before you have added the chicken back in and let it simmer, because that has all the Tony's.
Serve over rice.

INGREDIENT VARIATIONS:
Mary Frances: "Some people like to put green onions on top when you serve it. A lot of people serve potato salad with it and put it IN the gumbo. People in New Orleans put tomatoes in their gumbo. Seafood gumbo is great, but expensive."
John and Frances Gauthier (Shreveport): "Some people will put some filé powder in it, which gives it a different flavor, but don't put that in while it's cooking. As you serve it, people can stir it in individually. It makes gumbo a little thicker in a different way – coarser."
Kathy Mehaffey (New Orleans): "Okra is one of those things that people either like or don't . . . it's slimy." (Okra acts as an additional thickening agent, so if you don't use it you may want to decrease the amount of water or increase the amount of roux.)
John and Frances Gauthier (Shreveport): "Our preference is to boil a chicken and use that stock, because it has so much more flavor (as opposed to chicken base and water, or canned broth). And the sausage . . . don't do what they did on Yale Street in Allendale one time. They asked us to come help, and they'd gotten those little breakfast sausages. You gotta get some really good smoked sausage to give it the right flavor."

ROUX:
Making a roux could take up to an hour, depending on how dark you dare to go or how high your heat is. This website,
http://acadianatable.com/first-you-make-a-roux/
 has some helpful photographs of the roux-making process. Note that the roux pictured starts with a 1-to-1 ratio of fat to flour instead of 1-to-2, making for a more liquidy roux.
Mary Childers (Shreveport) recommends: "You can't rush roux. If you do it fast it'll have a burnt taste, bitter." Mary also stops cooking her roux earlier than Mary Frances would, when it is the color of a dark copper penny.
Mary Frances: "You always have the option of using store-bought roux. That's quicker. I could start at 4:00 p.m. and serve gumbo at 6:30."

TIMELINE:
Mary Frances: "I have done this: I make the roux, add all the vegetables, let that cool off and put it in a Ziploc bag in the freezer. If I make gumbo in the morning, I let it simmer a couple hours and then turn it off with lid on, then turn it back on maybe an hour before I serve it."