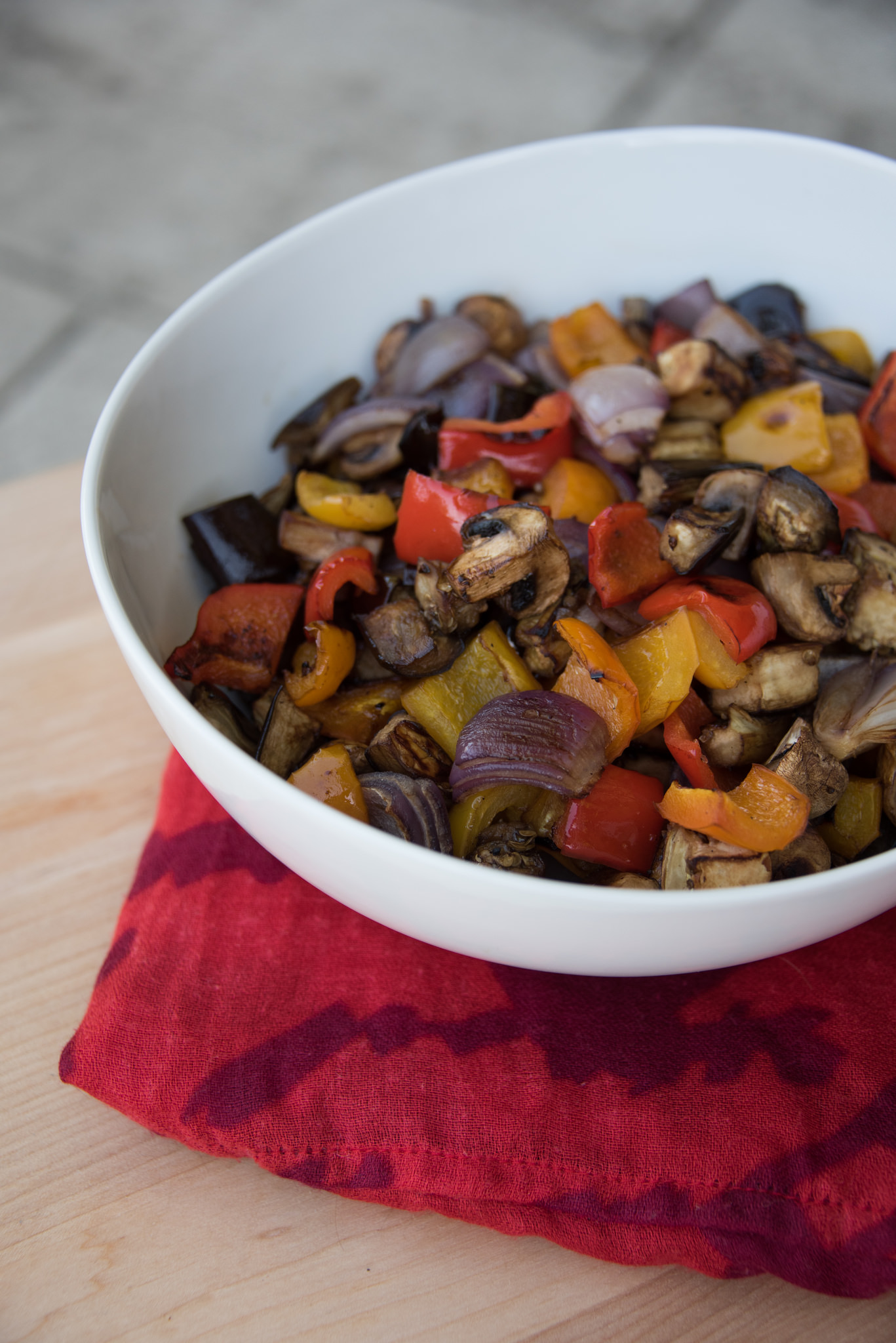 Recipe by Margaret Anderson
Photo by Jennifer Kenning
If you think you don't like eggplant, you may want to try this summer dish, which uses roasted eggplant.
Margaret says she first made this dish to bring to a potluck cookout. "I was living in household with Sean and Gretchen Connolly's family at the time," she recalls. "I love roasted eggplant, and Gretchen was growing fresh basil in the yard, so that's what I used." The roasted eggplant takes on a rich, smoky flavor and the balsamic vinegar and red onion add just a hint of sweetness.
Margaret suggests that this recipe could also be made with zucchini in addition to or instead of the eggplant. This would be a good accompaniment to grilled meat or fish for a simple but elegant Lord's Day meal.
ROASTED SUMMER VEGETABLES
Serves 6
Ingredients

1 eggplant, chopped into 1/2 to 3/4 inch cubes
8 oz. mushrooms, quartered
1 large red onion, chopped
2 to 3 colored bell peppers cut into inch-sized pieces
handful of fresh basil (about 4 to 7 leaves), coarsely chopped
3 cloves garlic, minced
2 to 3 tablespoons olive oil
2 to 3 tablespoons balsamic vinegar
Salt and pepper to taste (kosher salt is best)
Directions
1. Preheat oven to 450. Line two large baking sheets with parchment paper.
2. Combine vegetables, garlic and basil in a large mixing bowl and toss with olive oil.
3. Put vegetable mixture in a single layer on the baking sheets.
4. Drizzle with balsamic vinegar and season with salt and pepper to taste.
5. Bake for 15 to 20 minutes, flipping the vegetables partway through cooking.