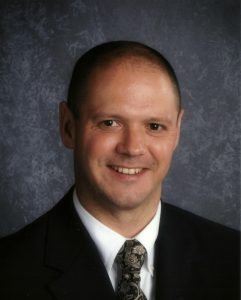 Mr. Jon Balsbaugh (Servant Branch), the head of school at Trinity River Ridge and a 20-year veteran member of the faculty, will be the next president of Trinity Schools, Inc. He follows Dr. Kerry Koller (South Bend), who has filled the role of president since the founding of Trinity School in 1981 and will step down this summer.
"I am confident that Jon's vision, leadership, and experience will carry our mission at Trinity forward into the future," said Dr. Craig Lent, chair of the Trinity Schools board of trustees, which hired Jon after an extensive search.
As president, Jon will be responsible for overseeing Trinity's three campuses—in South Bend, IN, Eagan, MN,  and Falls Church, VA—as well as relationships with two member schools, The Wilberforce School in Princeton, NJ, and Trinity Academy in Portland, OR. His term of office lasts for six years and is renewable.
Jon and his wife Jen, also a teacher at River Ridge, have five children: Dietrich (Servant Branch), 19, Anna (Servant Branch), 17, Emily, 15, Nora, 12, and Charis, 8. The Balsbaughs will move to South Bend this summer so Jon can begin his new job. His replacement as head of school at River Ridge will be chosen this spring, Kerry said.
Jon grew up in Adair Village, OR, a small town outside of Corvallis. He credits his educational formation to his parents, a machinist and a stay-at-home mother, who made financial sacrifices to send him to a private Christian high school. He earned a B.A. in English from The Master's College in Santa Clarita, CA. After he and Jen were married, the Balsbaughs moved to Minnesota, where Jon earned an M.A. at the University of St. Thomas, writing his thesis on C.S. Lewis's novel Till We Have Faces. There, searching for what God might be calling him to do with his life, he stumbled upon a news article about Trinity School at River Ridge. "I was instantly captivated," he said.
Jon started teaching at River Ridge in 1997, where he and Jen encountered the community. "We saw something in the mission of the school, the integrity of the people involved and the quality of the families that led us to make an underway commitment," Jon said. The Balsbaughs made the covenant in 2006 and Jon became the head of school at River Ridge in 2009. He is a tenured coordinator.
Kerry said he was delighted by the choice. "Jon is a man of tremendous intellectual depth who has masterfully developed the community of learners at River Ridge. He is one of our most gifted teachers, in part because he is also a model learner. His love of truth, goodness and beauty is revealed in his vast intellectual and aesthetic interests. He has the Trinity DNA."
Steve Hendrickson (Servant Branch), a longtime math and science teacher, credits Jon with cultivating a vibrant culture of learning. "One of his notable decisions was to declare Free Learning Day," Steve said. "To the great surprise of our students, we announced the cancellation of regular classes, offering the students and faculty the chance to spend the day pursuing different interests—reading poetry together, learning Italian cooking, exploring the world of J.R.R. Tolkien, or studying special topics in mathematics. We expected it to go well, but the response from the students far exceeded our expectations."
Beth Schmitz (Servant Branch), a math teacher and River Ridge alumna, points to Mr. Balsbaugh's eloquence and clarity as a speaker, explaining Trinity's vision to students, faculty and parents alike. Jon's 2015 opening address to the students, entitled "Ideas are Dangerous" gained a national audience after it was posted on the Internet and republished by the popular education blog Intellectual Takeout.  
Joe Gleason (South Bend), an editor for the film director Terrence Malick who is living on assignment in Austin, TX, says his friendship with Jon began in the classroom discussing The Brothers Karamazov and has grown stronger over the years. "We have great conversations over email and have gotten together over breaks to discuss books, movies, art, music, Christ and our lives. Jon's interests include cooking, film and fly fishing. He is a gifted photographer whose images help me see beauty in ordinary things."
"For more than 35 years, Trinity Schools have been faithful to the call of the Lord to provide students with an education rooted in the pursuit of truth, the practice of goodness and the creation of beauty," Jon said. "Kerry has provided visionary and courageous leadership that has kept us grounded in our mission. It is at once a great honor and a humbling prospect to follow him into the office of president. I am looking forward to getting to know the faculty, staff, students and alumni of each of our campuses better and to working closely with our Trinity member schools. The foundation laid by the community during the founding of Trinity Schools, Kerry's steady leadership, our dedicated and passionate faculty and, most importantly, a sense of calling from the Lord to engage in this work give me great confidence for the future of Trinity Schools."