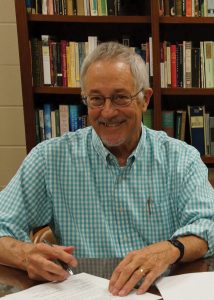 From Craig Lent, Overall Coordinator of the People of Praise and Chairman of the Board of Trustees, Trinity Schools, Inc.:
Dear Brothers and Sisters,
After 36 years of service and visionary leadership, Dr. Kerry Koller has decided to step down from his position as president of Trinity Schools, Inc. His resignation will take effect in the summer of 2017. The Trinity Schools board of trustees has already begun the difficult task of choosing his replacement.
Kerry has filled the role of president since 1981, when we opened the doors of the first Trinity School in South Bend. Through his guiding vision, we have grown from a small community of learners in a rented church hall to one that includes three campuses, two member schools and more than 2,000 alumni. Trinity's reputation for academic excellence has expanded nationally, and our model has provided the foundation for two member schools, Trinity Academy in Portland and The Wilberforce School in Princeton, New Jersey, as well as more than a dozen public charter schools in Arizona, Texas and Colorado, including the Thomas Maclaren School in Colorado Springs. Our three campuses have earned a total of seven Blue Ribbon awards from the U.S. Department of Education. Of Trinity at Greenlawn, the late author and political thinker Russell Kirk said, "I know of no better school in these United States."
I want to offer Kerry my most heartfelt thanks for his enormous contributions to Trinity and his decades of hard work on behalf of all of us. Kerry has met the daily challenges of leading and growing Trinity Schools with constant cheerfulness and a deep joy, laboring faithfully out of love for our covenant and a desire to bring the blessings of a Trinity education to as many people as possible. Kerry has a great love of seminars, and many of us have experienced his brilliant insights into books and his deep openness to the ideas of others, stemming from his core belief that truth is more easily discovered in a community. Fortunately, Kerry has agreed to stay on as Trinity's president emeritus, and he will advise the next president of Trinity Schools in the execution of his or her responsibilities. In the coming months, I hope that many of us can have the chance to thank and honor Kerry.
Kerry's love of a good discussion goes back to his days as a high school student in San Francisco, when he would listen in as his father's friends, a collection of philosophers and theologians, debated the big issues of their day. He attended St. Mary's College of California, where he read the Great Books and learned to appreciate classical music while living in the home of Dr. Ronald McArthur, who went on to found Thomas Aquinas College. Kerry and Barbara moved to South Bend in 1963, where Kerry attended the University of Notre Dame, earning his Ph.D. in philosophy. At that time, he met Paul DeCelles, Kevin Ranaghan and Clem Walters, who eventually became his friends and fellow leaders in the community and at Trinity. In 1969, the Kollers moved back to San Francisco, where they and others founded the John the Baptist Charismatic Renewal Community, eventually returning to South Bend and joining the People of Praise with many others who moved from San Francisco.
I would be remiss if I did not also mention the long service Barbara has given to our mission at Trinity, in her many years as a teacher and admissions director and in her willingness to move, not once but twice, along with Kerry, as the Kollers helped lay the foundations for the River Ridge and Meadow View campuses. The Kollers have five children, all Trinity School graduates: Katherine Brophy '85 (Colorado Springs), Stephen '87 (South Bend), Jack '92, Elizabeth Adams '95 (northern Virginia) and Peter '95.
Tom Finke (South Bend), a founding faculty member whose relationship with Kerry goes back to the 1970s, says Kerry's biggest contributions to Trinity include "constantly holding up the Trinity vision" and developing the Humane Letters Seminar courses, which remain close to Kerry's heart. "These are things that make Trinity Trinity," he said.
Bridget Donohue (South Bend), a longtime teacher and administrator, said, "I could tell tons of stories about Kerry, but I think they would all reflect the fact that he simply has the Trinity School mission in his blood. For him, it's not a job. It's a life."
Paul DeCelles (South Bend), added, "Kerry has been a brilliant leader for Trinity Schools. Trinity's educational model has been widely admired and copied numerous times. The ripple effects of his work go on and on." Some of those ripples include the many wonderful missionaries that Trinity has produced, making possible the community's mission work in the Mississippi Valley.
Kay Yohe (northern Virginia), head of school at Meadow View, praised Kerry's ability to freely follow a line of inquiry wherever it leads, encouraging others to do the same. Jon Balsbaugh (Servant Branch), the head of school at River Ridge, and John Lee (South Bend), head of school at Greenlawn, both pointed to Kerry as the model of a lifelong learner with a wide range of interests. "As long as I have known him, Kerry has continued to pursue a deeper understanding of the world, searching for the truth—whether in science, poetry, fiction or philosophy," Jon said.
Kerry says he is looking forward to serving Trinity School and the community by reading, thinking and writing, which he expects to have more time for in the coming years. "I am so thankful to the Lord for leading Barbara and me to the People of Praise. I was blessed to be guided by Paul, Kevin and others as we considered what we were convinced was a leading from the Lord to try something new to educate our own children and the children of other families who would be attracted by our mission. I've had the opportunity to be the head of school at each of our schools, to converse with and work alongside three marvelous faculties and to teach at each school myself, along with Barbara. After all of this, who knows what more the Lord has in mind?"