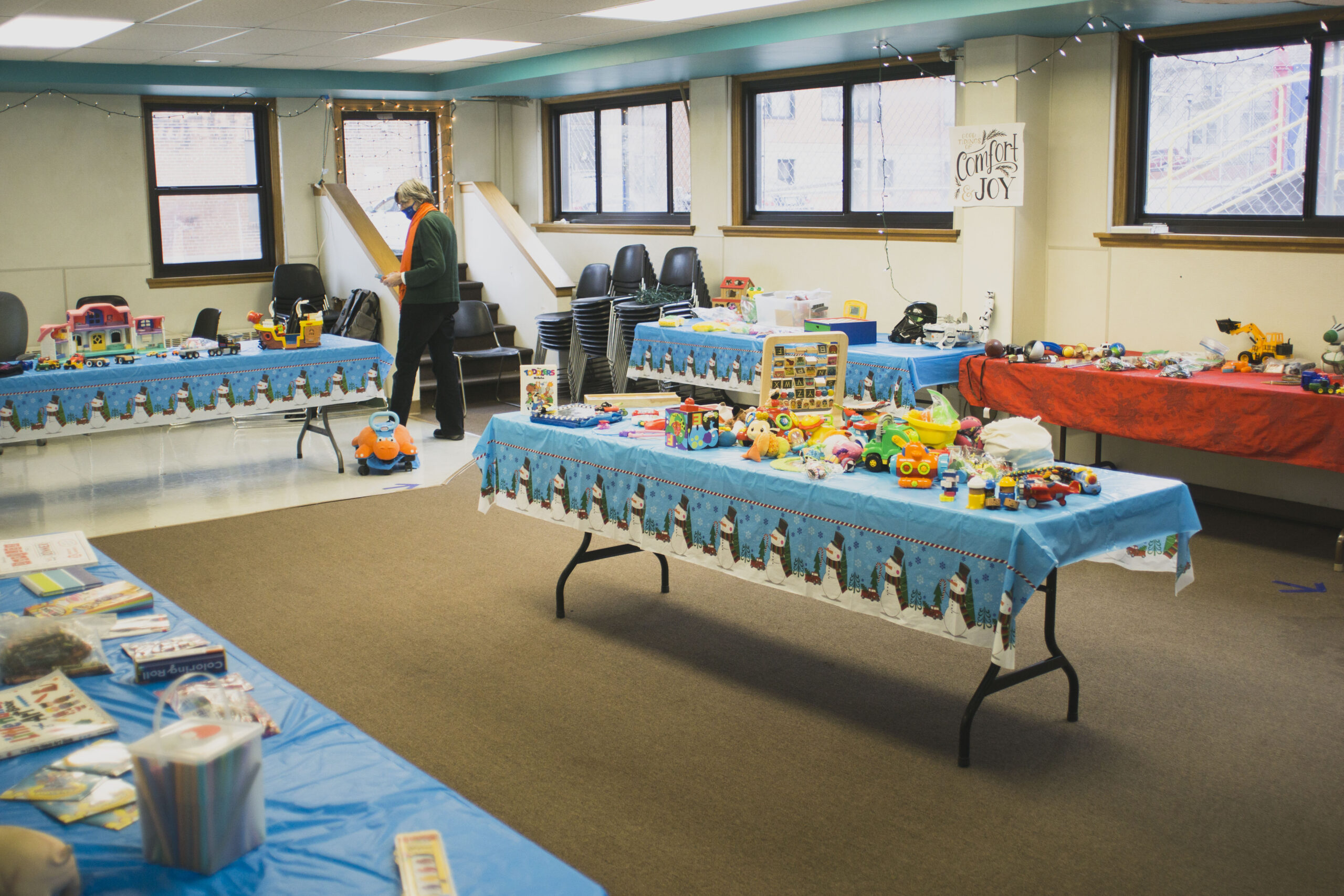 By Chris Meehan
More than 100 children will have a brighter Christmas, thanks to Servant Branch and its Action division. The second and third Saturdays in December, Action members sponsored a toy and clothing giveaway on the West Side of St. Paul, in the basement of the former convent where 11 People of Praise members live.
The pre-Christmas giveaway was the brainchild of two juniors at Trinity School at River Ridge, Ailish Koerpel and Mary Michaud. Ailish says, "Just a few weeks ago I overheard my mother say she wanted to donate my brother's winter coat to Goodwill or Salvation Army. Although the coat was still in good shape, my brother had outgrown it. I wanted to feel a more personal connection than simply giving it to an anonymous person somewhere, so I suggested we give it to someone on the west side of St. Paul."
About the same time, Ailish's father happened to ask family members to clear out the various toys which had collected in their basement over the years, many of them still in good shape. It occurred to Ailish that they could distribute the toys on the West Side as well. She shared the idea with her friend Mary, and together they broached the idea to Pat Murphy, the coordinator who oversees both Action and the West Side outreach team. Pat shared it with fellow Action leaders Mike Wacker and Julie Bruber.
As Pat recalls, "It was about an hour later that I received a text from Jim Cahill, a member of the west side team who lives at the former convent. He had heard from a woman he knew in the neighborhood who was lamenting the fact that due to economic hardship she would not be able to provide much of a Christmas celebration for her family."  Ailish and Mary's offer immediately came to Pat's mind, and the three of them began to dream big and the two young women planned a toy and winter clothing drive that would involve the whole Trinity River Ridge school, including a competition between grades.  Students responded to the challenge and not only donated many toys but took the time to sanitize them as well.
As news got around, more People of Praise members got in on the act, and soon the toy giveaway mushroomed into a large production. Action used donated money to purchase a few new items like footballs and soccer balls. Sam Claassen donated food to give away (he has run giveaways of 40,000 pounds of food at each of six events this past year, totaling a quarter-million pounds). Branch members donated more coats, hats, scarves, boots and mittens, and the organizers added a section for donated items that weren't in quite as good shape as the rest but were still useable. To top it off, Action members staffed a Christmas gift-wrapping table for the guests.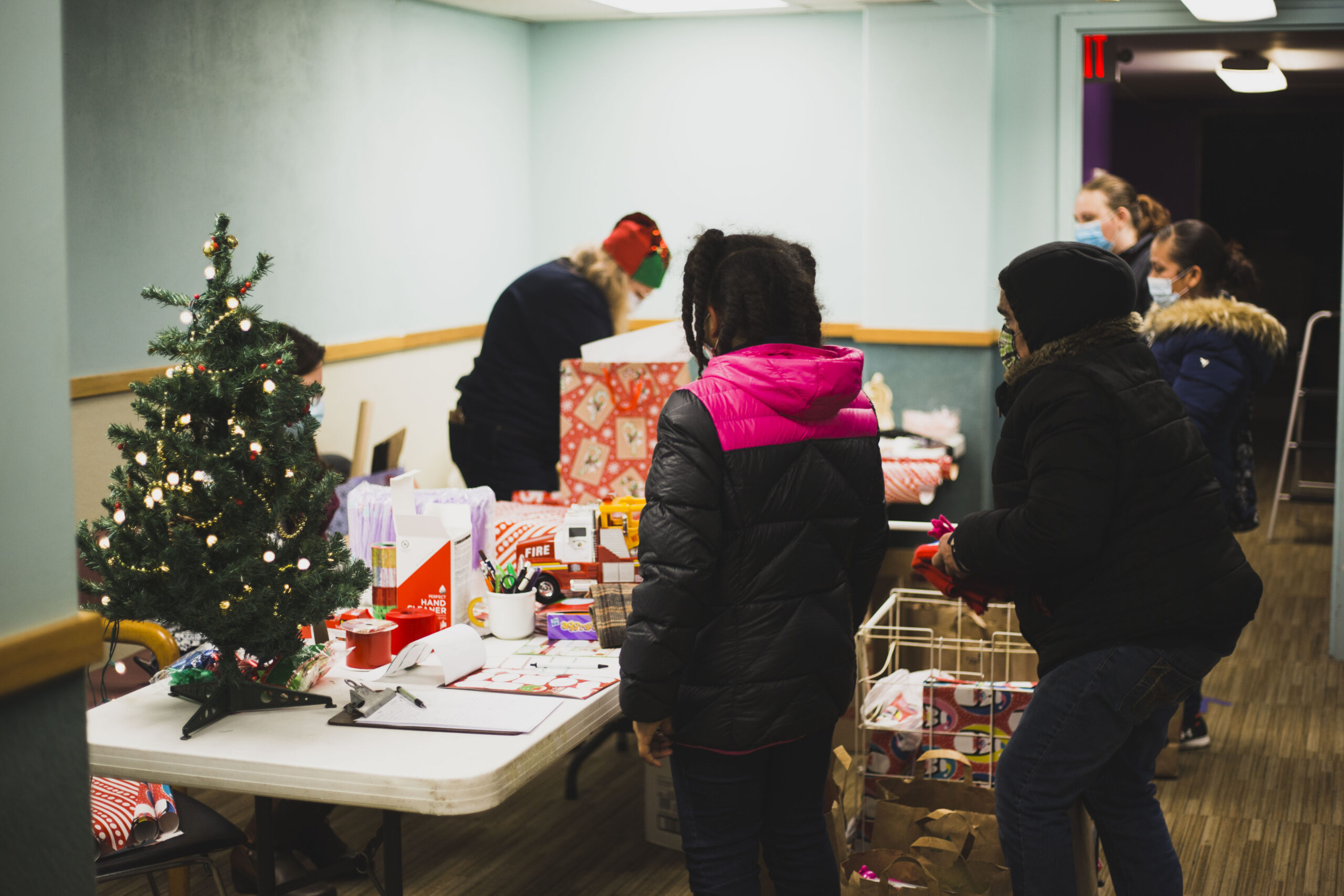 The free toys and clothing filled up two large rooms in the basement of the former convent, and the free food was distributed from a station outdoors. Only two or three families were allowed inside at a time, to ensure protective distancing. The mellow sounds of Bing Crosby crooning "I'm Dreaming of a White Christmas" filled the air as customers chose their items. "Because we only let in a few people at a time, it was a peaceful experience," says Beth Bulger, who volunteered the first of the two Saturdays. "The Christmas lights and decorations that the Action students put up also added to a holiday feel."
Departing guests were asked how many children would benefit from the toys and clothing they had selected. Over 80 children were listed for the first Saturday's giveaway, and 50 more the second. Pat estimates that they distributed over 1,000 toys.
Jim was delighted at the response of the neighbors they invited to the event. "We're not a social service agency," he says. "We want to build relationships of love with the people on the West Side, and not limit ourselves to being a source of free food. We didn't invite the general public to this giveaway. We invited people we've met over the past few years, people whose kids we have played with and whom we are getting to know well."
"It turns out COVID couldn't stop love," agrees Pat, recalling a brief encounter he, Jim and two Action students had while going door to door inviting parents to the giveaway. "We stood at one front door talking to a rough-looking man in his 50s. As we described the details of the event, tears began streaming down his face."
They asked him why he was crying, and he replied, "Because I know you folks really care for us."