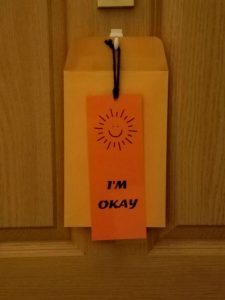 by Catherine Bulger
Community members in Servant Branch are finding creative ways to help their neighbors during the coronavirus pandemic. 
Loren and Mary Ann Smerud, Tina LaVergne and Meg Ferber all live in a 55-and-older residential co-op in West St. Paul called RealLife Cooperative. Members buy in and collectively own the building, while each living in their own unit. The co-op has a motto: "A neighborhood under one roof." 
But until recently, they did not have much of a deliberate common life. 
For several years, Loren, who is on the director's board for the building along with Tina, has been thinking and talking with other board members about creating more community. They decided to begin by dividing the six wings of the building—each floor has two wings, with 13 to 18 units per wing—into neighborhoods. The neighborhoods would be a locus for social gatherings and more shared life among neighbors.
Late last year, the neighborhoods were officially formed. "We see to it that peoples' needs are met; they can get acquainted with one another and do things together," Loren says.
Then the pandemic hit. Gatherings were cancelled, common areas closed, and residents were encouraged to stay inside their units. The function of the neighborhoods changed to focus on helping one another through the pandemic.
Tina, a public health nurse, taped envelopes to all the doors for easy communication. She got some door tags, which read on one side "I'm ok" and on the other, "I have a need." Each morning residents hang the tags on their doors. The neighborhood leaders then go around and check on everyone by reading their door tags.
Most of the time, people are fine. Sometimes someone forgets to hang their tag out, so they get a phone call check-in from a neighborhood leader. Tina says, "We recently had a person who didn't put the door tag out, so her neighborhood leader checked on her, and it turns out she'd fallen."
Meg Ferber is a leader for her neighborhood, and she called someone who didn't put her tag out and discovered the woman was disoriented. Meg was able to track down the woman's daughter to come pick her up. 
Loren thinks the neighborhoods have been invaluable during the lockdown. "This is not how we envisioned the neighborhoods working," he says. "But I don't know what we would have done without them to help keep people safe." 
Loren, Tina and two other members formed an ad hoc committee dedicated to keeping residents safe. The committee bought a shed and put it by the front door, so delivery services can leave packages without entering the building. The neighborhood leaders then bring the packages inside for residents to pick up. 
Neighborhood leaders have tried Sunday afternoon get-togethers: where everyone stands on their deck and talks to adjacent neighbors. One day they ordered take-out from Subway for residents. One of Tina's daughters is a fire dancer, and she put on a show for the residents, walking around outside, doing her fire and hula hoops routine for an hour while people watched from their balconies.
Meg says, "The other night, I was calling people with a message from the police (during the recent riots). One woman in her 90s lives right across from me and said, 'I need some help.' She couldn't get one of her medicine bottles open. She put it in a bag by her door and I opened it up and put it back for her. So it is helpful for people to have some kind of contact."