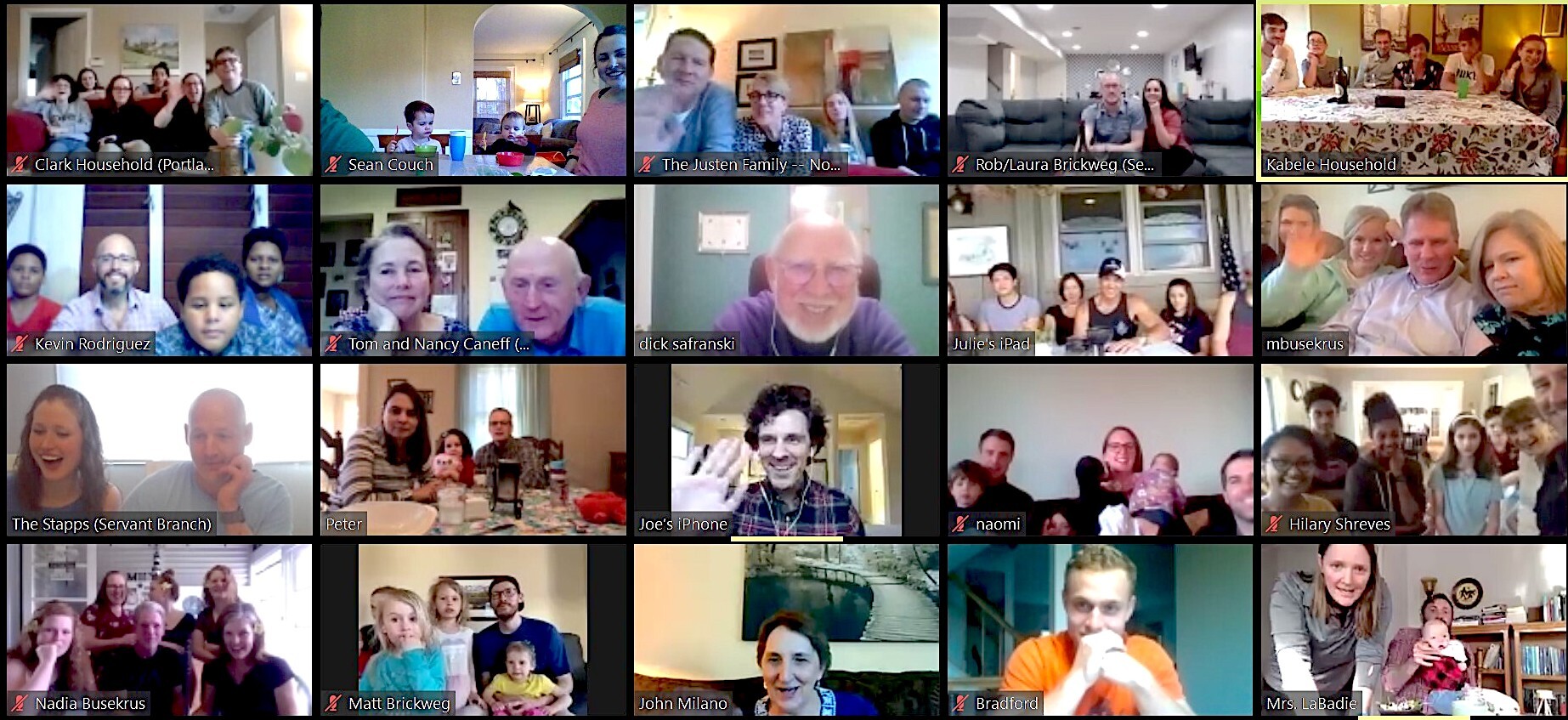 by Chris Meehan
It started out as a small idea, a seed planted by two dads chatting together on the instant messaging service called Slack. Why not use videoconferencing to get their families together and try sharing a Lord's Day opening and meal in a virtual way?
It wouldn't matter that one of the families, the Stapps, lives in Minnesota, and the other, the Rodriguezes, lives in Kingston.
Soon the seed started to grow. Mike Stapp and Kevin Rodriguez wondered, if we can celebrate the Lord's Day with people from Kingston, then why not Hawaii too?
And why not add a few other places?
Last Saturday, about 85 people in nine different locations and five different time zones, from Hawaii to northern Virginia, came together on a Zoom video call. They prayed, "Blessed are you, O Lord, our God, King of the Universe. . . ." They ate—well most of them ate. It was still midafternoon in Hawaii. After dinner, some even stayed to play a game.
The event began with 30 minutes of informal hanging out on Zoom, as brothers and sisters said hello and greeted one another across the miles. Rob and Laura Brickweg (Servant Branch) led the Lord's Day opening prayers. Mike managed the technology, and he and his wife Sarah served as the hosts for the gathering.
After the initial prayers, Mike used Zoom's feature of breakout rooms to divide everybody into smaller groups where they could talk in a more personal way. Each small group spent 20 minutes together, and then Mike switched the groups around and everyone spent 20 minutes with a different small group (all randomly assigned). Later, everybody came together again as one group, and then they divided up one more time. This final time, participants could choose a smaller group to be part of. One group was dedicated to playing a game called Code Names.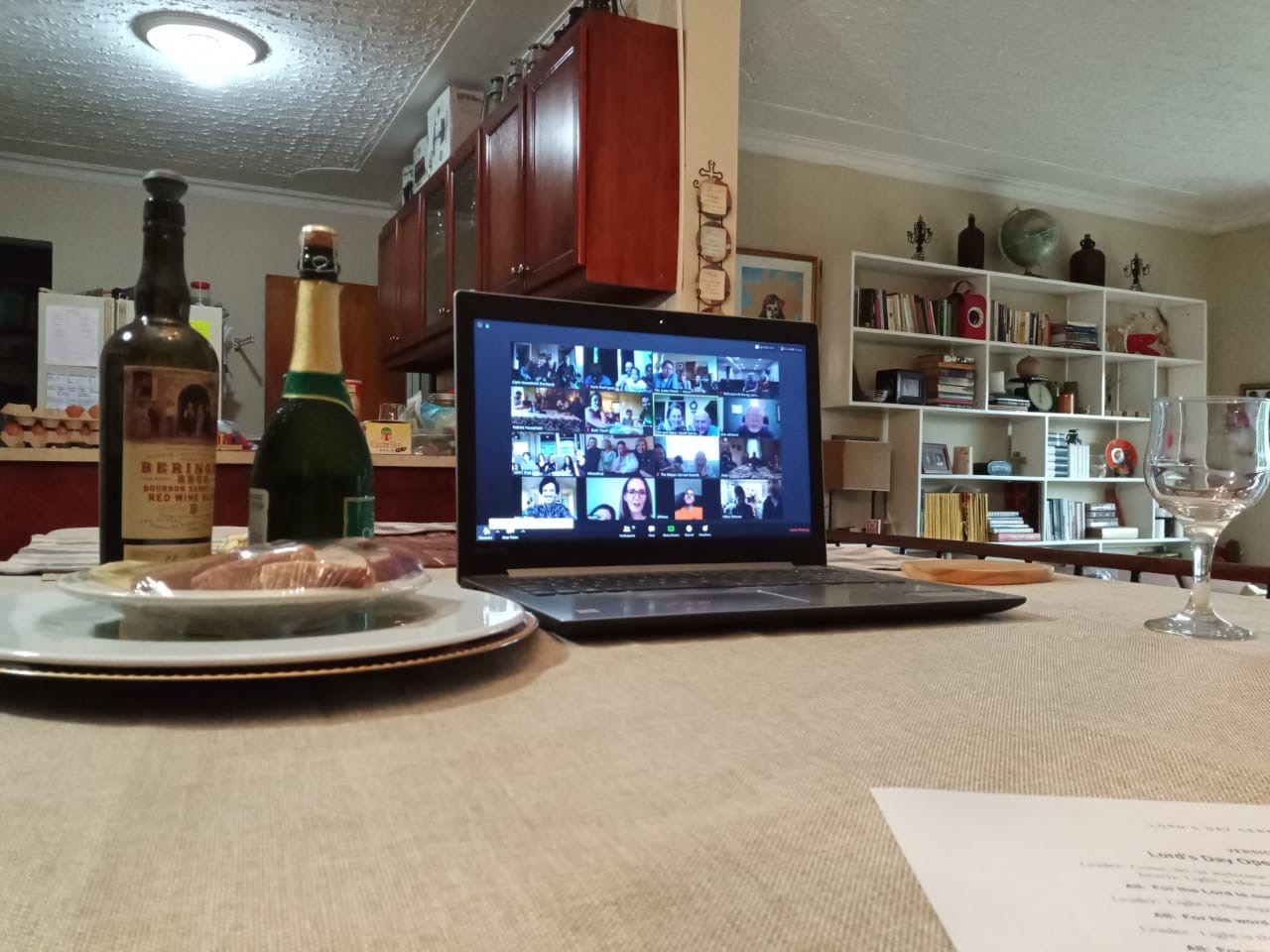 The event was a hit. The next day Pat Clark (Vancouver-Portland) wrote in to say, "I have a tangible sense today, following our cross-globe Lord's Day last evening, that we are more perfectly unified! Imagine—a global pandemic draws brothers and sisters closer to one another. Glory to God!"
"It was lovely to reconnect with folks from other branches," added Maile Schunk (northern Virginia). "I hadn't connected with any of the folks from Minnesota or Portland for years, and I met some new people as well. It was fun and refreshing. I look forward to the next one!"
"We were honored to be included in what felt like a real Lord's Day opening," Alana Busekrus (Oahu) said. "Mike and Sarah's facilitation of the meeting with introductions, smaller groups and the provision of the script (Lord's Day ceremony) in advance all helped it flow smoothly and allowed flexibility to participate as your time zone and schedule permitted. We loved seeing friends—who feel like family even more than ever—from afar."
Kevin Rodriguez (Kingston) wrote, "We got to meet the wives and children of brothers I have come to know through conferences like the PTI and TRS. It was such an honour to be with my brothers and sisters. This pandemic has been a blessing, pushing us to explore alternatives to connect and share our lives. Glory to God! My three children were eager to share their art with the group and to be introduced to other children in the community. My eldest, Nathaniel (12), commented after, 'That was one of the best Lord's Day celebrations.'"
The Stapps are already planning another virtual gathering for this Saturday, and they hope to do more in the future. 
Aside from seeing brothers and sisters, what was the next best feature of a virtual Lord's Day opening?
Nobody had to do dishes for 85!