By Sean Connolly
Fourteen People of Praise missionaries moved from Indianapolis to Evansville, Indiana, on February 17. The move launched what we expect will be our third new start, following Shreveport (2002) and Indianapolis (2007). Evansville, a city of 120,000 in the southwest corner of Indiana, is the first mission location that is not already home to a People of Praise branch.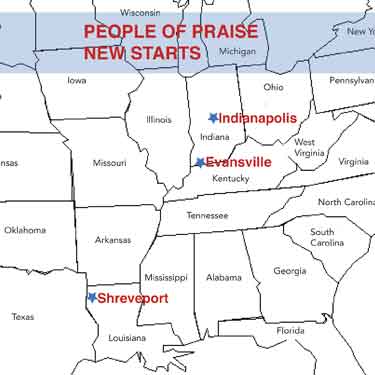 Mission program coordinator Nick Holovaty heads the Evansville team. In Indianapolis, David Zimmel leads a team of 10 missionaries continuing our work on the South Side.
"Our team is large enough and strong enough to split and work in two locations," Nick says. "We've been training new missionaries in Indianapolis for more than a year. Also, Indianapolis branch members are now very involved in our South Side men's and women's groups."
Since February 17, Evansville missionaries have been knocking on doors around the city, delivering words from the Lord, praying with people and looking for those the Lord is calling to Christian community.






A woman told the missionaries that she could only see white light out of one of her eyes. The missionaries prayed once and then she could see shadows. Remembering that Jesus prayed twice for a blind man (Mk. 8:25), they prayed again. Then she said she could see the missionaries clearly with her bad eye.







A young man accepted the missionaries' suggestion that they pause in their conversation so he could pray privately for five minutes. During prayer, he heard Jesus tell him that he should give his life over to God. He got down on his knees and did it.


A woman who couldn't bend her knees because of pain knelt down on the ground in prayer after the missionaries prayed with her. Her pain was still gone a week later.


"Missionary work is physically and mentally taxing, and there are definitely moments of joy," Nick says. "Some of that joy comes when people dedicate their lives to the Lord, and some of it comes when people laugh at us like they laughed at Jesus at Jairus's house." (Mk. 5:40).
The missionaries rely on God to supply some of their basic needs. They eat and live simply. Working odd jobs one day a week is sufficient to cover the rest of their living expenses.

The team lives in two adjacent rented houses half a mile from the University of Evansville. The manager of the houses gave them their first local job. After seeing how well they had cleaned the houses, he offered them work cleaning and renovating his other properties.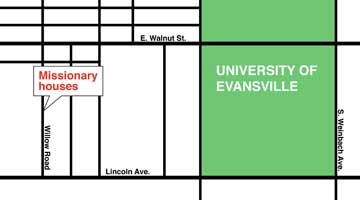 "Before moving to Evansville, we made preliminary trips to a number of cities, including Memphis, Louisville and Evansville," Nick says. "Lots of people in and around Evansville were willing to listen to us and they asked us to come back. We're glad we did."

Evansville Missionaries:
John Bowar
Annie Bulger
Joe Bulger
Abby Earhart
Catherine Ficker
Ryan Hardin
Nick Holovaty
Liz Loughran
Rus Lyons
Claire Mysliwiec
Ellen Reed
Peter Putzier
Mary Timler
Chris Vieck
Remaining on the South Side:
David Zimmel
Michael Coney, Jr.
Nick Raway
Charles Chow
Naomi Caneff
Cathy Feehly
Melissa Rader
Angie Hass
Ray and Robin Gonzalez
.