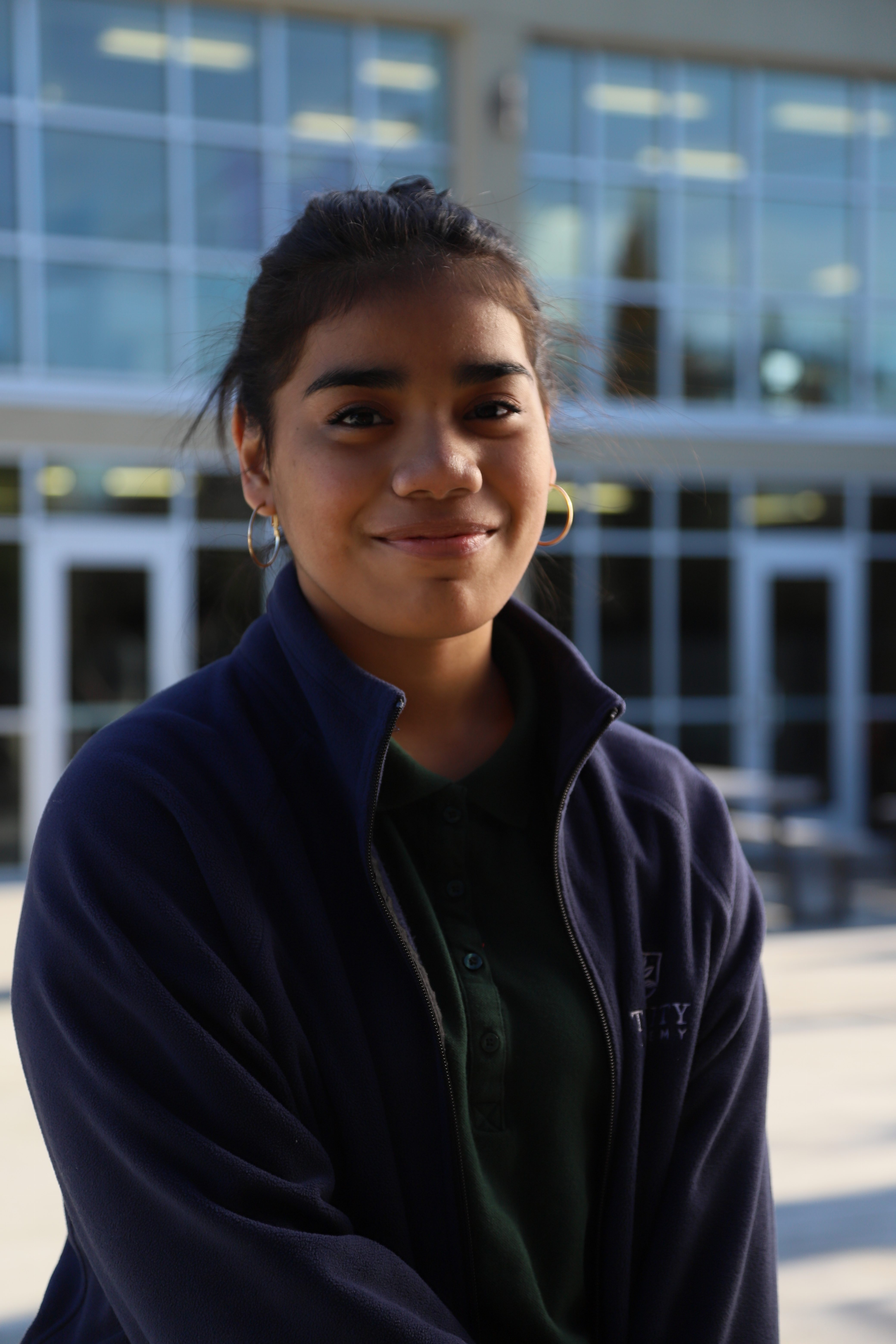 by Pena Meither
Photo: Glenn Rymsza
My name is Agapenanincher Engkichy Meither. People call me Pena.
I was born in Guam and raised in Hawaii. When I was seven, I moved to Portland, Oregon.
One day in 2014, my parents were driving around and saw Trinity Academy. I was already looking at a different school, but my parents said to me, "If we let you shadow at the other school, then can you come shadow at Trinity Academy? We want you to be surrounded by Christians."

Trinity Academy was way different than the other school. I noticed the students were very cheerful. I had never met anyone as enthusiastic as Dr. Jo Clark. She welcomed me with open arms.
Dr. Clark told me that if I wanted to go to Trinity Academy I'd have to repeat eighth grade, so I talked to my family about it. It took me a couple of months, but I felt like God told me to come to Trinity. I gave up playing volleyball and basketball because I found it hard to concentrate on homework. I loved the classes.
The next summer my grandma passed away. After that I was mad at the world and mad at God. I didn't want to talk to anyone. In October, a classmate invited me to the Action kickoff. I was hesitant. I told her, "I don't think God wants me back, because I've been avoiding him." She was persistent, and other girls from Action were  persistent as well, so I went. I talked to some of the college women that help in Action and they helped me realize that God will always forgive you. They kept encouraging me. My relationship with God grew a lot stronger.
Sam Mertz, our Action leader, talked to me about applying for an Action internship. I applied really early, then I got a call from Chris Vieck. She was telling me about Evansville, how the neighborhood they live in used to be called "the devil's corner," and how there was so much shooting until the People of Praise came. I thought, wow, this is fantastic, I want to be there. I want to go somewhere they really need me.
When I first got to Indiana, I stayed with the Gonzalez family near Indianapolis. I was pretty antisocial, but they weren't pressuring me or judging me. They welcomed me. I also experienced welcoming when I got to Evansville. Chris came out the door running and hugged me. I barely knew her, but she said, "I'm so happy that you're here!"
I loved that neighborhood and all the kids. I saw God everywhere. Back at home, if you're an islander, you keep it within the island community. The People of Praise likes to keep it diverse. If you're a Protestant, if you're a Catholic, they welcome you with open arms. If you're black, Hawaiian or white, they still welcome you with open arms. I have never felt God's love so strongly—towards the point where I wanted to break into tears.
Before I came, I had a lot of back pain due to scoliosis. At first, in the summer of 2016 after I was diagnosed, it wasn't a big deal—probably 10 degrees of curvature. Then it got worse and the pain really kicked in. I couldn't sit or stand for a long time. One day in Evansville, one of the other Action girls looked at me and said, "Why don't we pray over your back?" They prayed, and after that I felt no pain.
When I got back home, I got an X-ray. Before, my back had been at 32 degrees of curvature. The X-ray showed it had gone down to five degrees. It's getting better and better now that I'm more active, and people are still praying for a complete healing.
Since the summer I've been more persistent in my relationship with God. I don't just go to him in distress or when I need something. I go to him as a friend. I talk to him throughout the day.
My phone used to be a huge distraction from my spiritual life. First thing in the morning, I would get up and look at Instagram, Snapchat and Twitter. I wouldn't talk to God. So I told my dad to disconnect the phone. I don't regret it. Sure, a lot of stuff is happening on social media, but guess what? I got God! Now, every day I feel God's love.