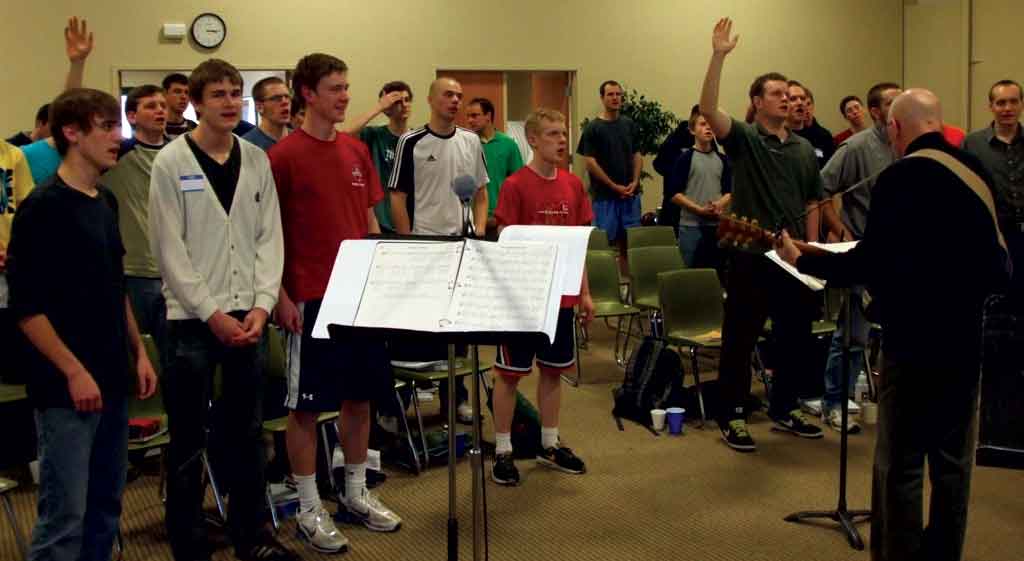 By Chris Meehan
Twenty-three high school-aged young men from seven branches spent March 25-27 on retreat at the People of Praise Center in Indianapolis. The event began as a brainstormed idea in a men's group meeting in Indianapolis and grew quickly to a multi-branch gathering that attracted young men from as far away as Colorado Springs and northern Virginia.
"In January we had our first meeting as a newly set up men's group, composed mostly of students from IUPUI and Purdue," explains George Kane, a campus division member living in the Indianapolis Triangle. "We said, 'We've got eight guys in our group and around three months in the semester—what do we want to do?' 'Get to know our younger brothers in Christ,' turned out to be the answer, so we set about figuring out a way to do that."
"We were responding to Craig Lent's charge to men's groups to take initiative in evangelism," adds Walt Seale, the group's leader. Craig called on men's groups to play an active role in community growth at the Leaders' Conference for Men in 2005.
Still, Walt says, "We only expected that a few young men would actually be able to come that distance without more advance notice than we had time to provide. As more signed up, and we counted the drivers and staff, the total attendance reached 40. Upon hearing about it Dave Porter (Indianapolis) graciously gave us permission to use the branch's community center."
Walt gave six talks, including practical ones such as "Six Steps to Making a Good Decision" and "Eight Elements of True Friendship in Christ." Other men's group members told personal stories to illustrate the talks. Adults and college students from the men's group  joined the young men in small-group discussions. Between sessions the young men played basketball or went on walks. On Saturday night they played a two-hour 20-on-20 game of dodgeball.
The conversations continued into the early morning hours. "We talked about life and going to college," says 15-year-old ninth-grader Sam Swanson from Servant Branch. "It was fun to meet so many guys from all over, and the talks were pretty helpful. I would recommend this retreat to others, if they hold one next year."
"I really liked the talks and got a lot out of them," added Brad Elliott, a 14-year-old ninth-grader from northern Virginia. "The physical exercises on Saturday morning were a challenge for us, and I enjoyed the upbeat household I got to stay with." One of the attendees, John Burke, a 17-year-old senior from Rockford, first heard about Action from his next-door neighbor, Chris Newburn. John was grateful that Walt spoke about selecting a college in his talk about making decisions. "It will help me think about what I want to do."