By Sean Connolly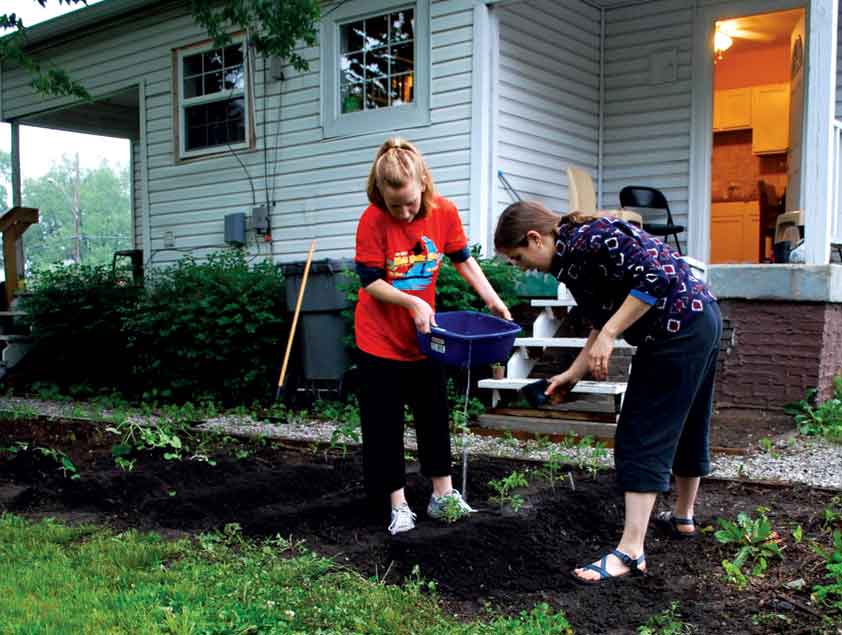 The Triangle area of Indianapolis wanted fresh vegetables, so this spring Jenny Sergio and Trish Brewer planted a garden—several varieties of tomatoes and peppers in five neat rows behind the duplex. But one Sunday morning in late May Jenny awoke to discover that that their plants had gone missing.
"There were just holes left in the garden," Trish remembers.
Walt Seale mentioned the purloined plants to Walter, an older neighbor who mows lawns and knows about neighborhood goings-on. "Neighbors just don't do that," Walt told him. "We don't steal one another's tomato plants."
Later that afternoon, Walter came to Walt and mumbled a cryptic message: "Walk down the alley and take a look down there on the left."
Walt followed the alley behind the duplex, but saw no plants.
A few days later, on Wednesday, as Trish walked from her car to the duplex, another neighbor rode up on his mountain bike. A single full beer can dangled from either side of the handlebars, attached there by two six-pack rings.
"I heard about your tomato plants," he said. "That's terrible. I don't like that at all. I've got some plants I want to give you."
"Really? That's very generous of you," Trish said.
The man returned with a plastic pot containing three young tomato plants. "I don't want this kind of thing happening in this neighborhood," he told her. "We're all friends here. We don't want this to be the kind of place where people do that."
"It sounded exactly like what Walt had told Walter," Trish remembers.
She thought the plants looked familiar, but she couldn't be sure. In any case, the Triangle now has a bigger garden than before the heist, thanks to the three tomato plants and some more vegetable plants donated by an Indianapolis branch member.
"We added a whole extra row to the garden," Trish says.