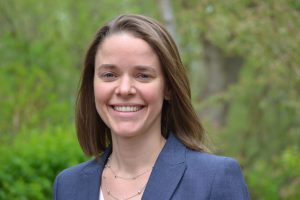 Beth Schmitz (Servant Branch), a mathematics and Scripture teacher, gifted speaker and leader among the faculty, will be the next head of school at Trinity School at River Ridge. Beth, who graduated from River Ridge in 2001, is the first Trinity School graduate to serve as the head of a Trinity School.
She follows Jon Balsbaugh (Servant Branch), who will assume the role of president of Trinity Schools, Inc. in the summer of 2017. Jon takes the helm from Kerry Koller (South Bend) who is stepping down as president after 36 years and will continue to serve Trinity Schools, Inc. in an advisory role.
Beth, who can still remember getting directions to morning prayer from a senior on her first day of school in 1995, says she is humbled, honored and grateful for the chance to lead her alma mater. "I look forward to continuing our work of offering students a truly excellent education, one that allows them to develop their natural abilities but also helps them to identify other gifts they would not necessarily identify on their own, so they can serve the Lord in whatever ways he calls them to serve," she said.
Beth grew up in Prescott, Wisconsin, in Servant Branch's East Area, the daughter of Tony and Claudia Schmitz (Servant Branch). After graduating from River Ridge, she attended the University of Minnesota at Morris, where she majored in mathematics, with minors in both music and statistics. She credits her time at Trinity with broadening her interests and helping her to discover a love for mathematics, which she continues to nurture by reading mathematical books on her summer breaks. During her senior year in college, a friend suggested she might make a good Trinity School teacher. Beth applied and was hired right out of college, never looking back. This is her twelfth year on the faculty at River Ridge. Beth made the covenant of the People of Praise in 2009 and serves her branch as a handmaid.
At Trinity, she has taught Latin, Scripture, Catholic doctrine, science, MATLAB computer programming and every math course in the curriculum. "I love sitting down at a seminar table with students from different traditions and digging into the Scriptures together, something we are only able to do because Trinity is an ecumenical school," Beth said.
She has served as master teacher for the tenth grade Scripture course and for several mathematics courses. She developed the mathematics course for River Ridge's new sixth grade and has trained math teachers at The Wilberforce School, a Trinity member school, in Princeton, New Jersey.
David O'Hanley (Servant Branch), a fellow science teacher, says Beth has an unusual ability to tailor her mathematics lessons to the needs of individual students. "She has a reputation as someone who listens to and understands students," he said.
Penny Arndt (Servant Branch), who has taught at River Ridge since 1987, called her "very collegial—an excellent teacher and an excellent mentor for other teachers."
"She is a clear and confident public speaker with a lot of gravitas," Kerry said. "She is a leader not only among the faculty at River Ridge but among the faculty of all our campuses and member schools. I am delighted that she has agreed to serve us in this new way."
"Beth has distinguished herself for her calm, serious-minded and unwavering commitment to our mission," Jon Balsbaugh said. "She brings to the office of head of school her long experience as a teacher and a considerable breadth of perspective that goes back to her days as a Trinity student. She cares for her students individually and puts forth all her effort to help them make their learning their own."
Beth is the fifth head of school at River Ridge.