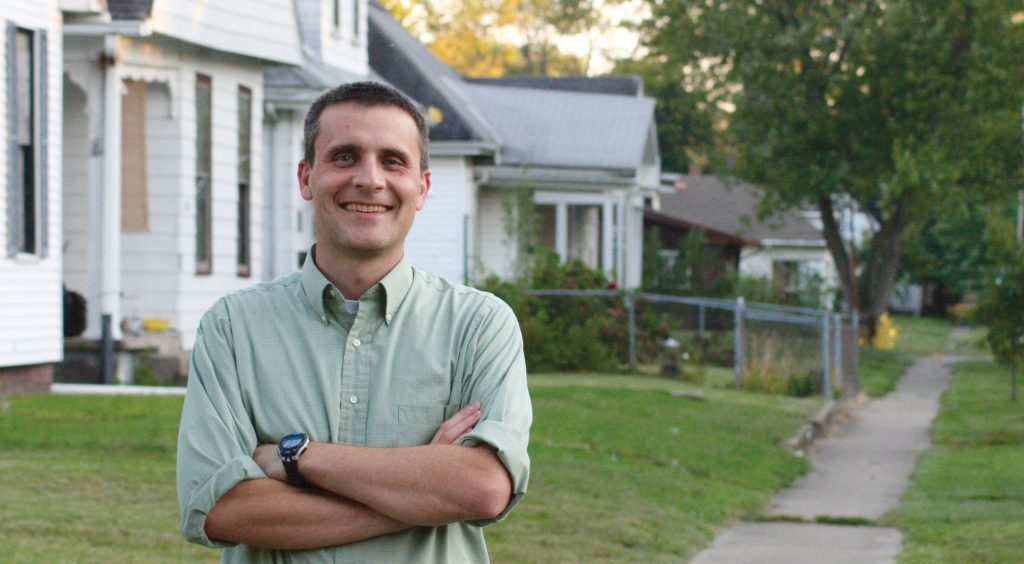 by George Kane
Photo: Mary Timler

Nick Holovaty was well prepared for a missionary calling by the example of his parents and grandparents.
His mother's side includes Presbyterian missionaries sent to Brazil and to the Belgian Congo. His paternal grandfather fled Stalin's invasion of Ukraine and was eventually ordained a Ukrainian Catholic priest in Canada.
In 1990, when Nick was 10, his parents, Orest and Susan (Evansville), took Nick and his sister Claire from Wheaton, IL, to Moscow, Russia. There, Orest worked for a Christian foundation, supporting churches and missions across the Soviet Union.
"My parents' example showed me that it is worth taking great risks so people have the opportunity to hear the gospel," Nick says.
He remembers the evangelists who came to the Holovatys' home for lunch. "It was in talking to these fervent men from all over the former Soviet Union, many of whom had spent time in Communist prisons on account of their faith, that my desire to serve the Lord through evangelism took root."
In 1999, Nick enrolled in St. John's College in Annapolis, MD, where he began to search for a deeper experience of the Holy Spirit and Christian community. Fluent in Russian, he had explored a call to the missions in Russia through an internship with a group of charismatic Russian Orthodox Christians. But he ultimately found what he was looking for in South Bend, where the rest of the family had established a stateside home so Claire could attend Trinity School. "When I moved to South Bend, the South Bend branch found me a place to live, a job and a role playing guitar at the Campus Fellowship meetings. I was amazed to find men who were both spiritual and practical, and I realized i wanted to be like them." He enrolled at Notre Dame, was baptized in the Spirit and joined the community in February, 2001.
The next two years were pivotal. Nick took a break from school and began working for the community, absorbing our way of thinking from Paul DeCelles and Mary Frances Sparrow. He later returned to Notre Dame and graduated with a perfect 4.0 GPA. In February, 2002, following the 2001 High Country Adventure, Paul sent Nick, Sean and J-T on a three-week road trip to seek out a location where high school students could work in the summer. They eventually found Allendale, which became the site of the first Action summer later that year.
Nick soon became a leader in the movement of young people who were working to contribute to the community through city-building. He helped lead the first household of single men and women in Allendale in 2004, before moving to the Twin Cities to help with the campus division in Dinkytown. He led and helped found the Company, a group of young men who commit themselves to being trained and deployed for the mission work of the community.
In 2007, Craig Lent appointed Nick as the community's Mission program coordinator, and Nick became a founding member of a new group of People of Praise missionaries, the Missionary Company, who live together in households and embrace poverty for the sake of the gospel. Nick moved to Indianapolis and later to Evansville, helping to launch new starts in both locations. In 2011, he made a commitment to be single for the Lord for the sake of the community's mission work. He was elected to the board of governors in 2014.
Nick plays the guitar and banjo and enjoys writing songs, from playful ditties about the small towns he's encountered on his travels to hymn lyrics for the missionary choir.
"Nick's missionary background and fervor for evangelism, his deep understanding of household life and his experience building Christian community are all tremendous assets for our life," Craig says. "He is also an excellent musician."
Paul DeCelles adds, "Nick, together with his companions, has taken the community to a new frontier, the Gospel to the poor."