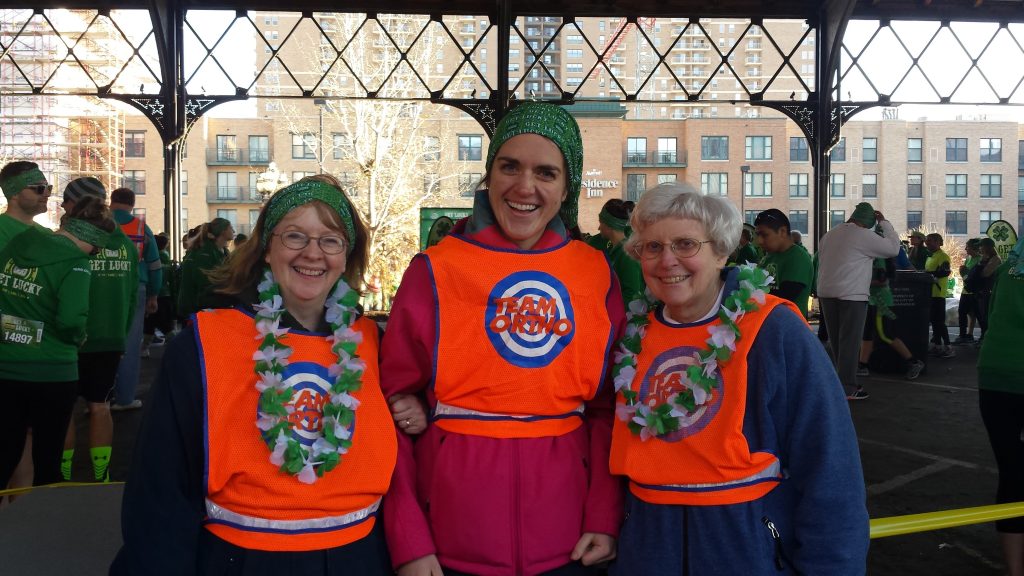 Servant Branch members have found a fun way to raise funds for Servant Camp.
About 6:00 in the morning on a Saturday, a group of 20 or so brothers and sisters will go to the site of a local race like the Monster Dash 5K, an event that attracts 10,000 runners. The race is organized by Team Ortho, a nonprofit organization that organizes races and staffs them using preexisting groups of people, typically groups of volunteers associated with local nonprofit organizations. The People of Praise volunteers will spend the morning checking in gear for runners or passing out water, and Team Ortho will donate $500 for their efforts. The money goes to the branch camp fund, where it is used to cover the fees for kids who could not otherwise afford to go to camp.
The races are festive events, and the volunteers often find themselves greeting costumed runners. Kathy Stauble says, "That's easy conversation, to say, 'Oh, you're a great banana! Have fun running in that thing!'"
Since last year's camp, Servant Branch members have worked three races and earned enough money to take care of all the estimated needs for the 2016 camp.
The idea began three years ago when Pat Ficker, director of Servant Camp, started looking for a fundraiser to fill a need. A number of grandparents in the People of Praise had asked about financial help for their grandchildren to go to camp. "I started telling our team of directors, 'I wonder if we could find a way to support these other campers.'" Jeanne Oberg had worked with Team Ortho, and it gave her an idea. "I thought, What the heck? They're always looking for extra groups."
One People of Praise grandmother rejoices in the impact the camperships have had on her granddaughters. Two of them have been baptized in the Holy Spirit at camp, and they keep in touch with the friends they've made there. She says, "They don't go to church. This is the only exposure they have to the love of the Lord or a solid Christian environment. I love them, but I'm just grandma. To me, it's evident that they've had a profound experience because they want to go back every year."
Making that experience possible motivates the branch members who volunteer. Says volunteer Phil Gaffney, "I was baptized in the Holy Spirit at Servant Camp. Even though I haven't been able to go in recent years, Servant Camp means a lot to me. To give kids an opportunity to go when they might not normally be able to–I see a lot of value in that."
Team Ortho has asked if People of Praise teams would be available to run the gear check at five more races this year. At the Get Lucky race, Kathy talked with the organizer in charge of all the volunteers. The organizer said, "You guys are on time and you work hard." "She was really appreciative," adds Kathy.
The chance to spend four or five hours working together is a highlight for branch members. Says Marya Waletzko, "I am relatively new to the community. I came in not knowing anyone, really. At the last race I was talking to Paul Hrbacek. He told me all about his experience taking his dad to Washington, DC, to see the war memorials. Every time I volunteer at a race, I hear a similar story. I connect with someone I wouldn't have otherwise known, and then I know another smiling face at community meetings."
It takes a lot of volunteers to support a larger race, and Team Ortho recruits all sorts of different groups to help. Phil spent some time working next to members of a fraternity, and he noticed branch volunteers talking to them about camp. "If you work with a new group of volunteers, a frequent topic is why you are helping with the race. So, there's an opportunity for us to share about the People of Praise and about Servant Camp. Everybody is really willing to share."