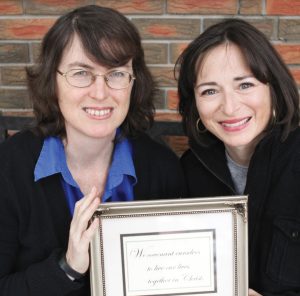 Kelly McMullen (Colorado Springs) shares her People of Praise story.
For more testimonies, see the Fall 2015 issue of V&B.
Fifteen years ago, I traveled to Houston for a meeting. On Sunday morning I went to Mass at a church I had attended when I lived in Texas. I loved that church because the music was so lively there. At one point the congregation was blessing the people who were preparing to join the church, extending their hands in prayer. For me, this was an awkward gesture, one that Catholics rarely used. But there I was, standing against the back wall with my hands up, blessing the candidates.
Just the week before, it had become clear that my husband of 14 years and I were going to get a divorce. And my daughter Jayme was in the process of being diagnosed as autistic. And we had just moved to Colorado Springs and I needed a job. So . . . divorce, autism, bar exam, find a house—all this stuff!
I just prayed, Lord, if some of this blessing could be for me too, I just really need it right now. I was kneeling there on the floor, and I felt Jesus' arms around me like he'd knelt down behind me and cradled me. It was a physical sensation, a most personal experience. I couldn't stop crying. In the back of that church, the Holy Spirit saved me and never left.
***
I was born in the San Francisco Bay area, but my parents were farm people from Iowa. Gradually they decided that working in the electronics industry in California wasn't what they wanted to do—they wanted to get out of that crazy, worldly place. My dad found work in a small rural town in Nevada. My family went to church every Sunday, but that was all. We had no prayer at home.
Off I went to college and into life. I got engaged, and a few weeks before the wedding my fiancé told me he had decided to become an atheist. (I thought I was marrying a Baptist whose grandfather was a preacher.) I thought it was too late to back out, so I got married.
During my marriage I think I only went to church at Christmas and Easter until June 1995, when my daughter was born. But once Jayme arrived, I could not entertain the notion of raising her outside of the church. Since her birth I have only missed Mass three times, including one time after a car accident.
***
After our move to Colorado Springs, and then my experience of the Holy Spirit in Houston, I managed to find a job at a law firm. It was the same firm where Pat Hrbacek came to work two months later. At the office I noticed that Pat did this unheard-of thing for a young lawyer—he left at 4:45 every afternoon. That was bizarre behavior. Was he working at home?
Pat walked past my door every day to get to the elevator, and he developed this habit of sticking his head in and asking if there was anything I wanted him to pray for. A few times he even came in and prayed with me. I told Pat that I was going through a divorce. He put me in touch with Mark Elio, who was doing a family ministry. Mark invited me to my first public meeting.
So I went, and then I went the next month, and the next month and the next. I didn't go to their picnic because I was too shy, but I went to the meeting after that. Then Pat said he and Kara were going back to Minnesota for Thanksgiving, and asked what I was doing. I said I figured I'd be on my own, and he told me he wasn't comfortable with that. I thought, What? Whose business is it of yours? I'm fine with being alone, why aren't you fine?
"I know some people and I'll see if they can ask you over," he said.
He gave me this address, 99 Raven Hills, and I showed up at Louie and Nancy Grams's house because Pat was "not comfortable" with me sitting around watching TV on Thanksgiving! And of course Louie did what he does. He told me the story of the People of Praise and all the things the community has done, and about what it is to be baptized in the Holy Spirit, and about the Sisterhood and Grenada, and all the charismatic conferences. I'm a history person, so I loved all this. (By the way, that was a Thanksgiving that tasted right. I'm Iowa people at my roots, so there's a certain way food should taste.)
Anyhow, I was there all day and finally it was night. Louie said, "So you've come to a lot of our public meetings. What do you think?"
"It's good, it's cool. I appreciate getting prayed with."
"When are you going to make it official and join us, so you can come every week instead of just once a month?"
I took a deep breath and asked, "Am I invited?"
"Of course you're invited."
I don't go where I'm not invited, so I started thinking about it.
Then Pat and I were laid off together from the firm, and I was getting ready to move. In the confusion the process of joining the community took a couple more months. Then in April, 2002, a group of women showed up at my apartment to clean it and pack my stuff, and the following weekend I met with my new head, Patti Deakin.
***
When you come underway, you learn a lot. For someone like me, not growing up in community, I had to learn all the context. There was one moment in 2006 that made things a lot clearer for me. I was planning to take my daughter to Disney World because she was 11 and old enough to handle walking through Disney, and she still loved princesses. I was at a wedding reception telling John Brophy I was looking up hotels because I was about to take my daughter to Disney. He said, "Hotels?" I said, "Yeah that's what you do." But in 15 minutes he had gotten on his cell phone and reported to me that I was going to stay at Pat Benito's house (Tampa). He set it all up. So we went and spent a few days at Pat's home on the coast, with a swimming pool, which I loved. That was the first time that I didn't just do my own thing.
That trip started a tradition—every year I travel to somewhere in the People of Praise. In 2008 my big trip was to Allendale. Gerry and Patti Deakin had moved there in February. I needed to go to Texas in March, and Allendale was just a couple of hours away, so I drove there and visited Patti. (Patti, by the way, a Protestant, walked me through getting an annulment of my marriage in the Catholic Church soon after I joined the community. She taught me ecumenism because she lived it with me.) She was already in a walking group with ladies in the neighborhood, along with fellow mission team members Laura Brummer and Jeanette Zimmel (now Duddy). The Seitzes were living there too. So I got involved in their life. I went on a shopping trip for the household and did the walk with the neighborhood women and got myself right into a fast day and meditations with them. On that trip, I started to get more of a grip on this community thing—we do real things, like fasting and meditations and living in common and living simply. I came home and incorporated some of that in my life. I started fasting on Fridays just to be in unity with them, even though we're a thousand miles apart.
I worked with Action from about 2007 to about 2014. Now I'm working with the middle school girls here (they call themselves Sparks of the Fire.) I think I've made four official Action trips plus my visits to the Deakins in Allendale and my visit to Evansville.
My daughter Jayme has practically grown up in the community—she started attending public meetings when she was six. When Jayme was in the eighth grade I moved her into an online school, so I became her primary teacher. Online learning is something that works for her. Because of her autistic behaviors and stilted speech, I think school is perhaps more difficult for her in person than online. She's going to college now, enrolled in a community college program. She's learning and growing. Vocational certification in library technology is what she's working toward. She loves when she gets to do real jobs at the library, so my role is to help line up job applications and job support resources.
This young adult, who is not supposed to understand anything abstract, has an absolute belief that God is with us and it's worth praying for people and over people. People at one of our meetings prayed with Jayme after a knee operation. One of them, Kara Hrbacek, had a sprained wrist, and Jayme turned around and prayed with Kara. That was more important to her than receiving prayer herself.
I just celebrated my tenth anniversary of being covenanted. Every year, about a month before celebration week I pull out the Spirit and Purpose and pray through it in a personal way, asking, Lord, what more is there that you want me to understand about this life I'm promised to. What new, deeper thing do you want me to know or do? I really seek the Lord's word and exhortation about it.
This year I spent time reading through my own words—what I'd written about the covenant in years past. I'm in such a different place now. I've learned new ways to pray. I've experienced friendship with Jesus and fellowship with people. I've learned a lot about service, and my life is so much richer because of it. As I do each year, I rededicated myself to living out our covenant, ever more deeply.
***
One day my daughter Jayme was looking at an icon of the Holy Family.
I asked her, "How do you feel about that?"
Her reply: "Mom, the Holy Family is for everyone, even single people."