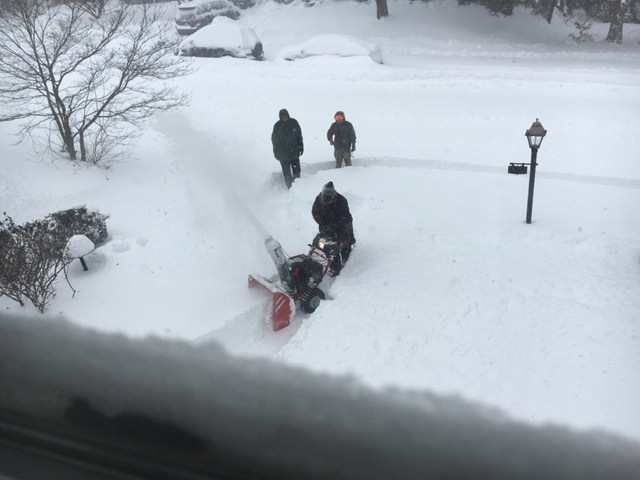 Story by Elizabeth Grams and Chris Meehan. Photos courtesy of Elizabeth Adams, Frank Bassett, Maria Elliott and Bill Sjoberg.
After the massive snowstorm dubbed "Snowzilla" hit the east coast of the United States this weekend, brothers and sisters in the northern Virginia branch are still standing . . . in up to three feet of snow.
"So far everyone seems to be okay," says Principal Branch Coordinator Bob Magill. "We're ready to look out for each other. It'll take us a couple days to dig out."
The storm also brought heavy winds, thunder and lightning to the D.C. area on Friday and Saturday, leaving many people looking at two or more feet of snow outside their windows by Sunday morning. While children got busy building snow forts and sledding, men in the branch took on driveways and sidewalks with their shovels and the occasional snowblower, even as another round of snow fell Sunday afternoon.
In the branch's south area, coordinator Rick Ridenour enlisted men's groups to look after the needs of those less able. John Elliott, Dave Baldwin and Lee Smith worked from about 11 a.m. to 8 p.m. on Sunday, removing snow for single women and elderly members of the area as well as for other neighbors. As they travelled from neighborhood to neighborhood with John's snowblower and some shovels, more men from the area joined them in each spot.
"First they had to clear part of the street just to get to my house," said Barbara Moore, a branch member who lives alone. "The men labored so hard and so long yesterday. I'm grateful to them and to the People of Praise."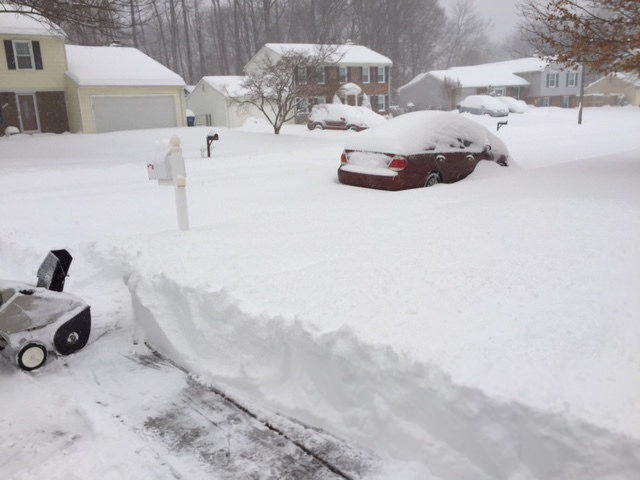 Bill Sjoberg, a meteorologist who works for a government weather agency, started a branch email chain that, well, snowballed over the course of the weekend. He told everyone the proper way to measure the snow in their yards, and reports came in steadily from different parts of the branch.
While power outages and flooding have affected other parts of the East coast, and at least 21 deaths associated with the storm have been reported, life in the D.C. area has simply come to a halt. Branch offices and Trinity School at Meadow View, along with public schools and government offices, will remain closed at least through Tuesday. Flooding and water damage are a risk for the area when the snow melts.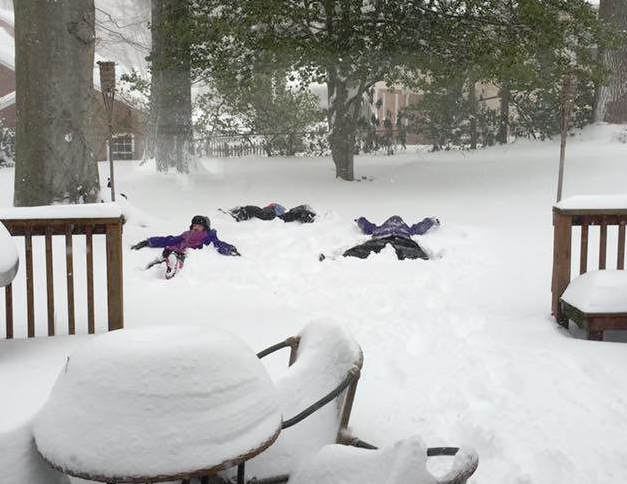 For the moment, branch members are taking the snow day to spend time with one another in their homes, gathering for meals and games, and traveling mostly by foot. "It's been a time for family and fellowship," says Bill.