By Anne Osterhouse and Elizabeth Grams. Photos by Laura Kane, Evan Lent, Abby Earhart, Stephen Buch, Liz Cole and Emily Hagens.
Community members in the US gathered together last week to celebrate the Thanksgiving holiday. They opened their doors to relatives, fellow community members, travelers and friends. Here are a few examples:

Evansville
In Evansville, preparations began on Wednesday, as missionary sisters cooked up a storm in the kitchen, along with several women and girls from the neighborhood.
"Rather than doing a potluck, we asked people to bring their own ingredients and then we cooked together," says Chris Vieck.
They made nine pies—six pumpkin and three pecan—as well as 25 mini-pecan pies  and two 9x13 pans of a strawberry dessert with a pretzel crust.
At 7:30 on Thursday morning, missionaries John Earhart and Nick Holovaty began deep-frying six turkeys, one by one, in the backyard. Community sisters peeled, cut, boiled and mashed 50 pounds of potatoes. The food preparation made use of ovens and refrigerators in five different houses of community members.
At 1:00 p.m., 39 people gathered for prayer before splitting into two houses to eat. Attendees included 14 of the missionaries, Casey and Carrie Johnson's family, twelve neighbors, Claire and Anne Raway (Indianapolis), Chris, Geriann and Mary Raway and Elizabeth Pease (Servant Branch), and Nick Raway, Joe Bulger and David Zimmel (Allendale). After dinner, the group sang old Gospel hymns and new praise songs of their own.
"I really felt close to the Lord in giving thanks together as a community on Thanksgiving," says Carrie Johnson. "We had all put in the work and experienced the joy of putting on the meal. It was a big highlight in our community life."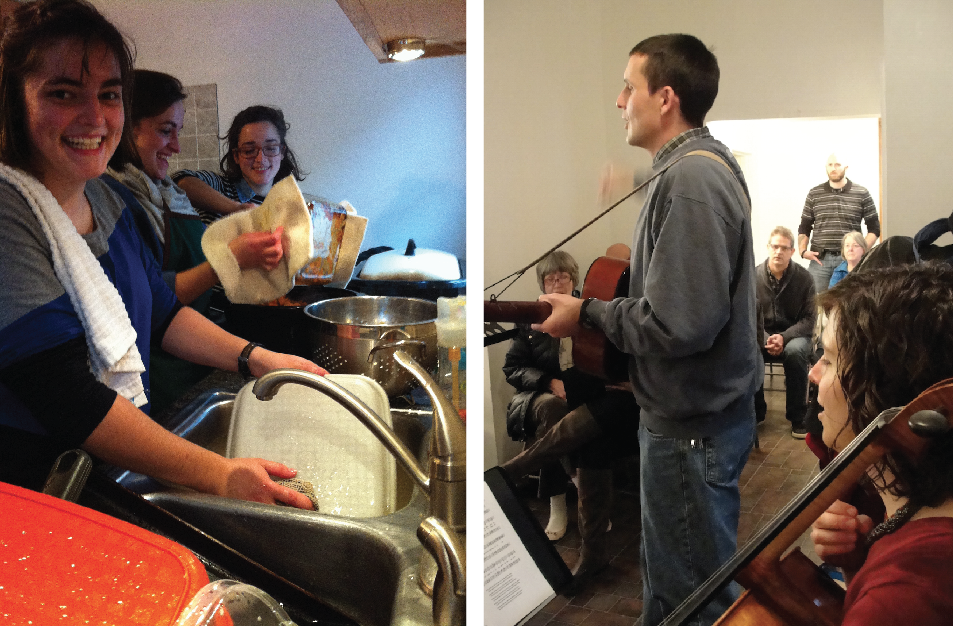 Appleton
In Appleton, Stephen and Jane Buch have been hosting Thanksgiving dinner for around 20 years, keeping an eye out for branch members with no family nearby. This year's group included Michael and Ruth Schmelzer, Michael's mother Viola, Barb Oestreich, David Sier (whose wife Joan was traveling), Jane's sister and brother-in-law and Jane's four-year-old grandnephew, Sawyer. Dessert included a pumpkin pie made with pumpkin Jane had canned, and was followed by games, including Sheepshead, a popular card game in Wisconsin. (Michael's mother Viola won, as usual.)
"Just getting together is fun," Michael says. "Plus it's fun to go out to eat, and eating out at a brother and sister's house is better than at a restaurant."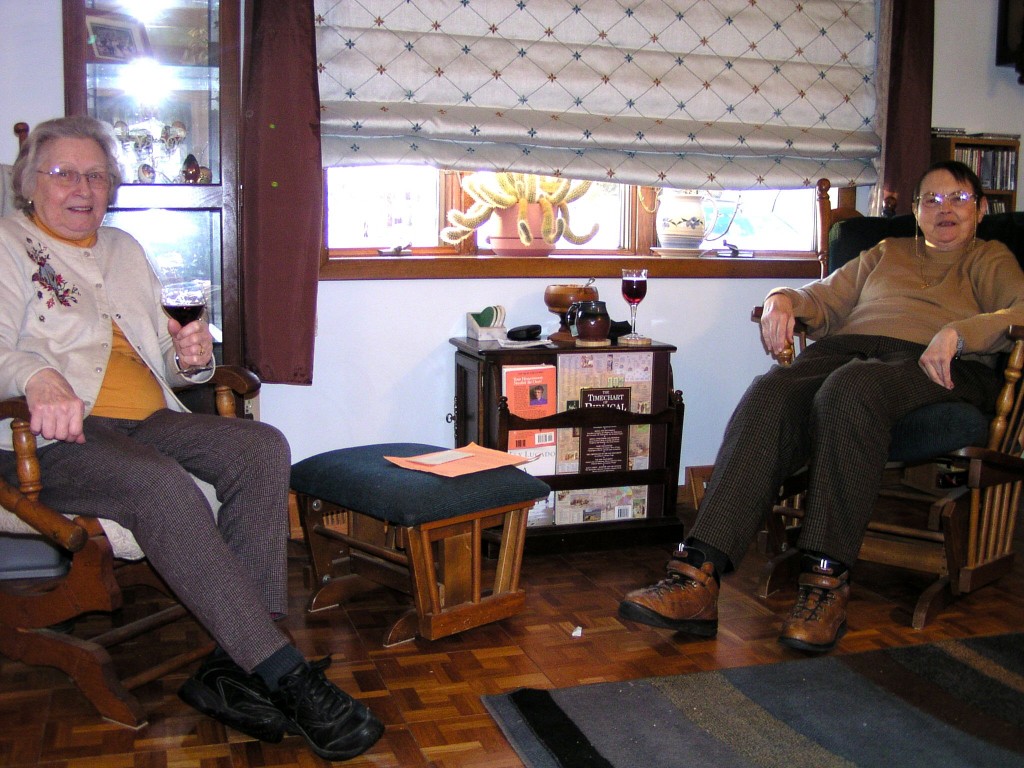 Colorado Springs
In 2008, John and Katherine Brophy invited Bren and Karen Triplett's family (all Colorado Springs) for Thanksgiving, since neither the Brophys nor the Tripletts had family in the area. The two families have gathered at the Brophys' every year since then. This year, John's parents Tom and Jackie Brophy (Tampa) also came, along with John and Maria Elliot, their daughter Kathryn (all northern Virginia) and their daughter Jane, who teaches at Thomas MacLaren School. Branch members Mark Elio, Jon Grams and Laura Kane, MacLaren teacher Josh Kelly and a friend of John Brophy who is new to the area, also joined them.
"Every year it's more relaxed," says Bren. "Josh and I ended up doing the dishes and putting them away, which to me means that Katherine is so comfortable with us doing it, that it's like we're really a family of families."
"John and Katherine have a way of finding a way to fill their house!," adds Mark. "It was a really joyful gathering, one of my best Thanksgivings ever."
Vancouver-Portland
In Vancouver-Portland, a group of families has been gathering for a Thanksgiving meal since 2007. Over time the group has grown, so this year they held the gathering at the branch's community center in Vancouver. They had 54 attendees, including members of the Brotherhood, relatives, college students and a family whose children attend Trinity Academy, as well as a Trinity Academy faculty member and two of her siblings. (A young man who was actually looking for another gathering wandered in and stayed for about half an hour.)
The guests included many transplants to the area from other parts of the US, as well as from Mexico, Lebanon, Ethiopia and Jamaica. The food included traditional fare along with ethnic dishes from around the world. Ramona Castro, who is originally from Mexico, brought homemade guacamole and salsa. Suad Sbait, from Lebanon, brought a cauliflower dish broiled with Indian spices. Yodit Derese brought an Ethiopian dish.
An open mic was the source of some hearty Thanksgiving-themed laughs. Pat Clark told a variety of jokes (How come the pilgrims had trouble holding up their pants? Because their buckles were on their hats!). Martha Olson and Joanna Robinson collaborated on a Thanksgiving rap.
After dinner, the children played a game with a large turkey balloon. One person held the balloon, while a child was blindfolded and armed with a nerf gun. The turkey roved around the room, "gobbling," while the child tried to shoot it. Peter and Stephen Kabele and Carlos Castro made the game more interesting by setting up obstacles.
"My family are all in Lebanon," says Suad, who attended the gathering for the first time this year with her daughter Jadwa. "We felt welcomed. It is nice to have brothers and sisters, nephews and nieces here in the community."