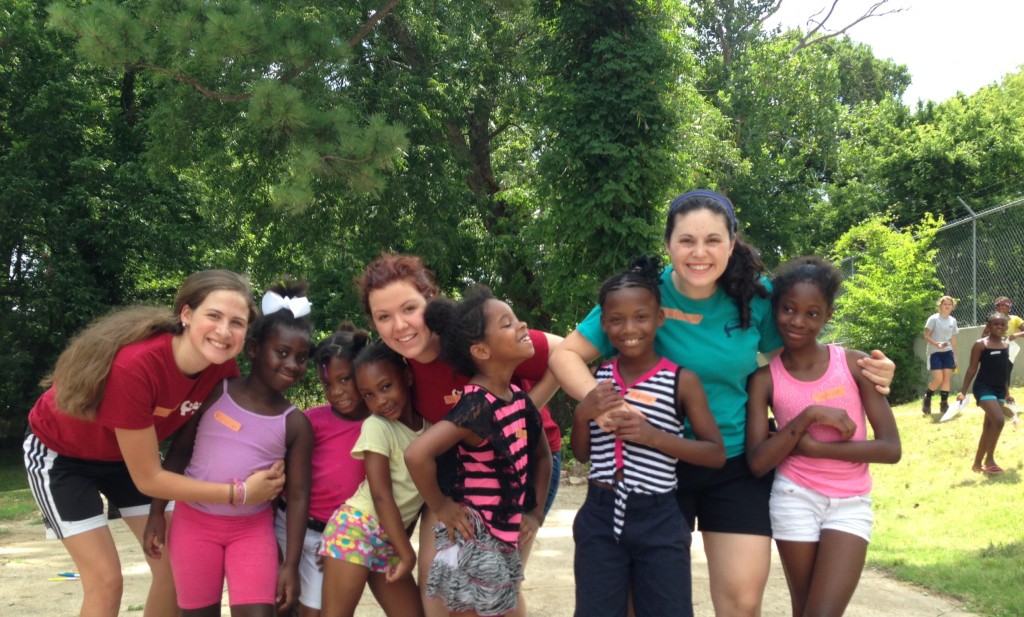 Story by Chris Meehan. Photos by Sarah Loughran.
This year's Allendale camp ran for six weeks and consistently drew at least 45 children from the local area.
The campers, who ranged in age from 3 to 18, were divided into seven groups. They participated in activities like fishing, playing basketball, building bug boxes, making model volcanoes, baking pizza and cookies, and painting the sidewalk. Kevin McShane (Mission Division, Allendale) led the camp, with plenty of help from a staff of Action summer interns, Action team members and members of Christians in Mission.
The camp yielded many stories about how the Holy Spirit worked in the lives of neighborhood residents, both young and old, as well as in the lives of the staff.
One day several staff members gathered together to pray over Xavier, a 15-year-old camper who had asked to receive the Holy Spirit. Afterward, Xavier said he thought that God wanted to tell him something in two days. Two days later the Lord spoke an encouraging word to him, and later he felt prompted to share the same word with a woman he ran into by chance. She broke into tears and described her difficulties. They were both so built up by what happened that now Xavier asks the Lord for prophecies every day, just so he can share God's word with his neighbors.
Xavier said his friendships with men in the People of Praise have helped him following the death of his mother. "The People of Praise has always been there for me," he says. "I'm so grateful. If it weren't for them I wouldn't be where I am today. I would have given up hope."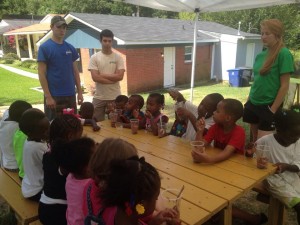 Emily Wind (Servant Branch), who was in charge of all the girls, recalled one day when a brother and sister, age three and six, came to camp. The boy accidentally spilled a container of beads all over the floor.
"He looked afraid that he was about to be severely punished," says Emily, "but his sister immediately said, 'It's okay, they won't yell at you. They're really nice here.'"
This year's camp featured more field trips than usual. Tom McNichol (northern Virginia) described a fishing expedition: "Cross Lake is not that far away, but it's outside the small section of Shreveport these nine- to twelve-year-old boys usually see. They had such joy on their faces as they reeled in those fish. One boy caught nine! Another boy waited patiently for a long time without catching anything and didn't complain even when somebody took his worms. He persisted and finally caught three fish."
Kevin McShane described the time a thirteen-year-old boy misunderstood the schedule. He and an eight-year-old friend walked over a mile to Yale Avenue on a day when no camp was scheduled. They knocked on the door to the house where some of the missionary men live and were invited in for a glass of water. Then the older boy asked if he could show his friend the "cool" bunk beds the guys had built. The younger boy looked around at the close quarters and said he expected that the guys would be fighting all the time. Then the older boy, who had attended camp for several years, said, "The missionaries don't fight. If you hit them in the face they would get up and turn their face so you could hit them on the other side!"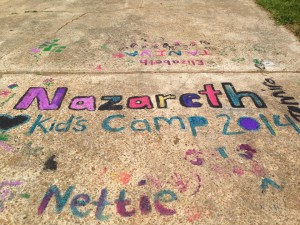 Allendale Christians in Mission team members Pat and Edna Malone housed six people during each of the three Action trips and Pat was head of security, which usually meant chasing away stray dogs or dealing with strangers. Edna maintained the finances for the Action summer and also made 94 loaves of banana bread and 12 dozen muffins for the children's snack times.
One day Edna took five girl campers, age six to nine, over to a friend's house. Claudia is an older long-time resident of the neighborhood who was feeling discomfort caused by heart arrhythmia. Several days after Edna and the girls prayed with her, Claudia said she was feeling better than she had in months!
Working at the camp made a big impression on Joe Rolf, a student at Holy Cross College in South Bend. Joe found out about the camp from his friend and veteran Allendale camp staffer Sam Mertz (Vancouver-Portland), who just graduated from Holy Cross. Joe led the group of nine- to twelve-year-old boys. He says the experience helped him make a connection with Pope Francis's apostolic exhortation The Joy of the Gospel.
"I have to admit, Pope Francis writes beautifully about encountering Christ in people, really drawing you into it, but I discovered it's hard work!"