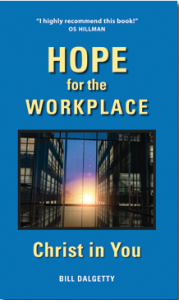 By Sean Connolly
Bill Dalgetty (northern Virginia) has written a new book of stories and insights called Hope for the Workplace. In the book, Bill brings an optimistic message to Christians who must confront the harsh realities of the working world. His message: Christ is in you. It's a reality that he says can transform the business world.
"Headlines give the impression business is rife with greed and corruption," he writes in the Introduction. But "more and more Christians are making a difference in their workplaces . . . building God's kingdom 'on earth as it is in heaven.'"
Bill draws on his career of 38 years as a lawyer and executive with Mobil Corporation and 10 years as the president of Christians in Commerce. Christians in Commerce is a business-focused ministry that Louis Grams, Bud Rose and John Mooney founded in 1983. Perhaps as importantly, Bill relies on his long experience as a Christian and a member of the People of Praise.
"The message of the book reflects the teachings we've received in the People of Praise," he says. "If I hadn't been in the community, I don't know that I would have seen this message just through my own experience."
To make his points, Bill uses 51 real stories and examples drawn from community members and Christians in Commerce members he knows. But some of the best stories in the book are Bill's own.
In 1996, he became responsible for the global environmental, health and safety performance of Mobil Corporation. He soon learned that Mobil lagged behind its competitors in worker safety and in lost-time accidents. Word got out that Bill was preparing to report these negative findings to the board. One manager threatened him with "blood on the floor"—meaning Bill's blood—if he went ahead.
Despite the pressure, Bill made the report. After hearing it, the chairman of Mobil told all the executive vice-presidents, "I want us to change our performance in this area." Over the next three years, Bill led the charge. Mobil rose from seventh place to second place in worker safety among the eight major international oil companies.
Bill says his book is different from other Christian business books on the market, which tend to target Catholic or Protestant markets exclusively. Hope for the Workplace takes a broad ecumenical approach, with quotations from leaders such as Billy Graham and Pope John Paul II.
Joe Gibbs, the former head coach of the Washington Redskins, is one of several Christian leaders who have endorsed the book. "Hope for the Workplace captures the Christian truths by which I sought to live my life as a husband, father, football coach and owner of a NASCAR race team."
Bill is working hard to promote the book and its message, and he hopes others will help by giving copies away to co-workers and friends. "I was at a writers' guild meeting recently and I was explaining the book to the people there. When I told them it was a book about living out our faith in the workplace, I could see that I wasn't generating much attention. I decided to change my approach, and I began telling people that it was a book about being Christ in the workplace. The response was dramatically different, much more enthusiastic."
Bill is offering his book for sale at a Christmas special price of $12.95. See his website www.zaccheauspublications.com for more details. Quantity discounts are also available.