by Sean Connolly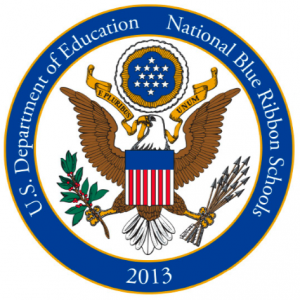 Trinity School at Greenlawn earned its fourth blue ribbon award from the US Department of Education on Tuesday, September 24. With the award, Trinity joins a group of eight high schools (three private schools and five public schools) in the entire United States who are four-time winners, according to a spokeswoman for the Department of Education. (Between 1982 and 2012 just 35 high schools had won the award three or more times.) Trinity is also the only Indiana school to win four blue ribbon awards.
"This fourth award speaks volumes about the consistency of our academic approach over more than 30 years," says head of school John Lee (South Bend). "Our parents and students believe in what we're doing as a school, and our faculty continually put the students first. We are all very proud and grateful to God for this accomplishment."
To qualify for the award this year, Greenlawn students had to score in the top 15 percent nationally on the SAT and the school had to submit an application describing its mission and curriculum. Just 50 private schools in the country were selected as winners this year. Greenlawn has now won the blue ribbon award under four different heads of school: Bill Wacker (1989), Debbie Mixell (1993), Tom Finke (2003) and John Lee (2013). John will travel to Washington D.C. to accept the award in November.
The award is also the seventh time a Trinity School campus has won a blue ribbon. Trinity School at Meadow View won the award most recently in 2010. River Ridge won in 1996 and in 2008.
"Of course we have always aimed to achieve excellence in education," notes Kerry Koller (South Bend), the president of Trinity Schools and a member of the People of Praise board of governors, "so I am not surprised by this news. The award does mean that our reputation for excellence is growing, and we hope that with this growth we will be able to bring the benefits of a Trinity education to many more students. It is part of our mission as a community to educate children in a 'true and integral Christian humanism,' as our Spirit and Purpose says—both community children and all of the children that the Lord sends to our schools. We are grateful to be able to live out each day this part of the Lord's call for us."