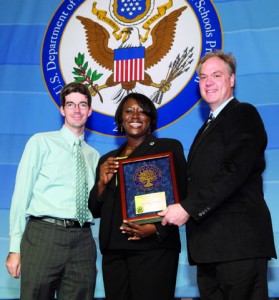 By Catherine Bulger
Trinity School at Meadow View has earned its first blue ribbon award from the US Department of Education. The 12-year-old school was one of only two private high schools in the country to receive the honor for 2009. The award is the sixth for a Trinity School campus.
To qualify, Meadow View students had to score in the top 10% nationally on the Scholastic Aptitude Test. Tim Maloney, a math and physics teacher, assembled a 22-page application laying out the case that Meadow View was not just a "good school" or even a "strong school" but a "model exemplary school." Tim and head of school Andrew Zwerneman accepted the award at a ceremony last November.
The Blue Ribbon Award primarily recognizes academic achievement, but at Meadow View learning is inseparable from a culture of camaraderie, fun and joy in discovery.
Meadow View has a small enrollment—130 students—and a humble campus: four small buildings with not a single room large enough to hold the entire faculty and student body. The large commons area does triple duty as lunchroom, classroom and drama stage, and the soccer field boasts mulch instead of grass. But students and faculty say the modest facilities and the school's size are big advantages. "We maintain a level of friendship that you might not find in a bigger school," notes Andrew.
"It's the perfect size," adds senior Justin Young. "There's a huge camaraderie among the classes."
For dean of girls Jenny Nolan, a typical day at Meadow View begins as she unlocks the girls' locker room, greets the girls and heads off to morning prayer. "Morning prayer feels very personal," she says. "On Thursdays and Fridays senior girls help lead prayer. There are only three full-time women on the faculty—if we had to lead prayer ever day, we'd be in big trouble!" The girls often pray for us—the teachers—in our presence."
Meadow View is the only Trinity School where morning prayer regularly involves chanting. "One or two days a week we actually sing the psalms like medieval monks," says senior Nathaniel Hlavin. "That's a fun way to start the day."
The school has a charism for fun. For example, in the quirky competition called Quest, classes vie for points in a quiz bowl (called Metaphysical Pursuit) and a Ping-Pong tournament. The winning class gets their class year engraved on an oar that hangs in the school, a symbol of "finality and triumph," Andrew Zwerneman explains. The oar is just like the paddle that the Greek hero Odysseus planted in the ground after completing his heroic quest, described in Homer's Odyssey.
Meadow View has a serious side as well. When teacher Emily Heidel's father had an accident that left him paralyzed from the waist down, parents brought meals for Emily's family, and students organized a chili cook-off, raising $3,600 to help with medical expenses.
Kerry Koller, president of Trinity Schools, says Meadow View's teachers have helped shaped a culture where everyone feels free. "They have a first-rate faculty of terrific teachers who love Trinity School."
"People here care about what they're learning," adds Nathaniel, pointing to his experience studying ancient classics with Humane Letters Seminar teacher Ed Kelly: "It felt like we had just dug up Homer's ancient manuscript. Millions of people had read it before, but he made it seem totally new. When Trinity uses the term 'community of learners,' they're not lying."
It's a community of learners that is also a community of psalm-chanters, of-tug-of-war contestants, of springtime outdoor barbecuers and of numerous athletes: 90% of the students play at least one sport. Of course, learning is at the heart of things, and now Meadow View has a national award to prove that a thriving culture housed in humble confines can get big results.