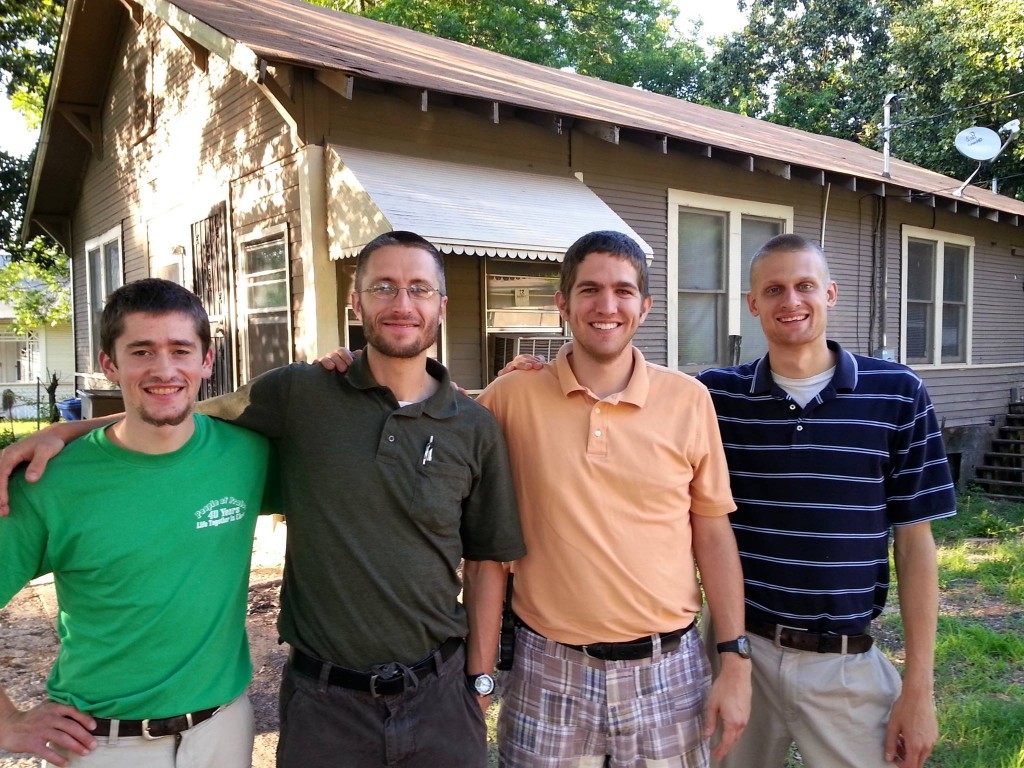 This story starts a month and a half ago. We were over at a neighbor's house to pick up boys for boys group. The boy's grandma told us that she needed some help patching some holes in her walls. She had drywall, but nothing else. I (Kevin) told her we could help them out.
On Friday that week, we showed up to work on the house. We had made a plan to have a young man we knew from the neighborhood show up to help us with the work. He was a no-show, so Dan and I got to work. We measured the holes, cut some of the holes back to the studs, measured, and realized we didn't have all the tools we needed. So Dan went back to Yale to pick up some more tools. I went over to the young man's house again to see if he could help. He wasn't home.
Meanwhile, there was a man who's a little bit older hanging out at the house. I had seen him around, and it was clear he was staying at the (already crowded) house. Once I got back from the young man's house, he started quizzing me, "Why do you need another guy?" I said, "It'll help us get the work done, and we like working together." He said, "If the other guy shows up, what kind of stuff will he be doing?" I said, "Cutting sheet rock, mudding, screwing on the sheet rock."
The guy finally says, "Listen, what I'm really trying to say is, if the other guy doesn't show up, can I work with y'all?" I said, "Sure, that would be great! What's your name?" He said his name was Mac.
Mac worked with us that day, and at the end of the day, he asked if we could help him out. He was trying to get out of the house into a new house. The landlord at the new house had made an agreement that Mac didn't have to pay rent while he fixed up the house. Mac saw that we had a truck and the time to help him out.
Next week, we made a plan with Mac to work on his house. He and I went out to Lowe's on Friday to submit some papers to ask for them to donate some sheet rock to him. Once we got to Lowe's, we talked to a manager. I found out that Lowe's has a cool policy that their managers have a monthly budget for giving things away. The manager we met told us he could give us the sheet rock!
On Thursday of the next week, Dan, David and Joe put up a bunch of drywall at Mac's house. On Saturday, Mac was about ready to move into his new house. David helped him load up his luggage, and they stopped by our house. It was time for Lord's Day, and we invited Mac to stay for it.
Our whole household was there - David, Dan, Joe and I - along with Mac and Ben Reinhardt. We did the Lord's Day prayers and ate a tasty meal of spaghetti and sausage. During the meal, there were several points where our conversation turned fun with Mac cracking jokes along with the rest of us.
After dinner, Mac asked David, "Do y'all do this every week? Could I come?" David told him that he'd have to join our household to come every single week. Mac said, "Maybe once a month, then."
Praise God for sending Mac to us that day, and for sending us to help him move!