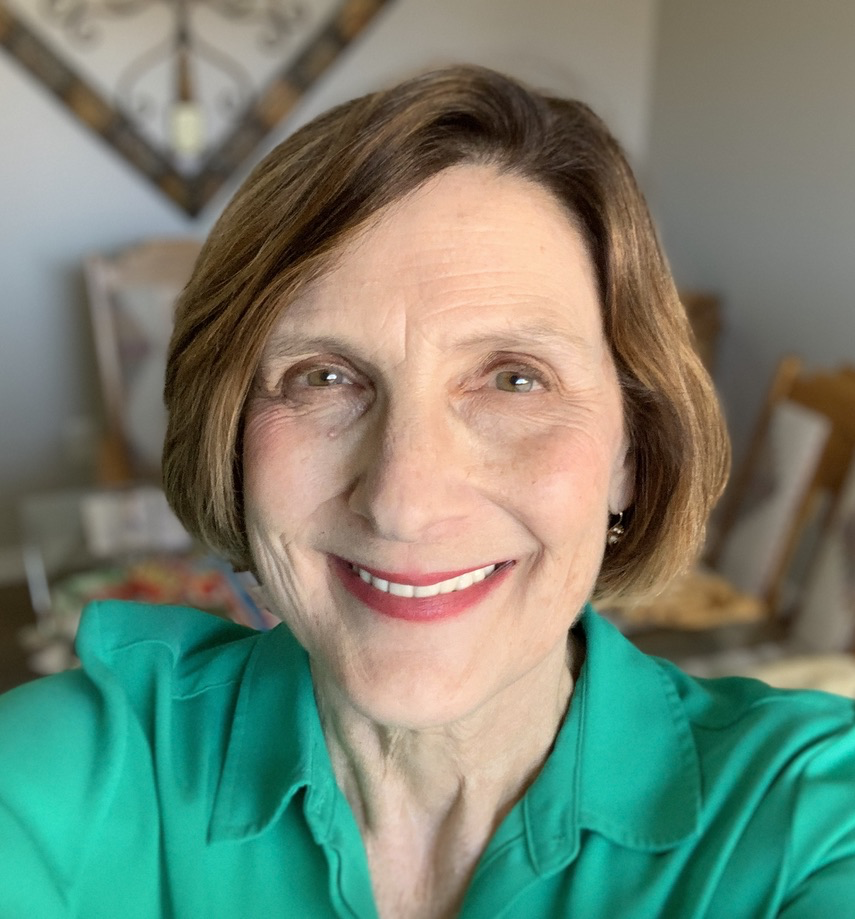 by Catherine Bulger
When Patrice Delanty (Colorado Springs) spiked a fever in March, after several days of other symptoms, she called her doctor. Coronavirus tests weren't available, but her doctor diagnosed her with COVID-19, based on her symptoms, and advised her to stay home and monitor her illness.
Patrice, 61, moved to Colorado Springs a few months ago to be near her son, Ben LaBadie,  and his wife Abby after the birth of their son, her first grandchild. Ben and Abby are members of the Colorado Springs branch, and Patrice came underway in the branch in January. She works for a consulting company called Denali as a Senior Sourcing Associate.
In the days that followed her diagnosis—as symptoms increased and fever and fatigue came and went—Patrice kept closely in touch with her doctor. He advised her to call 911 if she started gasping for breath or if other symptoms worsened. Patrice felt peaceful about that general plan. "Overall, my uncertainty before getting sick was worse than the reality."
But one night she got scared. She was struggling to take a deep breath, to find a position that was comfortable enough to fall asleep. She wasn't gasping for air, but she was worried. "How would I know when I was bad enough to go to the hospital? What if I passed out? Who would find me?" Patrice lives alone, with no one right there to check on her. Patrice told the Lord, you need to tell me when I need to raise the alarm.
"That night, I was feeling sorry for myself, even angry: here I am in the year 2020 having to battle a potentially life-threatening illness on my own. Why did I have to be the one to decide whether my symptoms were bad enough? I don't think I ever felt so alone in my entire life as I did at that moment.
"So I gave it to the Lord; I had no one else to turn to. And then I felt the Lord instantly draw near to me, intimately and completely close—I could almost feel his arms holding me." Then Patrice recalled an image the Lord had given her in prayer just before falling ill. "I was swimming in a deep lake with murky waters, similar to the Oregon lakes where I went camping with my dad and siblings. I was swimming underwater and tried to swim to the surface to take a breath. It seemed a long way up, and I was running out of air. Right then, I suddenly felt two strong arms lift me up out of the water, and I landed in an inflatable lifeboat, safe and sound."
At first, she thought this vision meant she wouldn't get the virus. But later, lying in bed and crying out to the Lord, Patrice realized, "He knew in advance the exact moment when I would need his strong arms to pull me out of the deep waters of my fear and illness. I knew in that moment that I was going to be okay. Only then did my panic subside and I finally fell asleep in his arms."
That night was the worst, and Patrice gradually began to recover. Today, she's been fever-free for a couple of weeks and is getting her energy back. Her major organs have suffered no damage. She hopes to go for antibody tests that may prove she did have COVID-19, and possibly enable her to help other sufferers by donating plasma.
In the past few weeks, Patrice has been able to share the Lord's mercy to her and encourage people who are afraid. Co-workers have called her to talk about symptoms or simply to express their anxieties. When Patrice shares about the Lord, they listen, Christians or not. "People are scared and they're hungry and they want to hear about the Lord." She has good friends who normally steer well clear of any religious talk. Recently, after she'd posted some thoughts on Facebook, they called her, wanting to talk about faith. 
Patrice is grateful for the outpouring of support she received from her family and from the branch. She says she was inundated with meals, flowers and other supplies left on her doorstep, as well as a flood of calls, emails, texts and words of encouragement.
"They were amazing," she says of her People of Praise brothers and sisters. "I wish everyone had this!"
Most of all, Patrice says, "I want my illness to encourage people not to be afraid. That's high on my heart: God will give you what you need the moment you need it, each step of the way. Regardless of where you are, you'll be given what you need."