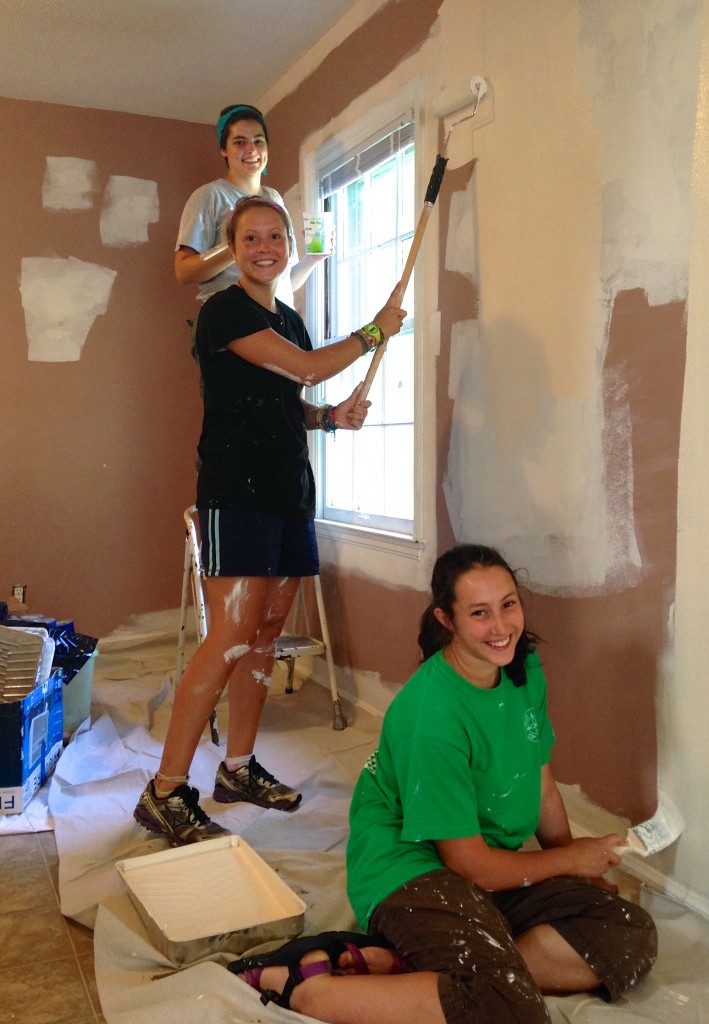 Come and See.  Amelia Dal Pra (Rockford Branch, rising Sophomore at Pepperdine Univ, CA) was at Servant Camp this summer, and loved hearing the missionaries' stories. She told Mary Timler, and Mary said, "Want to come for visit?" Amelia had several weeks before the start of school, so once she got back home from camp, she and her younger sister Mariana (rising HS junior) wasted no time in planning a four day trip to Evansville.
The two of them pulled into town on Tuesday morning, just in time to have dinner with the missionary team. "Some of my favorite moments from the whole trip," said Amelia, "Were all our meals together. Seeing everybody all together twice a day...it was just awesome."
Amelia and Mariana joined right in with the rest of the missionaries in their daily schedules. They did mission work, painted a house we're renovating, cooked, cleaned, and basically did whatever the missionaries were doing.
On Wednesday, Amelia and Mariana both had moving experiences doing mission work. "Meeting Lavayah on mission was great," said Amelia, "I was amazed at how open she was to talking to us about God, we got to pray over her for baptism in the Holy Spirit!"
Mariana also felt the Spirit moving that day, "At first, out team was having a hard time finding people at home, so we took a five minute prayer time in the car to ask God what to do next. Immediately, all I could think about was the letter J! Over and over again, J's and J names went through my mind. At first I ignored and didn't say anything, because I thought it was just me...but when it wouldn't go away, I decided it had to be from God. I told Evan, who was leading our team, and he said 'Let's go try to see Jason, he lives nearby.' Jason wasn't home, so we started walking down the street, asking God to move us to knock on a house. Right away, I was noticed a black and yellow house with pretty flowers, (I really like flowers), so I said, 'I think we should knock there.' There were two boys home, Jacob and James!"
Mariana also shared a word she received in prayer (the world hated Jesus, too) with the boys, and her sharing brought the more shy boy out of his shell to talk more...they ended up talking with them for a whole hour!
We hope the visitors come again! Would you like to visit Evansville to see what the Lord is up to? We'd love to have you with us.